China has strongly criticised a new US alliance with Australia and Britain, under which Canberra will acquire nuclear submarine technology, calling it an "extremely irresponsible" threat to regional stability.
The agreement "seriously undermines regional peace and stability and intensifies the arms race", Chinese foreign ministry spokesman Zhao Lijian told a regular press briefing.
The Western allies did not mention China when unveiling the submarine deal earlier today, but their intent was clear, with each referring to regional security concerns.
The submarine agreement is seen as a bid to offset China's growing economic and military reach in the Asia-Pacific region.
"The export of highly sensitive nuclear submarine technology by the United States and Britain to Australia once again proves that they use nuclear exports as a tool of geopolitical games and adopt double standards, which is extremely irresponsible," Mr Zhao said.
He urged the Western allies to "abandon their outdated Cold War zero-sum thinking" or risk "shooting themselves in the foot".
The EU was not told in advance about the new Australia-US-UK military partnership, a spokesman said, fuelling fears Europe is being cut out by Washington.
The three countries' leaders - Australia's Scott Morrison, Britain's Boris Johnson and America's Joe Biden - unveiled the new alliance last night, in what was seen as a move to counter China's rising might.
The agreement to provide a nuclear submarine fleet to Australia raised hackles in EU member France, which saw its earlier multi-billion dollar deal with Canberra scrapped.
"The EU was not informed about this project or about this initiative and we are in contact with the said partners to find out more," European Commission spokesman Peter Stano said.
Mr Biden said the work to enable Australia to build nuclear-powered submarines would ensure that they had "the most modern capabilities we need to maneuver and defend against rapidly evolving threats."
The submarines, the leaders stressed, will not be nuclear armed, only powered with nuclear reactors.
Mr Morrison later announced Australia would also acquire long-range US Tomahawk cruise missiles.
The three leaders did not mention China in unveiling the partnership, dubbed AUKUS, but their intent was clear.
"Our world is becoming more complex, especially here in our region, the Indo-Pacific. This affects us all. The future of the Indo-Pacific will impact all our futures," Mr Morrison said.
Mr Johnson said they would work "hand in glove to preserve stability and security in the Indo-Pacific."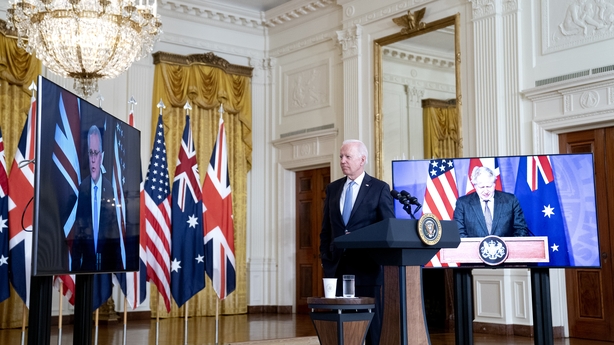 On a visit to southeast Asia last week, US Vice President Kamala Harris accused China of "actions that... threaten the rules-based international order," particularly its aggressive claims in the South China Sea, where frequent territorial disputes have erupted between China and its neighbors in recent years.
Technical and naval representatives from the three countries will spend the next 18 months deciding how to carry out Australia's upgrade, which Mr Johnson said would be "one of the most complex and technically demanding projects in the world, lasting for decades."
In addition to the submarine fleet, a senior Biden administration official said AUKUS will combine forces on "cyber, AI - particularly applied AI - quantum technologies and some undersea capabilities as well."
The official underlined repeatedly how "unique" the decision is, with Britain being the only other country the United States has ever helped to build a nuclear fleet.
"This technology is extremely sensitive," the official said. "We view this as a one-off."
With China building up its own navy and repeatedly testing decades of US military dominance across Asia, the creation of AUKUS, with its focus on submarines, is "meant to send a message of reassurance and a determination to maintain a strong deterrent stance," the official said.
Even if not carrying nuclear weapons, the new submarines will allow Australia to "play at a much higher level," the official said.
"This is a fundamental decision, fundamental. It binds Australia... and the United States and Great Britain for generations."
France upset at 'stab in the back'
France's foreign minister expressed his anger over Australia's surprise decision to scrap a huge submarines deal in favour of the nuclear-powered subs from the US.
Mr Morrison confirmed Australia would not proceed with that deal, which has been personally backed by French President Emmanuel Macron.
The submarine contract with France was worth around Aus$50 billion (€31bn) at the time of signing.
More recently the overall deal was estimated at some €55bn taking into account currency fluctuations and cost overruns.
"It's really a stab in the back. We had established a relationship of trust with Australia, this trust has been betrayed," Jean-Yves Le Drian told France Info radio.
Mr Biden, in an attempt to placate the French government, said France is a "key partner and ally" in the Indo-Pacific.