The pace of vaccination against Covid-19 must be quickened across the globe to avert "a pandemic of the non-vaccinated", the European Union's chief executive said in her annual policy speech.
Ursula von der Leyen's second 'state of the union' address since she took over as European Commission President comes after two years that have tested the resilience of the bloc with the pandemic, a sharp economic downturn and strains over Brexit.
"Let's make sure that it does not turn into a pandemic of the non-vaccinated," Ms von der Leyen told MEPs in Strasbourg, France.
Announcing a new donation of another 200 million doses by the middle of next year, Ms von der Leyen said she was also worried by variation of vaccination rates among the EU's member states.
"The next year will be another test of character," she said.
At the end of August, 70% of the adult population in the 27-nation EU had been fully vaccinated against Covid-19.
This marked a milestone after a slow start, but also masked big differences among EU countries. By mid April, 100 million doses of Covid-19 vaccines had been administered to the EU citizens.
Nineteen EU member states would have their economy back at pre-pandemic level this year, with the others following next year, she said.
Ms von der Leyen announced a €50 billion investment in a new pandemic health preparedness and resilience mission by 2027.
Warning against a 'pandemic of the unvaccinated', European Commission President Ursula von der Leyen has said the Commission will donate a further 200 million doses to boost global Covid-19 vaccination levels | Read more: https://t.co/h1pXY3aTc4 pic.twitter.com/FvItXrez6Y

— RTÉ News (@rtenews) September 15, 2021
Joint declaration on defence planned
Ms von der Leyen said the EU should develop a defence union in the light of global security challenges and in particular the fall of Afghanistan to the Taliban.
She said a new EU-NATO joint declaration on defence would be delivered before the end of the year.
"We are connected to the world by narrow straits, stormy seas and vast land borders. Because of that geography, Europe knows better than anyone that if you don't deal in time with the crisis abroad, the crisis comes to you."
She highlighted the threats of cyber attacks and an arms race in space, and urged the EU to develop a multi-disciplinary response to security crises.
President von der Leyen said: "There will be missions where NATO or the UN will not be present, but where the EU should be.
"On the ground, our soldiers work side-by-side with police officers, lawyers and doctors, with humanitarian workers and human rights defenders, with teachers and engineers.
"We can combine military and civilian, along with diplomacy and development - and we have a long history in building and protecting peace.
"The good news is that over the past years, we have started to develop a European defence ecosystem," she said.
"But what we need is the European Defence Union," she added.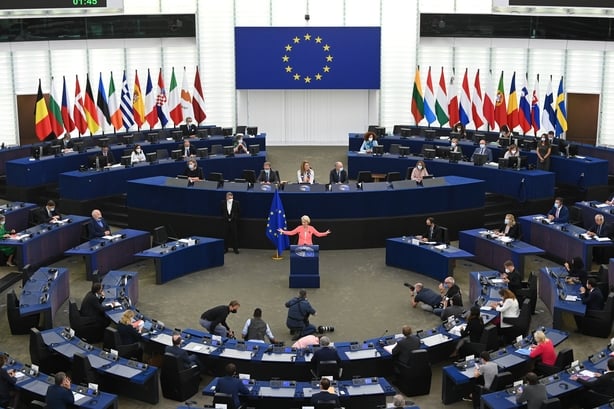 Warning over threat of climate change
In a speech that highlighted more global than internal challenges, she warned about the growing threat of climate change.
She announced the launch of the Global Gateway initiative, designed to challenge China's growing investment footprint in the developing world, with its Belt and Road strategy.
"We are good at financing roads. But it does not make sense for Europe to build a perfect road between a Chinese-owned copper mine and a Chinese-owned harbour," she told MEPs.
Highlighting the impact of the pandemic on young people, the Commission president announced the launch of Alma, a programme based on the Erasmus student exchange scheme that would help young people find work experience in other member states.
President von der Leyen also warned about the under supply of microchips and said that the European Union's future hinges on its level of technological prowess, in particular access to chips crucial for everything from smartphones to electric scooters to factories.
"Digital is the make-or-break issue," she said, and called for coordination at the European level to create a state of the art European chip ecosystem including production.
She told MEPs that the EU will double its international funding to protect nature and halt the decline of the world's biodiversity.
"I am proud to announce today that the European Union will double its external funding for biodiversity. In particular, for the most vulnerable countries."
Ms Von der Leyen, wore a mask emblazoned with the EU flag, greeting MEPs at the assembly ahead of her speech with fist bumps.
The former German defence minister has put tackling climate change at the top of her agenda, with bold steps for the EU to achieve climate neutrality by 2050, along with a digital transformation of its economy.
Critics say she has fallen short of promises to make the commission more "geopolitical" as the EU struggles to assert its influence in foreign affairs.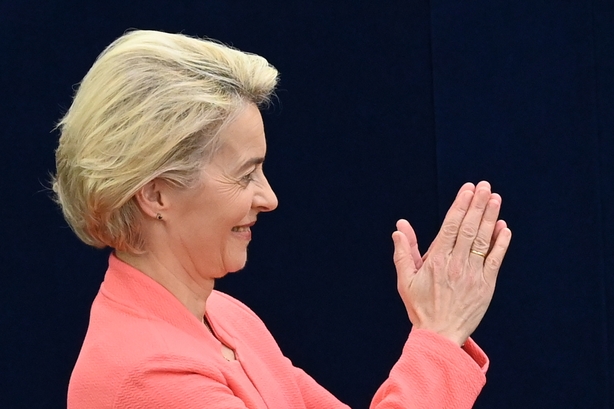 President von der Leyen concluded her speech by welcoming the Italian Paralympic gold medalist Beatrice Vio.
She said Ms Vio, a double amputee due to a bout of meningitis in childhood, was in serious medical danger in April, but went on to recover and win gold in Tokyo.
"Her story is one of rising against all odds, of succeeding thanks to talent, tenacity and unrelenting positivity. She is in the image of her generation: a leader and an advocate for the causes she believes in," she said.
She concluded: "This was the spirit of Europe's founders and this is the spirit of Europe's next generation. So let's be inspired by Bebe and by all the young people who change our perception of the possible.
"Who show us that you can be what you want to be. And that you can achieve whatever you believe."
Additional reporting Tony Connelly