An Afghan woman gave birth to a baby girl on a US military plane shortly after arriving on an evacuation flight to Germany, the US Air Force tweeted.
During the flight from a staging base in the Middle East, the woman went into labour and began to experience complications, it said.
"The aircraft commander decided to descend in altitude to increase air pressure in the aircraft, which helped stabilise and save the mother's life," the US Air Mobility Command said later on Twitter.
Medical support personnel from the 86th Medical Group help an Afghan mother and family off a U.S. Air Force C-17, call sign Reach 828, moments after she delivered a child aboard the aircraft upon landing at Ramstein Air Base, Germany, Aug. 21. (cont..) pic.twitter.com/wqR9dFlW1o

— Air Mobility Command (@AirMobilityCmd) August 21, 2021
Immediately on landing at the Ramstein base, US military medics helped the woman deliver her baby in the cargo hold of the plane.
Mother and child were then transferred to a nearby medical facility "and are in good condition", it said.
Footage released by the US military showed the mother lying on a stretcher being carried off the plane by US soldiers at the base in southwest Germany.
Since 14 August, approximately 17,000 people have been evacuated by the US, including 2,500 Americans, the US government said earlier.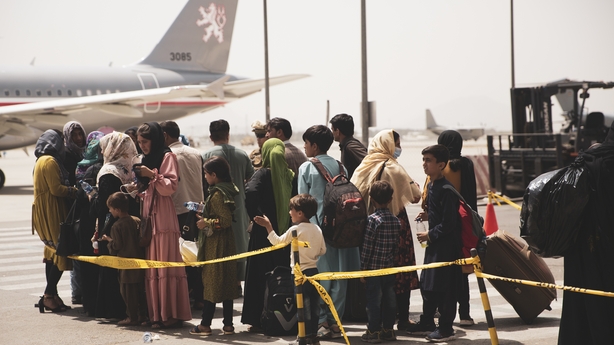 The US got the green light from Berlin for some of the evacuees to be directed to Germany, where it has a number of bases.
About 1,150 people landed at the Ramstein base on Saturday, from where they are expected to depart for the United States within days, a base spokesman said.
It comes as many parents attempting to flee crisis-hit Kabul are desperate for their children to be taken to safety.
Footage emerged from outside Hamid Karzai International Airport in Kabul on Thursday of a baby being lifted from a crowd of Afghans gathered on the Taliban-controlled side of a concrete wall.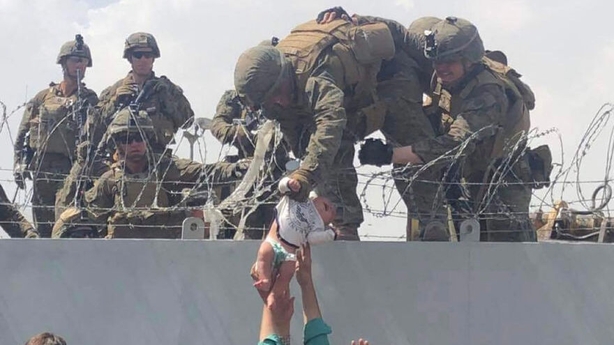 The US military confirmed later that the infant had been safely reunited with a family member.
Spokesman for the Marines, Major James Stenger, said: "The baby seen in the video was taken to a medical treatment facility on site and cared for by medical professionals.
"I can confirm the baby was reunited with their father and is safe at the airport."
Several other children have been passed over the airport wall, with images of British and Turkish soldiers tending to children going viral.