As thousands of civilians desperate to flee Afghanistan thronged Kabul airport today, there has been strong reaction from the international community to the Taliban takeover.
United Nations Secretary-General Antonio Guterres called on the Security Council to "use all tools at its disposal to suppress the global terrorist threat in Afghanistan" and guarantee that basic human rights will be respected.
"We are receiving chilling reports of severe restrictions on human rights throughout the country. I am particularly concerned by accounts of mounting human rights violations against the women and girls of Afghanistan," he told the 15-member council.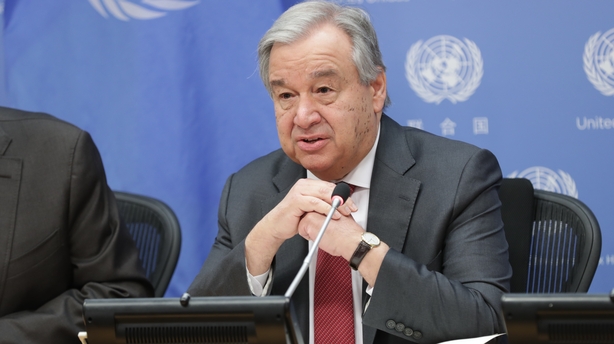 "We cannot and must not abandon the people of Afghanistan," he said.
Afghanistan stands at a crossroads, says EU foreign policy chief
EU foreign ministers are set to hold emergency talks via videolink tomorrow to discuss the situation.
"Following latest developments in Afghanistan, and after intense contacts with partners in the past days and hours, I decided to convene an extraordinary VTC (video teleconference) of EU Foreign Ministers tomorrow afternoon for a first assessment," EU foreign policy chief Josep Borrell tweeted.
"Afghanistan stands at a crossroad. Security and wellbeing of its citizens, as well as international security are at play."
Participating in the talks will be Minister for Foreign Affairs Simon Coveney, who described the situation in Afghanistan as a "country in chaos" and a "foreign policy catastrophe".
Taliban takeover of Afghanistan is 'world's failure'
The Taliban's takeover of Afghanistan is a "failure of the international community", Britain's Defence Secretary Ben Wallace said, assessing that the West's intervention was a job only half-done.
"All of us know that Afghanistan is not finished. It's an unfinished problem for the world and the world needs to help it," he told BBC television.
He maintained the 20-year intervention by US-led forces "wasn't a waste, it wasn't for nothing" but accused Western powers of being politically short-sighted.
"If it's a failure, it's a failure of the international community to not realise that you don't fix things overnight," he said.
Defence Secretary Ben Wallace breaks down admitting "some people won't get back" from Afghanistan and "it's sad that the West has done what's it's done."
@NickFerrariLBC pic.twitter.com/UKMrUAQlDx

— LBC (@LBC) August 16, 2021
HR McMaster, the former US national security adviser sacked by ex-president Donald Trump in 2018, accused his country of "wilful ignorance" for its failure to realise the Taliban would swiftly take control.
Both Mr Wallace and Mr McMaster have criticised a deal secured by former US president Donald Trump that would have seen the US withdraw all its troops by May 2021 in exchange for security guarantees from the Islamist militants.
The deal weakened the Afghan government and security forces and strengthened the Taliban, Mr McMaster said, adding: "We stood idly by and we turned a blind eye. This was utterly predictable."
John Bolton, who replaced Mr McMaster as national security adviser before also being sacked by Mr Trump, said the withdrawal made the US look like "suckers" in Beijing, Moscow, Tehran and Pyongyang.
Britain last month withdrew most of its 750 remaining troops, but is now sending 600 soldiers back to help with repatriation.
Officials are aiming to take 1,200 to 1,500 people from Afghanistan a day, with the first flight having landed at a British air force base last night.
Mr Johnson has said Britain would help some 3,000 nationals to leave but questions are being asked why he did not do more to oppose Washington's withdrawal.
Last night the first flight of British Nationals and Embassy Staff arrived at RAF Brize Norton as part of Op PITTING.

The UK Armed Forces are supporting the evacuation of British Nationals and those eligible for relocation under the Afghan Relocation and Assistance Program. pic.twitter.com/IyGNIMEaD0

— Ministry of Defence 🇬🇧 (@DefenceHQ) August 16, 2021
He has convened another meeting of his emergency and contingencies group - the third in four days - and parliament has been recalled.
Former NATO secretary general George Robertson, who in 2001 invoked the alliance's collective defence clause, said he was "sad and sickened" by the scenes from Afghanistan.
"I find it ironic at best but tragic at worst that the anniversary of 9/11 is going to be commemorated in a few weeks' time with the Taliban back in control of Kabul," he told BBC radio.
NATO's former top civilian representative in Afghanistan, Mark Sedwill, called it a "humiliating moment for the West".
Taoiseach 'deeply concerned' over situation in Afghanistan
Taoiseach, Micheál Martin has said he is "deeply concerned by the unfolding situation in Afghanistan".
In a statement this afternoon, he said "the pace of developments there has taken many by surprise".
He said that he fully endorsed the call from the UN Secretary General for the Taliban "to exercise the utmost restraint".
The Taoiseach said: "Protecting lives, meeting humanitarian needs and respecting people's human rights are paramount. All parties, including the Taliban, are obliged to, and must, respect international humanitarian law.
"The international community must play its full part in providing humanitarian aid and facilitating refugees. Ireland will participate fully in these efforts."
He said that the Government was "providing support to the small number of Irish citizens currently in Afghanistan".
Ireland's UN representative Geraldine Byrne Nason said the Security Council had failed to heed the warnings on the situation in Afghanistan.
"Now we will have to address the consequences," she said. "Now in the face of an unfolding crisis of tragic proportions, this council will have to assume its responsibilities and act."
Ireland's UN representative Geraldine Byrne Nason says the Security Council failed to heed warnings on Afghanistan, 'now we will have to address the consequences' | Follow live updates: https://t.co/MsCesNr9Do pic.twitter.com/pPkJoj2HBQ

— RTÉ News (@rtenews) August 16, 2021
World must help Afghans fleeing Taliban or risk crisis - Merkel
German Chancellor Angela Merkel warned that Afghans fleeing from the Taliban to neighbouring countries could make their way to Europe, in a repeat of the 2015 migrant crisis, if they do not get sufficient humanitarian assistance.
Speaking to reporters after talks with ministers on plans to evacuate thousands of Afghans for whom Germany has responsibility, Ms Merkel said the fall of Kabul to Taliban insurgents was a bitter development.
"Since the withdrawal of foreign troops from Afghanistan we have had to watch the Taliban, with breathtaking speed, province for province, town for town, reconquer the entire country," she said. "This is an absolutely bitter development: Bitter, dramatic and awful, especially for the people in Afghanistan."
Germany opened its borders six years ago to more than one million migrants, mainly Syrians and Iraqis, fleeing war and poverty - a bold move that won Ms Merkel plaudits abroad but which proved controversial at home and eroded her party's standing.
"We need to make sure that the many people who have big worries and concerns, even though they have not worked with German institutions, have a secure stay in countries neighbouring Afghanistan," Ms Merkel said.
"We should not repeat the mistake of the past when we did not give enough funds to UNHCR and other aid programmes and people left Jordan and Lebanon towards Europe."
Afghanistan must not again be 'sanctuary of terrorism' - Macron
French President Emmanuel Macron said that Afghanistan should not become again the "sanctuary of terrorism" that it was until the US-led invasion two decades ago, after the Taliban regained control of the country.
"This is key for international security and peace... we will do everything for Russia, the United States and Europe to cooperate efficiently as our interests are the same," Mr Macron said in a televised address from his summer residence, adding that the European Union would set up an initiative to prevent large migrant flows from the country.
'Defeat' of US must usher in durable peace, says Iran
Elsewhere, Iran's new ultraconservative President Ebrahim Raisi said that the "defeat" of the US in Afghanistan must usher in a durable peace in its neighbour.
"The military defeat and the US withdrawal from Afghanistan should offer an opportunity to restore life, security and lasting peace in that country," Mr Raisi said, quoted by his office.
Mr Raisi, who made the remarks in a call with outgoing Iran's foreign minister Mohammad Javad Zarif, said the Islamic republic wanted good relations with Afghanistan.
Iran was "closely monitoring the evolution of events in Afghanistan" and wants good neighbourly ties with it, he said.