Latvia's Minister for Defence Artis Pabriks has said they have experienced large numbers of migrants at the border from Belarus in recent months and believes Belarus and Russia are behind this surge.
"What our intelligence is saying and what is common information is saying, is Belarusian authorities raised a green light from Russia, specially organising groups of people from countries like Iraq to Belarus and sending them to our border."
Speaking on RTÉ's Morning Ireland, he said Latvian authorities view this as a "hybrid attack" in order to provoke a situation at the border and create a more difficult situation in terms of acceptance of migrants on their territory.
"So basically trying to put a stress on the EU/NATO border."
The Latvian parliament is expected to approve a state of emergency today to stop record numbers crossing into the EU State from Belarus.
He said a few hundred migrants have been detected at the border each day and from drones and other systems they can see that sometimes they are supervised by Belarusian authorities.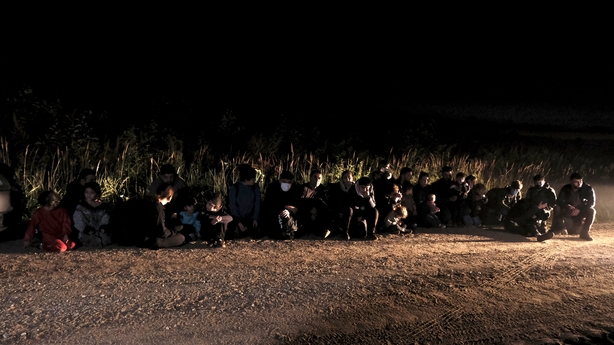 Latvia, along with Lithuania and Poland who have also faced an increased flow of migrants, has accused the Belarus leader Alexander Lukashenko of weaponising migrants to put pressure on the EU to reverse sanctions.
"Knowing that Belarus is a country which does not allow its own people to cross the border or go abroad, and then suddenly seeing people coming in large groups and authorised by the Belarusian regime. It is obviously a very straight connection between this movement and their government."
He said Russian and Belarusian authorities are also organising military exercises.
"We have assumption these are inter-connected. They are trying along the military exercises also different type of civilian activities like the migrant issue."
He said at the beginning they accepted the migrants and placed them in refugee facilities but now they are full and now they won't accept any more.
"Already for a second day our border with Belarus is sealed."
Minister Pabriks said there is military and defence gathered on their border but up until now there has been no forced deployment against migrants, nor does he think there will need to be.
He said they will, however, do everything not to let these people cross their border as they consider this a hybrid attack on their country.
"We do not see here it is right to give a chance for Belarusian dictator Lukashenko use such means to destabilise the situation in our country and the region in general."
He described the border area as muddy and forested and not all areas are fenced so it requires drones and other systems to detect people trying to pass into Latvia.