Germany, France and Israel will go ahead with plans to administer Covid-19 vaccine boosters, disregarding an appeal by the World Health Organisation to hold off until more people are vaccinated around the world.
The decision to press ahead with booster shots, despite the WHO's strongest statement yet, highlights the huge inequities in responses to the pandemic as richer nations ramp up programmes to protect citizens from the more infectious Delta variant.
French President Emmanuel Macron said France was working on rolling out third doses to the elderly and vulnerable from September.
Germany intends to give boosters to immunocompromised patients, the very elderly and nursing home residents from September, the health ministry said.
Israeli Prime Minister Naftali Bennett urged older citizens to get a third shot after the government last month kicked off a campaign to give booster doses.
"Whoever is over the age of 60, and has yet to receive the third dose of the vaccine, is six times more susceptible to severe illness and - heaven forbid - death," Mr Bennett said in a statement.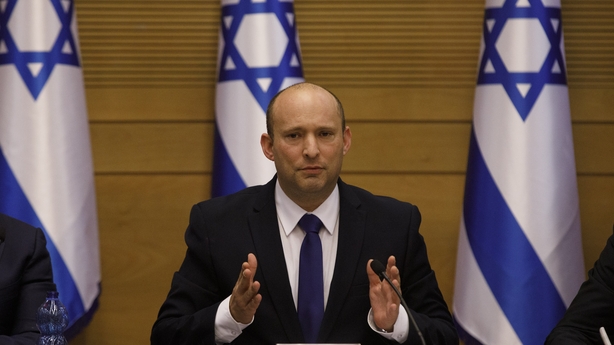 WHO chief Tedros Adhanom Ghebreyesus called on Wednesday for a halt to boosters until at least the end of September, saying it was unacceptable for rich countries to use more of the global vaccine supply.
---
---
High-income countries administered around 50 doses for every 100 people in May, and that number has since doubled, according to WHO.
Low-income countries have only been able to administer 1.5 doses for every 100 people, due to lack of supplies.
"I understand the concern of all governments to protect their people from the Delta variant. But we cannot accept countries that have already used most of the global supply of vaccines using even more of it," Mr Tedros said.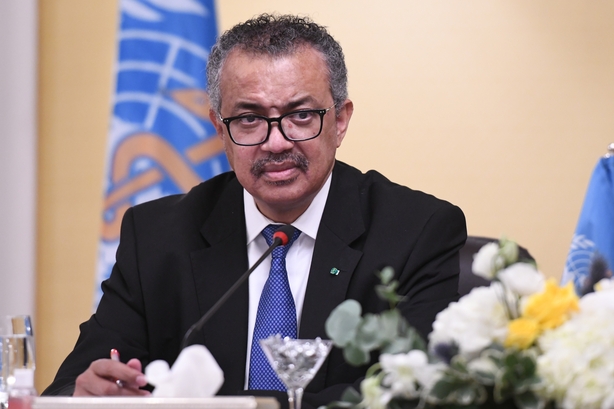 Germany rejected those accusations, saying it would also donate at least 30 million vaccine doses to poorer countries.
"We want to provide the vulnerable groups in Germany with a precautionary third vaccination and at the same time support the vaccination of as many people in the world as possible," the health ministry said.
Following Mr Tedros' comments, the White House said today it was prepared to provide booster shots if needed, suggesting it would not heed the WHO's call either.
Pfizer has said boosters are most likely needed because of waning antibody responses, particularly after six months.
US health regulators have said that more scientific evidence is needed to be certain boosters are needed, but have indicated they believe a third shot may be needed for people with compromised immune systems.
Mr Macron's government is trying to step up France's vaccination programme as the country faces a fourth wave of the virus and street demonstrations in protest against the government's COVID policies.
France and Germany have so far given at least one dose of a Covid-19 vaccine to 64.5% and 62% of their respective populations, with 49% of the French and 53% of Germans fully vaccinated.
Meanwhile, when Chief Clinical Officer with the HSE Colm Henry was asked about the WHO's moratorium on booster vaccines during today's press briefing he said: "We're trying to align it with the flu vaccination programme."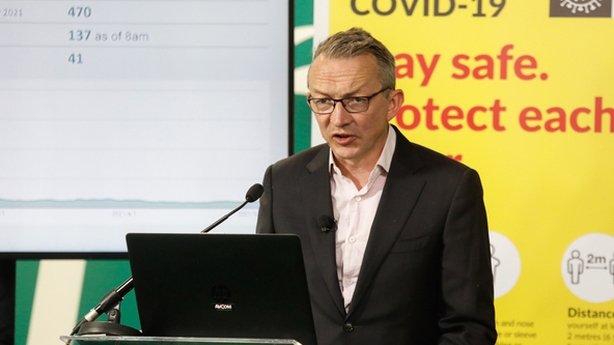 CEO of the HSE Paul Reid added that "ultimately this is a policy decision for the government but we are planning and ready to go whenever the policy decision is made by the government."
French court upholds new health pass law
France's highest court upheld a new law requiring the public to hold a health pass to access bars and restaurants and health workers to be vaccinated againstCOVID-19 by mid-September, saying it complied with there public's founding charter.
In its ruling on Thursday, the Constitutional Council did however strike down several clauses in the legislation, saying that enforcing a compulsory 10-day quarantine on anyone testing COVID-19 positive was an impingement on freedoms.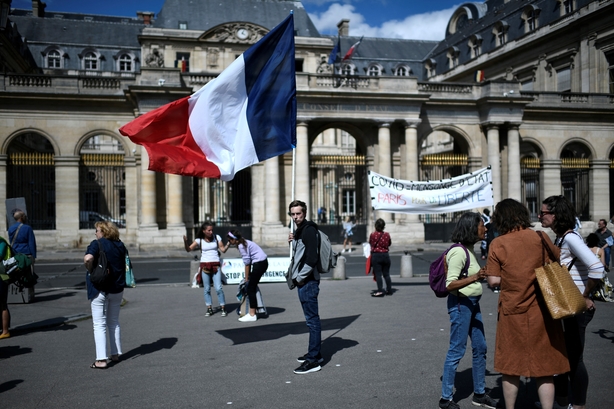 It also ruled that while employers could suspend health and frontline workers who refuse to get a COVID-19 shot or show proof of a negative test, they could not dismiss them.
The legislation is due to come into effect on Aug. 9. It was unveiled by President Emmanuel Macron in July as the Delta variant of the coronavirus fuelled a fourth wave of infections. Macron delivered a simple message at the time: get vaccinated
Japan expands Covid-19 measures as cases surge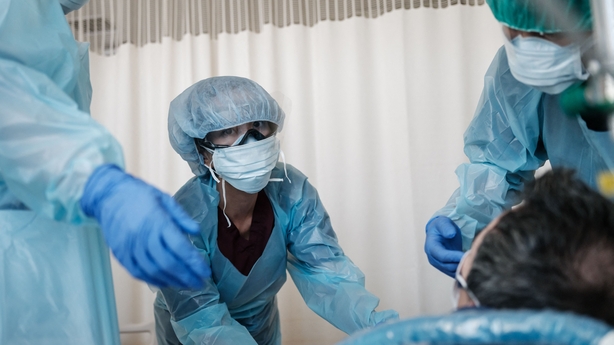 Japan is to expand its Covid-19 emergency restrictions to cover more than 70% of the population, as a surge in cases strains the medical system in the Olympics host city Tokyo and elsewhere.
Coronavirus infections are rising as new cases hit record highs in Tokyo.
Prime Minister Yoshihide Suga announced the new steps as new daily cases in Tokyo were set to top 5,000 for the first time and advisors to the capital said the figure could double in two weeks at the current rate, NHK public TV reported.
"New infections are rising at an unprecedentedly fast pace," Economy Minister Yasutoshi Nishimura told a panel of experts, where he proposed "quasi-emergency" steps for eight more of Japan's 47 prefectures.
"The situation on the ground (at hospitals) is extremely severe," Mr Nishimura added, noting that serious cases had doubled in the past two weeks.
The panel signed off on the proposal, but Mr Nishimura told a news conference some members had warned the situation was severe enough to require a nationwide state of emergency - a stance shared by the head of the Japan Medical Association.
Six prefectures including Tokyo are already under full states of emergency to last through 31 August.
Another five are under less strict directives, meaning just over half the population is covered by some restrictions.
The latest steps, to take effect from Sunday, mean that more than 70% of the population will be under some form of restriction.
The government says the Olympics has not caused the latest surge but experts say holding the Games now has sent a mixed message to an already weary public about the need to stay home.
Games organisers today reported 31 new Games-related Covid-19 cases, bringing the total since 1 July to 353.
It remains to be seen whether the latest restrictions, which are mostly voluntary, will have much impact as the highly transmissible Delta variant spreads.
Just under 31% of residents of Japan are fully vaccinated. With 15,221 deaths recorded as of yesterday, the Covid-19 mortality rate was about 1.6%, in line with the United States.
Thai morgue workers battle fatigue as Covid cases soar
Thailand's morgue workers are battling exhaustion as the kingdom's latest Covid wave hits new highs and the death toll mounts.
The daily total of new cases broke the 20,000 threshold for the first time yesterday, and numbers exceeded that today.
Authorities also announced 160 more deaths, taking the total to 5,663 since the pandemic began.
At Thammasat University Hospital, north of Bangkok, staff have had to rent a special container to store bodies after the morgue filled up.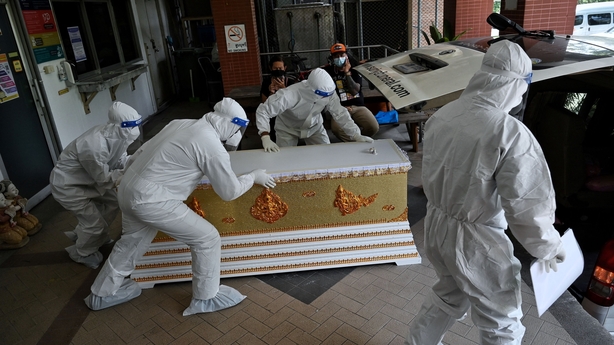 "It's very exhausting. We may not be the exact frontline workers who have to deal with newly infected patients every day, but we're the final stage, and we have to help them however we can," forensic scientist Thanitchet Khetkham said.
"I've seen our personnel faint quite a few times lately so fatigue is definitely starting to set in and we're almost at our limits."
Every body that arrives for handling has to be swabbed for Covid-19 by morgue staff, dressed in head-to-toe protective suits, face masks and shields.
"We have the same number of personnel as before the pandemic but the work we do has tripled so we sure feel under pressure and stressed out," forensic physician Thippailin Phinjirapong said.
"If one of our personnel happens to get sick then we'd be in big trouble."
The government has imposed severe curbs on daily life in dozens of provinces, including Bangkok, as it battles to contain the outbreak, fuelled by the highly contagious Delta variant of the virus.
Pfizer to require US workers receive Covid vaccine or regular tests
Pfizer will require all of its US employees and contractors to become vaccinated against Covid-19 or participate in weekly virus testing.
Pfizer spokesperson Pamela Eisele said the company was taking the initiative in order to "to protect the health and safety of our colleagues and the communities we serve."
Employees with medical conditions or religious objections can seek accommodations.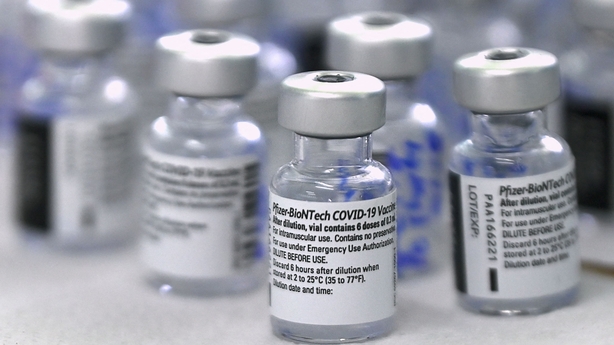 Outside of the United States, Pfizer will strongly encourage employees who are able be vaccinated in their countries to do so, Ms Eisele said.
At the end of 2020, Pfizer had around 29,400 US-based employees.
With US coronavirus cases rising sharply again due to the highly transmissible Delta variant, companies like Alphabet and Walt Disney have started putting vaccine mandates in place for their employees.
As of Tuesday, 70.1% of US adults had received at least one dose of a Covid-19 vaccine, according to data from the US Centers for Disease Control and Prevention.
Spain allows 40% maximum occupancy in outdoor sports events in August
Fans will be allowed in August to attend sports events in Spain, with a 40% maximum occupancy rate in open-air stadiums and 30% in indoor facilities, Spain's health minister said in a relief to clubs keen to recover a key source of income.
The cap will be effective between 13 August, when the soccer league's season starts, and the end of August, when the central and regional governments will discuss the issue again, meaning the occupancy rate could vary, Minister for Health Carolina Darias told reporters.
Fans will need to keep a distance of 1.5 meters between each other and wear a face mask. They will be allowed to drink water, but not to eat or smoke.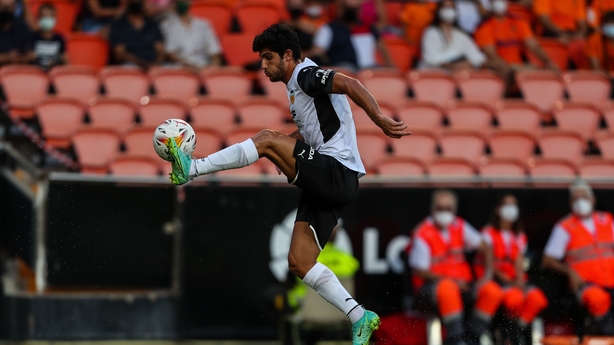 Entry and exit from facilities will have to also be paced and gradual, Ms Darias said, adding that indoor facilities will need to be well ventilated.
Clubs will need to prioritise season-holder members, as the government wants to avoid fans from away teams from other regions travelling for the events.
A maximum of 5,000 spectators were allowed last May to return to matches for the final two rounds of the past soccer's season in regions with low levels of Covid-19 infections, but that only benefited a very small number of matches.
Ms Darias said Spain was at a "stabilisation phase" regarding the spread of Covid, as the 14-day coronavirus incidence rate reached 633 cases per 100,000 people, 20 less than the day before and 70 less than a week ago.
Global Covid cases surpass 200m as Delta variant spreads
Covid-19 cases worldwide have surpassed 200 million, according to a Reuters tally, as the more-infectious Delta variant threatens areas with low vaccination rates and strained healthcare systems.
The global surge in cases is highlighting the widening gap in vaccination rates between wealthy and poor nations. Cases are rising in about one-third of the world's countries, many of which have not even given half their population a first dose.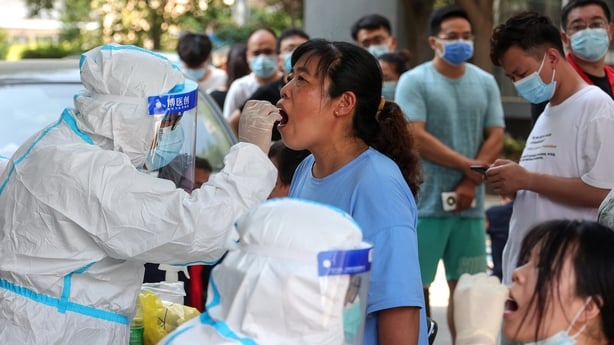 Meanwhile, the Head of monitoring, Evaluation and Learning at GOAL has described the WHO's plea for a moratorium on Covid booster shots until at least the end of September as "modest".
The move is to enable that at least 10% of the population of every country would be vaccinated, Dr Tedros said yesterday.
Speaking on RTÉ's Morning Ireland, Dr Enida Friel said that for every 100 people in Africa there are four people getting a vaccine, whereas other countries in comparison have a figure of 88 per 100.
Dr Friel said that while the US and EU participated in COVAX to ensure vaccines are supplied to poorer countries, when the EU and US made their orders for vaccines they "essentially priced out COVAX and low income countries".
She said vaccine hesitancy is also an issue across countries in Africa and warned that the longer the delay in getting the vaccines to these countries, the more the hesitancy sets in.
Dr Friel said GOAL workers in Sudan are running campaigns to fight misinformation and similar work is being done across Rwanda, Malawi, and Uganda.