The Mediterranean has become a wildfire hotspot, with Turkey hit by its most intense blazes on record and a heatwave producing a high risk of further fires and smoke pollution around the region, a European Union atmosphere monitor has said.
Wildfires are raging in countries including Greece and Turkey, where thousands of people have been evacuated from their homes and yesterday a fire threatened to reach a coal-fired power plant.
The fires have struck as southern Europe experiences an intense heatwave, with some places in Greece recording temperatures of over 46C yesterday.
Human-induced climate change is making heatwaves more likely and more severe, scientists say.
The EU's Copernicus Atmosphere Monitoring Service said the hot and dry conditions had hiked the danger of further fires, although high temperatures alone do not trigger wildfires because they need a source of ignition.
CAMS monitors wildfires through satellites and ground-based observation statements, and said the emissions and intensity of wildfires are rapidly increasing in Turkey and southern Italy.
In Turkey, a key metric of fire intensity - the "fire radiative power", which measures energy produced from burning trees and other matter - reached the highest daily values since data records began in 2003.
Plumes of smoke from fires in southern Turkey were clearly visible in satellite images of the region, and the severe scale of the fires had caused high levels of particulate matter pollution over the eastern Mediterranean area, CAMS said.
Persistent exposure to particulate matter pollution is associated with cardiovascular diseases and lung cancer.
"It is especially important to closely watch these high intensity fires as the smoke they emit can have impacts on air quality locally and downwind," said Copernicus senior scientist Mark Parrington.
Italy, Albania, Morocco, Greece, North Macedonia and Lebanon have all faced wildfires since late July.
The European Commission has said it had helped mobilise firefighting aircraft, helicopters and firefighters to assist Italy, Greece, Albania and North Macedonia.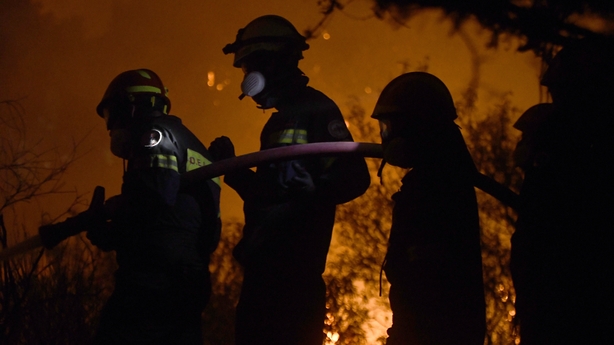 Extreme temperatures in Greece fuelled wildfires on the mainland and on an island near Athens, a day after a blaze tore through a forest near the capital, leaving behind scorched earth and scores of gutted homes, businesses and vehicles.
The fire, which started yesterday in the town of Varympompi on the lower slopes of Mount Parnitha near Athens, had receded by this morning, the fire brigade said.
However, high temperatures and changing winds fanned a blaze on Evia island.
Fires were also burning in the regions of Messinia and Maniin the Peloponnese.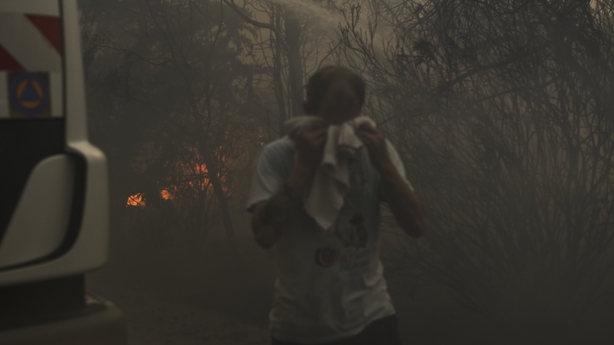 "The weather conditions are extreme," Deputy Citizens' Protection Minister Nikos Hardalias said in a televised address.
"We should remain on alert. We should avoid any ... activity that could cause a fire."
With Greece facing its most severe heatwave in 30 years, the risk of fire remained high over the next few days in most parts of the country, authorities said.
Temperatures hovered above 40C for a third day.
Yesterday's blaze near Athens had damaged more than 90 homes, 27 businesses and burned more than 80 cars, he said.
The residents were told to stay indoors as a thick cloud of smoke covered the sky.
"I saved my pets, that's why I stayed," said one Varympompi resident, standing among burned cars and blackened pine trees.
"I have goosebumps just talking about it; all the homes around me burned, nothing's left."
The fire brigade said Greece was expecting fire-fighting reinforcements from Cyprus.
About 95 firefighters with 35 engines and five aircraft were battling the blaze on Evia, about 70km from Athens, forcing authorities to evacuate many villages since late last night.
"Thank God we haven't had any loss of human life so far," Prime Minister Kyriakos Mitsotakis said after an inspection visit at a fire brigade coordination centre in Varympompi.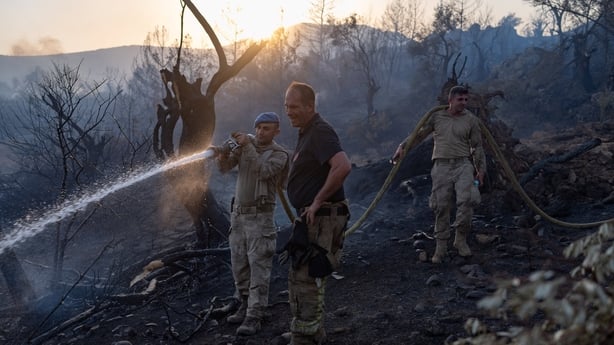 Turkey batting worst wildfires in its history
Turkish President Tayyip Erdogan has said the country is battling the worst wildfires in its history, as fires spread to a power station in the country's southwest after reducing swathes of coastal forest to ashes.
Fanned by high temperatures and a strong, dry wind, the fires have forced thousands of Turks and foreign tourists to flee homes and hotels near the Aegean and Mediterranean coasts.
Eight people have died in the blazes since last week.
Planes and dozens of helicopters have joined scores of emergency crews on the ground to battle the fires, but Mr Erdogan's government has faced criticism over the scale and speed of the response.
More than a week after the first fires broke out, 16 were still burning, the forestry minister said.
"The fires that happened this year never happened in our history," Mr Erdogan told reporters in a televised interview.