US President Joe Biden has called on New York Governor Andrew Cuomo to resign after an independent investigation found he sexually harassed multiple women.
"I think he should resign," Mr Biden told reporters during a press conference in Washington.
The investigation found that Mr Cuomo sexually harassed multiple women and violated federal and state laws, New York state Attorney General Letitia James said.
"Specifically, the investigation found that Governor Andrew Cuomo sexually harassed current and former New York State employees by engaging in unwelcome and non-consensual touching and making numerous offensive comments," Ms James said.
Mr Cuomo, 63, has denied wrongdoing.
Investigators spoke to 179 people over the five-month investigation, including complainants and current and former members of the executive chamber, Ms James said.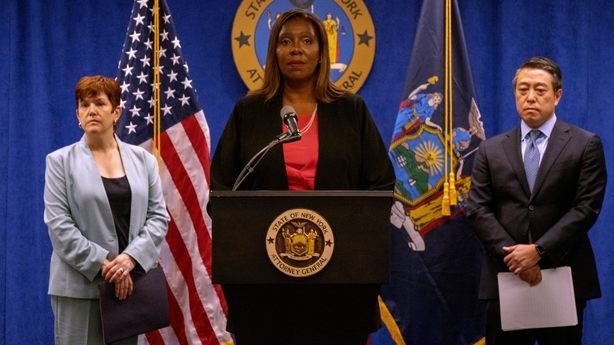 She said the investigation resulted in a "deeply disturbing yet clear picture" of what she called a "toxic workplace" and a "climate of fear" in which Mr Cuomo sexually harassed multiple women, many of them young, "by engaging in unwanted groping, kisses, hugging and by making inappropriate comments".
Mr Cuomo and his team also retaliated against at least one former employee for complaining about his conduct, Ms James said.
The announcement follows a months-long inquiry after two former aides accused the Democratic governor of harassing them in the workplace.
Several other women subsequently came forward with accusations of misconduct, adding fuel to a controversy that has imperiled his administration and political future.
We need your consent to load this rte-player contentWe use rte-player to manage extra content that can set cookies on your device and collect data about your activity. Please review their details and accept them to load the content.Manage Preferences
Ms James launched her investigation after receiving a formal request from Mr Cuomo's office on 1 March to do so as the number of publicly reported allegations mounted.
Ms James named two veteran outside attorneys to run the investigation: Joon Kim, a former federal prosecutor and acting Manhattan US Attorney, and Anne Clark, an employment lawyer with experience in sexual harassment cases.
Mr Kim told the briefing that the Cuomo workplace was "rife with bullying, fear and intimidation".
In a televised address today, Mr Cuomo issued an unequivocal denial and gave no indication that he was considering his position.
"First, I want you to know directly from me that I never touched anyone inappropriately or made inappropriate sexual advances.
"I am 63 years old. I have lived my entire adult live in public view. That is just not who I am. And that's not who I ever been."
He said that he had published a response to every allegation made by the women against him on his website, adding: "Please take the time to read the facts and decide for yourself."
And he suggested that resignation was not on his mind, saying: "What matters to me at the end of the day is getting the most done I can for you.
"And that is what I do every day. And I will not be distracted from that job. We have a lot to do."
House of Representatives Speaker Nancy Pelosi also called on Mr Cuomo to resign.
"Under Attorney General Letitia James, a comprehensive and independent investigation into the allegations against Governor Cuomo has been completed," Ms Pelosi said in a statement.
"As always, I commend the women who came forward to speak their truth. Recognising his love of New York and the respect for the office he holds, I call upon the Governor to resign."