With the eyes of the world's media so firmly focused on Covid-19, it's easy to forget long-running stories, such as the plight of thousands of people trying to get to Europe in search of a better life.
Migration often spikes in the summer, when warmer temperatures make the trek marginally less risky. For years, we've been used to images on our screens of overcrowded, ill-equipped vessels being intercepted by coastguards or assisted by NGOs.
But as geopolitical events shift, so too do the patterns of migration, and those affected by it.
One such shift has been occurring in Lithuania, which has experienced a 41-fold increase in immigration from Belarus compared to last year.
In 2020, around 80 people were intercepted by border guards as they crossed into Lithuania from Belarus.
This year so far, 3,282 people have crossed the border, 2,621 in July alone. Most of these people are from Iraq.
Lithuania has laid the blame for the spike firmly on Belarus, and has claimed that migrants are being flown to Minsk on direct flights from Baghdad and Istanbul, and then bussed to the border where they are shown how to make the crossing.
Belarusian President Alexander Lukashenko, for his part, has said that Belarus will no longer try to stop migrants from entering Lithuania.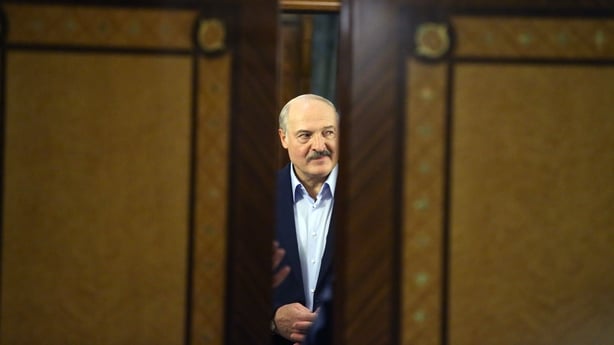 Relations between Belarus and the EU were already strained by a crackdown on Lukashenko's opponents in the wake of a highly contentious election. These have deteriorated sharply after Belarus forced down a Ryanair flight in May and arrested a journalist who criticised the regime on board.
The EU responded with sanctions. Now Lithuania has accused Lukashenko of using migrants as a political weapon to exert pressure on the EU.
Lithuania's Vice-Minister for Foreign Affairs, Mantas Adomenas, explained the situation: "Alexander Lukashenko said that they're going to flood EU countries such as Lithuania with migrants, drugs and later adding armed extremists, in retaliation for the Lithuanian stance in supporting sanctions against the Lukashenko regime which stole the election almost a year ago and imprisoned 500 Belarusians.
"We were the principal supporter of EU sanctions also which were made more stringent after the hijacking of a Ryanair flight from Vilnius to Athens on which a journalist critical of the regime was kidnapped, so they engineered this flow of migrants as a response, as a sort of retaliation as a means of making the EU stand down on sanctions.
"But that would be totally erroneous to do because that would be negotiating with terrorists and giving them levers to change EU policy, but in fact we should respond by introducing new sanctions specifically in response to this irregular migration."
Mr Adomenas said that the migrants are being lured to Belarus and arrive under the guise of going on a legitimate trip. He says the migrants are not legitimate refugees, but economic migrants, adding that of 230 asylum applications processed so far, none satisfied the requirements, and all were refused international protection.
He told RTÉ News about the route most people take.
We need your consent to load this rte-player contentWe use rte-player to manage extra content that can set cookies on your device and collect data about your activity. Please review their details and accept them to load the content.Manage Preferences
Earlier in July, Lithuania introduced a new law to allow mass detention of migrants. 84 MPs supported the bill which also curbs the right of appeal of migrants.
The new law bans any release of migrants from detention for six months after their arrival, curbs the right of appeal for rejected asylum-seekers and stipulates that migrants can be deported while their appeals are considered.
The Lithuanian Red Cross told Reuters that the law is a potential human rights violation, which Vice- Minister Adomenas strongly refutes.
"The new law removes an extra round of appeals, while still leaving two rounds of appeals, so there is clarity for the migrants ... we don't see it in any way as infringing and the EU institutions' response has been very positive to the law."
This week, the European border agency, Frontex, has deployed patrol officers, dozens of vehicles and helicopters to assist Lithuanian border guards.
New #Frontex patrol cars have just arrived in Lithuania and will soon reach operational areas. We already have 30 Frontex cars helping ???? patrol our external border. Safe trip, colleagues! pic.twitter.com/hyPBlSCsfk

— Frontex (@Frontex) July 28, 2021
There are now 99 officers from Frontex assisting Lithuanian authorities, but this is not enough, said Mr Adomenas.
"Given the fact that the border runs for 678km it's not a solution, it will not change the odds in a significant manner, what is needed is assistance in building a physical barrier.
"This is the EU external border we're talking about, it's not Lithuania's concern, it's the EU's concern, the migrants' goal is not Lithuania, they're travelling to Germany, to Sweden to other western European countries and it's rather unfortunate they've been trapped by the deceptive promises of Lukashenko's regime in Lithuania."
Asked for his message to migrants considering making the journey, Mr Adomenas said: "Don't. My message is don't, you'll squander your hard-worked earnings ... they find themselves in a dead end to which they've been deceived, they'll lose what they've paid on false promises, and they will not travel west.
"After processing their asylum applications, we will have to send them back. Because the flow is increasing at such speed that we build tents every day and it barely suffices for the new wave of migrants that's come overnight, it's a race against the clock, the conditions are far from cushy.
"They'll live in tents with barely enough water, with no cooking facilities, I shudder to think what will happen when our rather nice summer turns to a fairly nasty Lithuanian autumn and winter of minus 20 [degrees]. I hope they don't risk it."
Turkey is also seeing a change in patterns of migration in recent months, with a reported increase in Afghan migrants since the withdrawal of western troops from Afghanistan. Just last Wednesday, the Turkish coastguard along with the International Organisation for Migration detained a boat with 208 Afghans on board. The migrants were intercepted in the Aegean Sea en route to Italy.
Turkey is the world's leading refugee host, with at least four million refugees living there, the vast majority of whom are from Syria. But in recent weeks, authorities have noted a rise in Afghan migrants.
Earlier this month, Turkish Interior Ministry officials said they detained around 1,600 migrants in two weeks in the eastern province of Van, as well as 11 human traffickers who brought them into Turkey. Reuters spoke to migrants who walked from Iran to Turkey who said they were fleeing the Taliban and wanted to go to Istanbul to find work.
Turkey has also begun building a concrete wall along its 295km border with Iran. A 64km section is expected to be completed by the end of this year.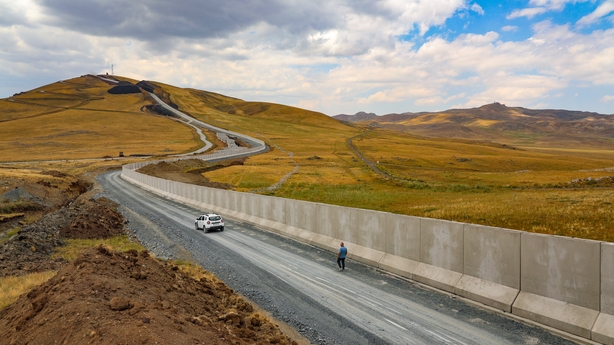 The UN Refugee Agency estimates 270,000 Afghans have been displaced inside the country since January, bringing the number of people forced from their homes to more than 3.5 million.
Aseman Kamali (not her real name) first travelled to Turkey from Afghanistan in November 2017. She crossed into Turkey via Iran with her parents, having paid a smuggler to help them.
Aseman said she spoke to other Afghans who had made the journey previously and describes the crossing as "really tough". She said there were police everywhere when they crossed the border and they had to stay hidden.
They crossed a lake at the border in a small boat designed for three, maybe four people. "We were eight or nine people, it was very difficult for us, especially my parents. It was very risky for us." She said the other migrants were from Iran and Pakistan.
Aseman says as a Hazara person, and even more so as a woman, Afghanistan was very risky and insecure. The Hazara ethnic minority has long been persecuted in Afghanistan and Aseman says the discrimination has increased in recent months. "They are killing Hazara with no reason. Just because of their ethnicity."
Aseman left Afghanistan, because as an English teacher who worked with the US military and Afghan armed forces, her life was in danger.
She was the family's only earner and had to support her parents. She studied at night to gain a Bachelor's degree in Business Administration and said it was particularly difficult walking to class because she would get heckled in the street. She said it was a really bad situation and the family decided to leave once she finished her degree.
Aseman is in contact with her female friends in Afghanistan who are hugely fearful they'll be forced to marry members of the Taliban.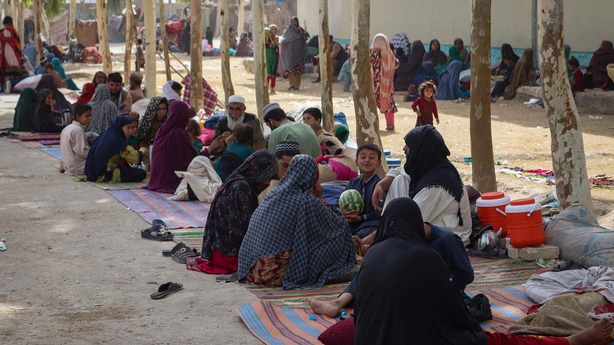 "My friends are really, really afraid, they're really afraid.
"The situation for girls, those who are not married and widows under 45, they are being forced to marry Taliban. In Badakhshan, Baghlan, the Taliban is forcing girls to marry them. My friends are really afraid of this."
Under Turkish law, refugees are not permitted to work, so Aseman volunteers with an organisation which helps Afghan migrants. She said there has been a huge increase in the number of Afghan migrants to Turkey, mostly families and single men who have left Afghanistan because it is simply not safe. But life in Turkey is tough.
"Actually we have no dignity. We (have to) just wait, wait, wait, wait."
Aseman said migrants' rights are limited and they regularly take jobs where they are paid less than their Turkish colleagues. Most of them work in construction, restaurants, or in the textile industry. She spoke of a construction worker called Fazal Ahmad Hosseini who died recently after falling from the eighth story of a building.
She said as an undocumented worker, he had no insurance and no assistance was provided to his widow or family.
Aseman said most migrants do not want to stay in Turkey, but want to be sent to Canada, which is seen as the safest. She also said Europe is a dream destination for most refugees, "at least (there) they can find their dignity".
But the process of sending refugees to a third country is very lengthy, with most staying in Turkey six to eight years. Refugees with enough money pay to cross into Europe.
Aseman has been waiting four years and has yet to be interviewed by the Immigration Office. She said she does not know what her situation is or when she will find out. This is why she is reluctant to publish her real name.