Portugal will ease anti-coronavirus measures at the weekend thanks to declining Covid-19 infections and progress made in vaccinating the nation's 10-million population.
The government aims to gradually lift the restrictions in three stages from Sunday, if the vaccination rate continues to go to plan, Prime Minister Antonio Costa said.
"The time has come to move towards managing the pandemic according to the essential criterion of vaccination," Mr Costa told a press conference after a council of ministers.
From Sunday, shops, restaurants and theatres can stay open until 2am, working from home will no longer be compulsory and the night-time curfew in the most affected areas will be lifted.
The government aims to have 57% of the population fully vaccinated by Sunday.
A health certificate showing proof of vaccination or a negative test will still be needed to stay in a hotel or enter restaurants at the weekend.
From September, when Portugal expects to have vaccinated around 70% of its population, masks will no longer be mandatory while on the street.
If the vaccination rate hits 85% by October, bars and nightclubs will be opened to people who can present a health pass or negative test.
In addition, the limit on crowds in restaurants and at public events will be lifted.
---
---
After an upsurge of infections due to the Delta variant, a more contagious and virulent strain of the virus first identified in India, there had been "a drop in cases in recent weeks", Mr Costa said.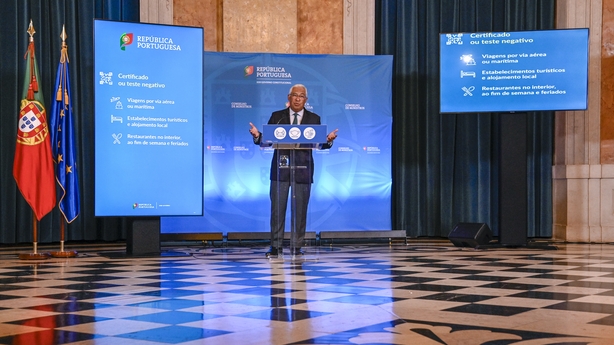 "Vaccination has made a very positive contribution," he said, adding that there had been "fewer deaths, fewer hospitalisations... and a lower incidence rate" - a gauge of the prevalence and rate at which infection is spreading.
Portugal has recorded 17,330 deaths and 963,446 cases of Covid-19, according to the latest figures from health authorities.
Washington DC issues sweeping mask requirement
Masks will be required indoors in Washington, DC, for everyone 2 years and older starting on Saturday, Mayor Muriel Bowser said, regardless of whether they have been vaccinated against the Covid-19 virus.
The mandate will put the nation's capital in line with updated guidance that the US Centers for Disease Control and Prevention released this week in an effort to contain the rapid spread of the Delta variant of the coronavirus.
Many federal government institutions in Washington and its suburbs have already implemented similar mask requirements and President Joe Biden is expected to announce additional measures for the federal workforce.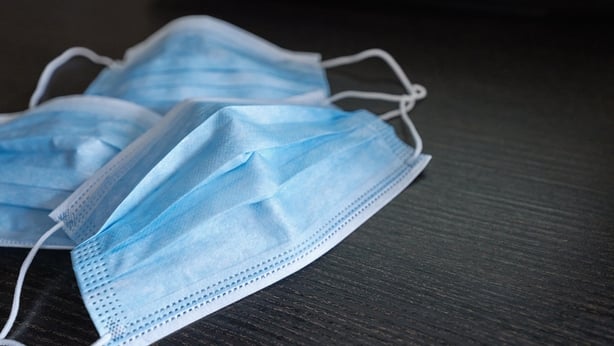 In addition, the Smithsonian said it would reimpose mask requirements at its museums that line the National Mall and other indoor venues for visitors 2 years and older beginning tomorrow "regardless of vaccination status."
Face coverings may be removed while eating or drinking in designated areas, it said in a statement.
By the beginning of July, Washington had hit its lowest rate of community spread of Covid-19 since the global pandemic began a year and a half ago.
Over the course of the month, the daily case rate has increased five fold, at the same time that the test
positivity rate rose, LaQuandra Nesbitt, director of the city's health department, said at a public briefing before Bowser announced the new mandate.
Current estimates indicate more than half the city's residents have been fully vaccinated, according to public health agency data.
Spain's Catalonia extends nightly virus curfew
Spain's Catalonia has extended for a second time a nighttime curfew that was imposed on the tourist hotspot to fight a Covid-19 surge.
A Catalan court approved the regional government's request to extend the nightly curfew between 1am and 6am in 163 cities including Barcelona and popular beach resorts like Sitges and Salou.
The measure was imposed in the northwestern region bordering France in mid-July and this is the second time that it is extended.
Catalonia has Spain's highest Covid-19 incidence rate. Before imposing the curfew, the region had instituted other virus restrictions such as limiting gatherings in public and private to 10 people.
The surge in infections has put pressure on Catalonia's hospitals, with 45% of the region's hospital beds occupied by Covid-19 patients, compared to 17% nationally.
Several other regions, including Andalusia in the south and the Balearic Islands in the Mediterranean, have also moved recently to reimpose limits on nightlife to fight a rise in infections driven by the highly contagious Delta variant of the virus.
Spain's infection rate per 100,000 population over 14 days stabilised yesterday at nearly 700, a level about five times higher than it was a month ago. In hard-hit Catalonia it stands above 1,000.
"We have started to see a certain stabilisation in the infection curve," Prime Minister Pedro Sanchez said.
Spain's vaccination rollout has gathered speed and the country has one of Europe's highest Covid-19 immunisation rates, with 66% of its population having had at least one dose.
Israel offers booster shot to over 60s
Israel will begin offering a third shot of the Pfizer/Biontech Covid vaccine to people over 60.
The campaign, a bid to fend off the Delta variant, will effectively turn Israel into a testing ground for the booster before approval by the U.S. Food and Drug Administration (FDA).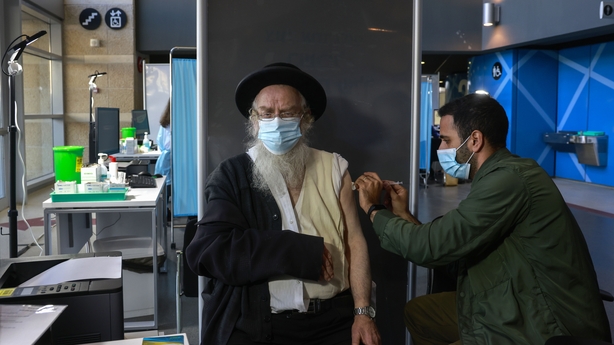 Pfizer said yesterday that it believes people need a third dose to keep protection against the coronavirus high. The company says it could apply for US emergency authorisation for booster shots as early as August.
The Director-General of Israel's health ministry informed the heads of health maintenance organisations that have been administering the two-dose Pfizer vaccine that they could provide booster shots for people over the age of 60.
Since the Delta variant began spreading in Israel in June, the health ministry has twice reported a drop in the vaccine's effectiveness against infection and a slight decrease in its protection against severe disease.
France lashes out at England quarantine rule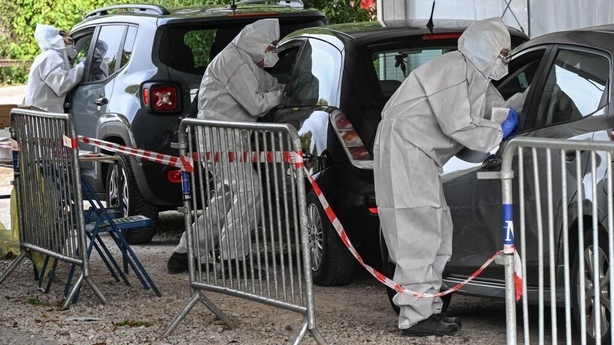 French authorities have said they failed to understand why France is exempt from a new rule allowing fully-vaccinated European Union citizens to enter England without having to quarantine.
From next week, travellers fully jabbed with a vaccine approved by the US Food and Drug Administration or the European Medicines Agency will be able to travel from any country on the British Government's "amber" traffic light list without having to self-isolate at home for 10 days, the UK government said yesterday.
Arrivals from France are the only exception.
"This decision is discriminatory towards French people," said French European Affairs Minister Clement Beaune.
"It is excessive and makes no sense in terms of health policy and has no foundation in science," he told the LCI TV channel.
The UK singled out France due to the Government's concern over the "persistent presence" of the Beta variant, which is believed to be more resistant to vaccines.
But Beaune said the Delta strain accounted for fewer than 5% of Covid cases in France, and mostly occurred in overseas territories from where relatively few people travelled to the UK.
Beaune also said he regretted that travellers from the EU could still not enter the United States, even though American tourists can easily come to EU countries so long as they are vaccinated or have a negative Covid test.
"We should have kept reciprocity as a trump card up our sleeves at the European level," he said. "Perhaps Europe overall should have been tougher in the negotiations."
Yesterday, France reported just under 28,000 new Covid cases for the previous 24 hours and 40 new deaths from the virus.
A total of 111,768 people have died from Covid in France, according to health authorities.
World could be 'adequately' vaccinated by mid-2022 - Raab
Britain's foreign minister Dominic Raab has said giving away their excess Covid jabs could mean the world will be "adequately vaccinated" by mid-2022, making the country "safer" as a result.
Mr Raab confirmed that the UK will ship its first batch of excess coronavirus vaccines to "vulnerable" nations and Commonwealth allies this week.
The UK made a pledge to donate 100 million of its excess vaccine doses to poorer nations at the G7 summit in Cornwall in June.
Mr Raab justified the decision, saying: "We are safer when the rest of the world is safer."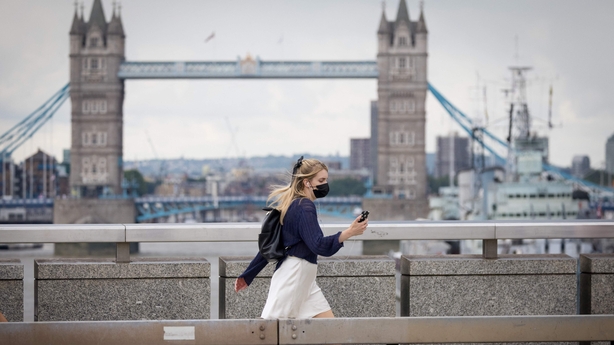 He told Sky News: "At the start of the pandemic, when we did our vaccine programme, we secured multiple sources and supplies and overall the volume of vaccines to make sure we had security of supply.
"We have already given a huge amount through Covax, through the financing of Covax, but we can now, from domestic supply, start to give 100 million, which will get the world vaccinated.
"We have got moral reasons for doing that. You look at Jamaica, Laos, Cambodia, some of the countries - Kenya - we are vaccinating and we feel a sense of moral responsibility."
Indonesia will receive 600,000 doses of those being handed out bilaterally, 300,000 will be sent to Jamaica and 817,000 are to be transported to Kenya, among other countries, the Foreign Office said.
South Korea experts call for more Covid curbs as easygoing young fuel surge
South Korean health experts have called for tougher social distancing rules, including a midnight curfew, as the number of severe Covid cases has doubled in three weeks, driven largely by young, unvaccinated people.
The country is battling its worst wave of infections linked to the more contagious Delta variant helped by what some experts see as public complacency and a slow vaccination drive.
Today, authorities reported 1,674 new cases, down slightly from nearly 2,000 the day before.
"Young people are no longer afraid of gathering," said Jung Ki-suck, professor of pulmonary medicine at Hallym University Sacred Heart Hospital.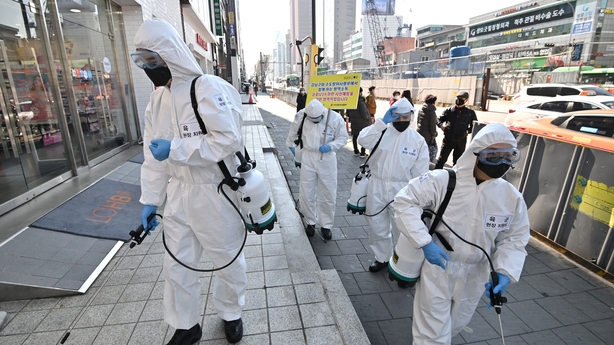 He said groups were skirted distancing rules despite a ban in the capital on gatherings of more than two people after 6pm and many bars were operating through the night illegally.
Authorities should impose a four-hour curfew in the capital from midnight, he said.
South Korea largely kept the virus at bay for the first year of the pandemic and its total tallies of 195,099 cases and 2,085 deaths are much lower than those of many other countries.
But its vaccination campaign has been slow with only about 36% of its 52 million people having had one vaccine dose and just 14% fully vaccinated.
While vaccinations of the elderly have kept mortality rates low, at 1.07% as of yesterday, the number of severe cases jumped to 285 from 144 three weeks ago when the latest surge of infections gathered pace.
Nearly a quarter of serious cases are now in the 20-49 age group - 66 people compared with just 11 in that age cohort two months ago.
Experts warn the trend will get worse with vaccinations for people in their 20s only likely to begin in September.
Myanmar jail vaccinates hundreds amid surge in Covid cases
Myanmar's main prison has vaccinated more than 600 inmates against Covid on the first day of a drive to inoculate inmates, as military authorities struggle to control a wave of infections across the country.
Infections have surged since June, with 4,980 cases and 365 deaths reported yesterday, according to health ministry data cited in media. Medics and funeral services put the toll much higher.
With the death toll rising, military authorities, facing widespread opposition since a February coup, plan to build 10 new crematoriums in Yangon, which will be able to cremate more than 3,000 bodies per day, state media reported this week.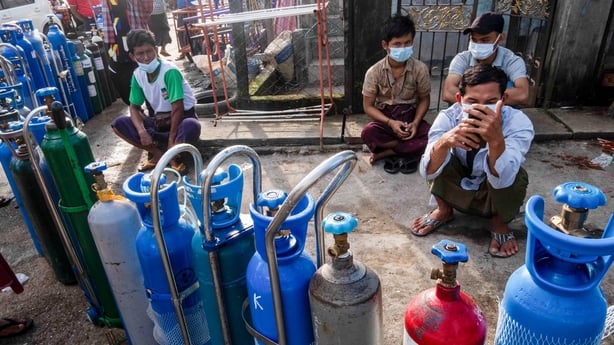 Inmates in Yangon's Insein jail staged a protest last week over what activists said was a major Covid outbreak in the colonial-era facility, where many pro-democracy protesters are being held.
Citing prison officials, the Global New Light of Myanmar newspaper, said 610 inmates were vaccinated on Wednesday and more would be inoculated in coming days depending on the supply of vaccines.
"This is the first Covid-19 vaccination of prisoners," an unidentified prison officer was quoted as saying, describing it as precautionary and denying there was an outbreak at the facility.
The newspaper reported 2,500 inmates had registered to be vaccinated out of more than 9,000 in the jail.