Barcelona and other cities in Spain's northeastern Catalonia region will impose a night-time curfew starting this weekend to fight a surge in virus cases after the measure won court approval.
Catalonia's regional government on Wednesday asked the courts for permission to restore a nightly curfew between 1am and 6am in areas where infection rates surpass 400 cases per 100,000 inhabitants over a seven-day period.
The curfew is intended to discourage social gatherings on beaches and in parks to curb a spike in cases of the highly-contagious Delta variant, especially among unvaccinated young people.
The region's top court today signed off on the measure, which will affect a total of 161 municipalities, including popular beach resorts like Sitges and Salou.
Catalonia, the epicentre of Spain's jump in infections, has already ordered all public gatherings to finish by 12:30am and restricted gatherings to no more than ten people.
But images of large groups of youths gathering on Barcelona's beaches or in popular nightlife districts have become common since Spain lifted a nationwide night-time curfew in early May.
The infection rate in Catalonia has recently jumped to 1,107 cases per 100,000 people, more than double the national average.
Among people aged 20 to 29, the figure is more than 3,000 cases per 100,000 people.
Catalonia is following in the footsteps of Valencia, its neighbouring region, which earlier this week won court approval to restore a curfew in 32 towns.
The northern Navarra region said today it would also seek court permission to restore a nightly curfew.
Spain's vaccination programme has worked through age groups meaning those in their 20s and 30s are only now starting to get jabs, leaving them vulnerable to the new Delta variant.
Unlike in previous infections waves, the death toll has remained low and intensive care units have not so far not been overwhelmed with Covid-19 patients.
Prime Minister Pedro Sanchez said this week Spain was on track to have 70% of the population immunised against Covid-19 before the end of August.
Eiffel Tower to reopen after record nine-month closure
The Eiffel Tower is to reopen to visitors for the first time in nine months, following its longest closure since World War II.
The lifts are set to whir back into life, transporting tourists to its 300-metre (1,000-foot) summit, ending a long period of inactivity caused by the Covid-19 pandemic.
Daily capacity is set to be restricted to 13,000 people, however, about half of the normal level, in order to respect social distancing.
From Wednesday next week, visitors will need to show either proof of vaccination or a negative test, in line with recent government-imposed requirements.
"Obviously it's an additional operational complication, but it's manageable," the head of the operating company, Jean-François Martins said.
Back in business after being closed for almost nine months #TourEiffel pic.twitter.com/6z4A8ntWLN

— Sharon Gaffney (@Sharon_Gaffney) July 16, 2021
After a final round of safety checks by staff, he announced that the "lady is ready".
Early reservations for tickets during the summer holiday period underline how the tourism industry in Paris has changed due to travel restrictions.
Half of visitors are expected to be French, while Italians and Spanish make up a higher proportion than usual.
The long closure has caused havoc with the finances of the operating company, Sete, which runs the monument on behalf of Paris city authorities.
It is set to seek additional government aid and a fresh 60-million-euro cash injection to stay afloat, having seen its revenues fall by 75 percent to 25 million euros in 2020.
Melbourne returns to lockdown as Australia scrambles to curb outbreak
Melbourne's streets returned to the eerie quiet of lockdown for the fifth time, as Australia battled to contain an outbreak of the Delta variant of Covid in its two largest cities.
More than 12 million Australians are now under stay-at-home orders after Melbourne residents began their first day of a snap lockdown, joining Sydneysiders already deep into weeks-long restrictions.
"You look around the city today; there's no one here. The city is asleep," Melbourne resident Mike Cameron said.
Locals are only allowed to leave their homes for a handful of reasons, including exercise and to buy essential items, but many are hopeful the restrictions could be brief.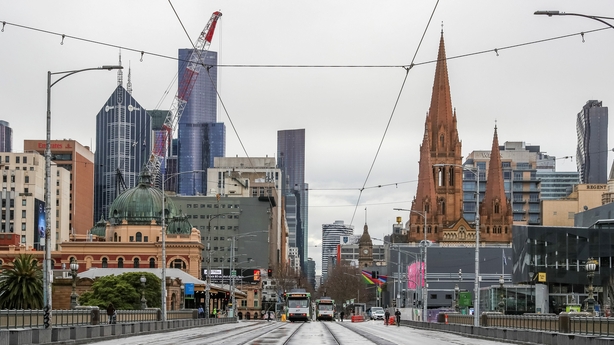 "Hopefully, it's just the five days; I think that's very manageable -- glad that we got onto it really fast," Melbourne local Matilda Dempsey, 18, said.
"I think Sydney left it a bit late, and now they're kind of stuck in a worse situation."
Authorities around the country are desperately working to track, trace and prevent cases from spreading through a largely unvaccinated population.
Melbourne recorded six cases of the virus today, all linked to known clusters, with the outbreak now at 24 infections.
Mandatory indoor mask use returns to Los Angeles
Wearing a face mask at an indoor public establishments will once again be mandatory in Los Angeles starting this weekend due to a steady increase in Covid infections and hospitalizations, health authorities have said.
Los Angeles is the first large US metropolis to reimpose the use of face masks, regardless of vaccination status, in shops, grocery stores, restaurants and workplaces to help contain the pandemic.
The new masking order goes into effect midnight on Saturday in the county of Los Angeles.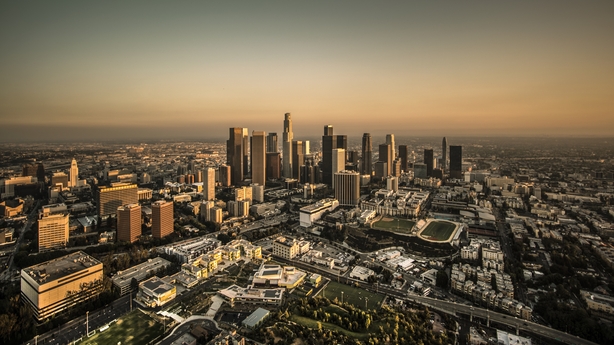 The area is "not where we need to be" in terms of numbers of vaccinated people, said county health officer Muntu Davis.
Yesterday the county reported 1,537 new cases of infection, the highest number since early March, and seventh straight day of new cases numbers topping 1,000.
US health officials announced in mid-May that fully vaccinated Americans could say goodbye to their masks both outdoors and indoors.
However, after peaking in April the US vaccination campaign has slowed significantly, even though plenty of vaccines are available.
The increase in Covid cases, mainly due to the spread of the Delta variant, has some officials worried.
The vast majority of people testing positive for Covid, some of whom must be hospitalised, have not been vaccinated.
UK 'not out of the woods yet', says top medic
The British government's top medic has warned the number of people in hospital with coronavirus could reach "quite scary" levels within weeks.
Professor Chris Whitty said the UK is "not out of the woods yet", just hours after Boris Johnson declared it was "highly probable" the worst of the pandemic is over.
The latest figures showed 48,553 more cases, the highest since 15 January, while the 63 deaths were the biggest daily reported increase since 26 March.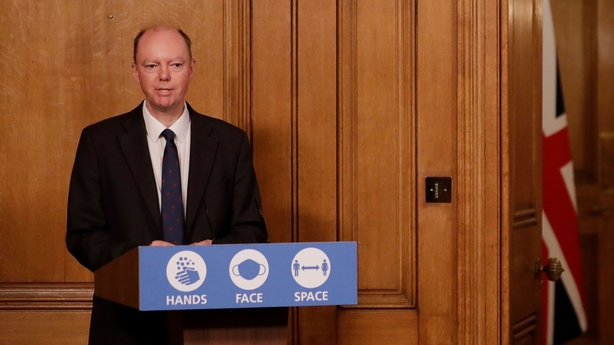 Prof Whitty, England's chief medical officer, said: "I don't think we should underestimate the fact that we could get into trouble again surprisingly fast."
He warned that the number of people in hospital with Covid is currently doubling about every three weeks and could reach "quite scary numbers" if the trend continues.
His comments came after Mr Johnson urged people not to "throw caution to the winds" as England's restrictions ease on Monday and acknowledged there would be more hospital admissions and deaths from Covid-19 to come during "difficult days and weeks ahead".
Prof Whitty said the key on 19 July was "to take things incredibly slowly", adding that he fully expected most people to continue to take precautions.