Curfews and other virus restrictions are returning to many regions of Spain as the country tries to curb a surge in more contagious Delta cases, especially among unvaccinated young people.
The northeastern region of Catalonia is expected to ask the courts for permission to impose a nightly curfew in its hardest-hit cities, including Barcelona.
It is following in the footsteps of the neighbouring region of Valencia, which has already received the green light to restore a curfew in 32 towns.
The northern region of Cantabria is also working to impose a curfew.
Catalonia, the epicentre of Spain's jump in infections, has already in recent days ordered public activities to finish at 12.30am, and restricted gatherings to no more than ten people.
The spike in cases in the region followed the reopening of nightclubs on 21 June and the end of the school year.
"The numbers are more than bad. They are frankly very, very bad," said Catalonia's public health secretary, Josep Maria Argimon.
The coronavirus infection rate for people aged 20- 29 in Catalonia has jumped to 3,311 cases per 100,000 people, compared to a national average of 437 cases among people of all ages.
Nearly 80,000 new infections have been diagnosed in Catalonia, a region of some 7.7 million people, in the past two weeks.
Town halls have asked for help to restrict access to beaches and parks, the site of large gatherings since Spain lifted a nationwide curfew in early May.
---
---
The number of Covid-19 patients at Barcelona's Bellvitge Hospital has jumped to 110 from just 20 two weeks ago, and their average age - 44 years - is lower than in previous waves, a trend seen across Spain.
The country's vaccination programme has worked through age groups, so people in their 20s and 30s are only now starting to get jabs, leaving them vulnerable to the new Delta variant.
Unlike in other waves of infections, deaths have remained low and hospital ICUs have so far not been overwhelmed with Covid-19 patients, possibly because patients are younger.
Prime Minister Pedro Sanchez said the country was on track to have 70% of the population immunised against Covid-19 before the end of August, and urged young people to keep taking measures to avoid getting infected.
Court rules Spanish home confinement rule was unconstitutional
Spain's Constitutional Court has ruled that strict home confinement included in a national state of emergency to curb the first wave of Covid-19 infections last year was unconstitutional.
The state of emergency introduced in March 2020 allowed the government to temporarily limit civil liberties, confining almost all Spaniards to their homes and shutting down all but essential industries.
The Constitutional Court said in a statement it had annulled by a simple majority some articles of the state of emergency decree related to free movement of citizens.
The complete ruling will be released in a few days.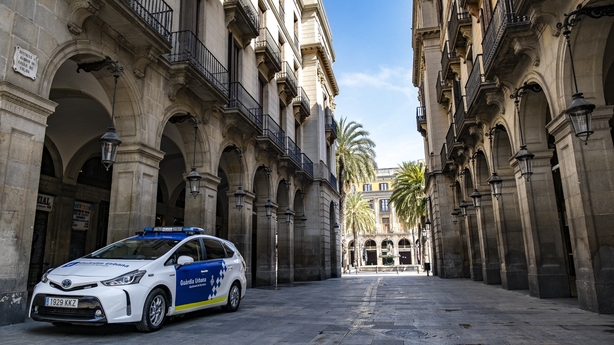 By voiding the emergency decree, the ruling opens the door to the cancellation of fines for breaching lockdown restrictions imposed during the period.
The court's decision comes in response to a petition filed by far-right party Vox, which argued the measures were overly harsh and constituted a suspension rather than a limitation of civil liberties.
Vox argued the restrictions required the passing of a "state of exception," which is one rung above a state of emergency and requires parliamentary approval rather than just a green light from the cabinet.
During a deadly first wave of infection, Spain imposed one of the strictest lockdowns in Europe, only allowing people to leave their homes to go to work, buy food or visit a pharmacy or hospital.
Australia extends Sydney lockdown by two weeks
Australian authorities have extended a lockdown in Sydney by at least 14 days, after three weeks of initial restrictions failed to stamp out the biggest outbreak of Covid-19 this year in the country's largest city.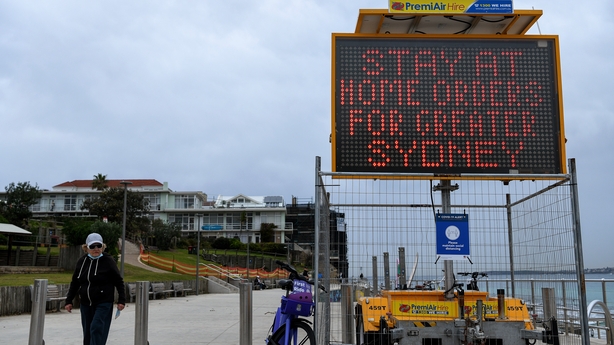 New South Wales state Premier Gladys Berejiklian said restrictions would need to remain in place until at least 30 July after she reported 97 new locally transmitted cases, a slight increase from a day earlier.
"It always hurts to say this, but we need to extend the lockdown at least a further two weeks," Ms Berejiklian said in Sydney.
"We want to get out of this lockdown as soon as we can and that is why we have the settings in place that we have."
The shutdown has now been extended on two occasions and total infections since the first was initially detected in the city's eastern suburbs in mid-June now stand at just under 900.
Two deaths have been reported, the first for the country this year.
Ms Berejiklian has repeatedly said that the lockdown will only be lifted when the number of newly reported cases that were circulating in the community while infectious were close to zero.
Of the 97 new cases, 24 people were infectious in the community, meaning authorities expect more cases of highly contagious Delta variant to come to light in the coming days.
The harbour city of 5 million residents was plunged into an initial two-week lockdown in late June.
Many non-essential businesses are closed, and most school students are staying home, with residents only allowed outside their homes for essential activities and some exercise.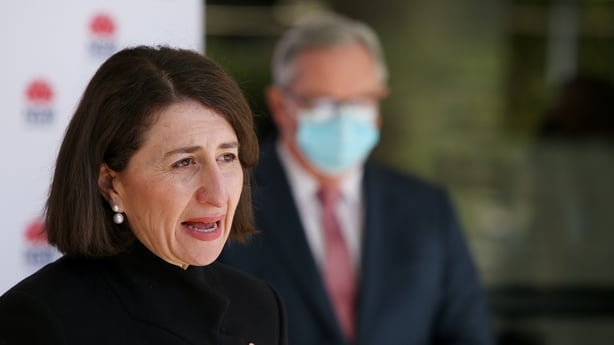 Neighbouring Victoria state, which spent nearly a third of 2020 under lockdown as the centre of Australia's first wave of Covid-19 cases, reported its biggest daily case increase in weeks, all linked to a team of removalists who carried the virus interstate from Sydney.
Among the seven new cases in the state, one person attended a football match at Melbourne Cricket Ground while contagious, making the country's biggest sports stadium a designated exposure site, the authorities said.
Hundreds of people in the state had been ordered into isolation and an apartment block visited by the removalists was locked down.
Investigators were checking for clues of possible contacts, but there was no indication of plans for wider movement restrictions.
"Collectively, as the Victorian community, I'm confident we can get on top of it but if we have to bring additional weapons... we'll do that," said the state's Covid-19 response commander Jeroen Weimar.
"The next two or three days are going to be absolutely critical."
In New South Wales, there are now 71 patients in hospital as a result of the Sydney outbreak, with 20 people in intensive care units, including one person aged in their 20s and two in their 30s.
Australia has seen just over 31,300 cases and 912 deaths.
Malta: No ban on unvaccinated travellers
Malta has reversed its plan to ban unvaccinated travellers just hours before it was due to come into effect today.
Those without a vaccine will now be permitted to enter and quarantine upon arrival.
The Mediterranean island nation last week said it would become the first European country to announce such a ban.
But that drew criticism from the European Commission as it risked undermining an EU-wide Covid travel certificate.
Nearly 3,000 confined to cabins after COVID-19 case on Singapore cruise

A Genting Cruise Lines ship on a "cruise to nowhere" has returned to Singapore after a confirmed case of Covid-19 in a passenger, and the nearly 3,000 passengers and crew on board were confined to their cabins.
The 40-year-old passenger tested positive onboard and the result was confirmed after the person was taken to hospital once the ship docked early this morning, the Singapore Tourism Board said, following the detection of the suspected case.
"The passenger was identified as a close contact of a confirmed case on land, and was immediately isolated as part of on board health protocols," the board said in a statement.

The global cruise industry has taken a major hit from the coronavirus pandemic, with some of the earliest big outbreaks occurring on cruise ships in Asian waters.
Singapore, which has seen relatively few domestic Covid-19 cases, launched "round trips" on luxury liners in November, with no port of call during a few days of sailing.
The World Dream cruise liner had 1,646 passengers and 1,249 crew members on board and all of them were required to remain in their rooms with contactless meals sent to them, according to Dream Cruises, a part of Genting Cruise Lines.
The guest suspected of having Covid-19 had tested negative in a mandatory, pre-departure antigen rapid test before the ship set sail for a three-night cruise on Sunday.
The infected passenger's three travelling companions tested negative and were isolated while further contact tracing was being done, the tourism board said.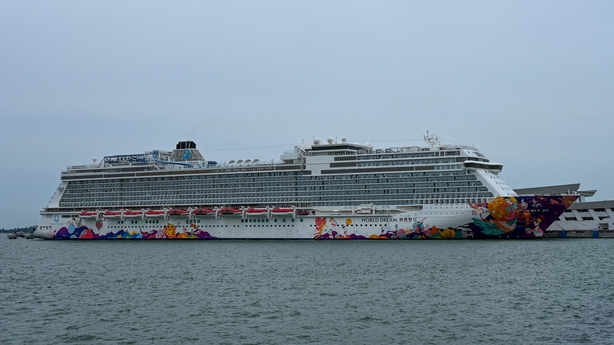 Only essential service crew with personal protective equipment were being allowed limited movement within the ship, Dream Cruises said.
The cruises to nowhere, restricted to Singapore residents, have become popular during the pandemic with other travel opportunities very limited because of coronavirus restrictions.
Singapore reported 56 locally-transmitted coronavirus cases today, the highest number of daily domestic infections recorded in about 10 months.
Local media, citing authorities, reported that the case on the ship was part of a growing cluster of Covid-19 infections associated with karaoke lounges.
World Dream's next sailing, a two-night voyage departing today, has been cancelled.
In December, passengers on Royal Caribbean's Quantum of the Seas vessel were held in their cabins for more than 16 hours in Singapore after a suspected Covid-19 case on board.
But that turned out to be a false alarm.
South Korea imposes tighter curbs as new case record set
South Korea has tightened social distancing rules across most of the country to tackle its worst-ever outbreak of coronavirus a day after new cases soared to a new daily peak of 1,615.
The latest daily tally surpassed the previous record of 1,378 set last Friday, adding to growing worries centred on the rapid spread of the more contagious Delta variant and a slowing vaccination campaign.
Clusters of infections have sprung up quickly around the capital Seoul and neighbouring areas fuelled by the Delta variant, the Korea Disease Control and Prevention Agency (KDCA) said.