Ethiopia's ruling party has secured an overwhelming majority in a landmark parliamentary poll, the electoral board said today, ensuring a new five-year term for Prime Minister Abiy Ahmed.
The election marked the first time Mr Abiy faced voters since being appointed prime minister in 2018 following several years of anti-government protests.
The winner of the 2019 Nobel Peace Prize, he had hoped to frame victory at the ballot box as a mandate for political and economic reforms and military operations.
But the poll was held in the midst of a gruelling conflict in Ethiopia's northern Tigray region that has battered Prime Minister Abiy's global reputation and raised fears of widespread famine.
His Prosperity Party won more than 400 seats out of a total of 436 where elections were held, according to results issued by the National Election Board of Ethiopia (NEBE) at a gathering in Addis Ababa.
Documents from the NEBE issued today showed the PP winning 421 seats but then it said there would have to be a re-run election in 10 constituencies and a recount in three more.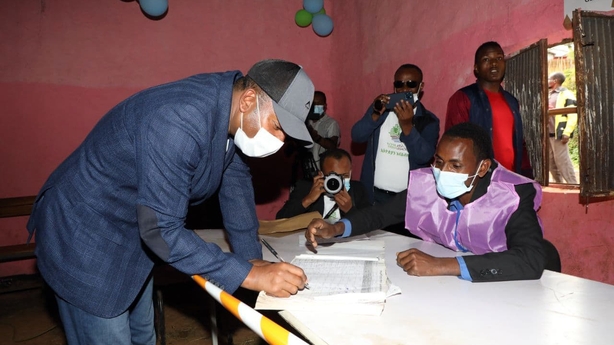 The polls were delayed twice - once for the coronavirus pandemic, and again to allow officials more time to prepare.
Even with the extra time, voting did not go ahead in around one-fifth of the country's 547 constituencies. A second batch of voting is due to take place on 6 September in many of those left out.
The announcement of final results was also later than expected because of delayed counts and complaints by political parties.
But there is no election date set for Tigray, where fighting marked by myriad atrocities raged for eight months before federal troops withdrew at the end of June in the face of rebel advances and Mr Abiy's government declared a unilateral ceasefire.
The situation remains precarious, with analysts warning of potential further fighting in western Tigray and some world leaders denouncing a "siege" blocking desperately-needed aid for a region where hundreds of thousands face famine.
Campaigning was muted even in some areas where voting did take place on 21 June, with opposition parties complaining of a tilted playing field.
Ethiopia is divided into 10 states along ethnic and linguistic lines. They vary greatly in territory and population, though each enjoys a level of self-rule from Addis Ababa.
The Oromos are the largest ethnic group, and include among their number the prime minister.
Amharas are the second largest, while other sizeable minorities include the Somalis and Tigrayans.
Most of the population is engaged in agriculture and about a quarter of Ethiopians live in poverty.