Twenty-five Palestinian students who came to Ireland to study for Masters' degrees have finally graduated at a special ceremony held in Gaza by the Irish Government.
The students studied everything from Diagnostic and Precision Medicine at DCU to International Criminal Law at NUIG.
However they missed out on their graduation celebrations last summer, as a result of the Covid-19 pandemic.
To mark the occasion, a new ceremony was arranged by Ireland's Representative Office in Ramallah last night.
The students were all congratulated with a video message beamed in to the ceremony from Minister for Foreign Affairs Simon Coveney.
"It's clear how important opportunities like this are to students, to their families and for their community," he said.
He helped set up the programme in 2019 following visits to Gaza.
"I'm delighted to see the programme go from strength to strength, in spite of the challenges of the past 18 months," he said.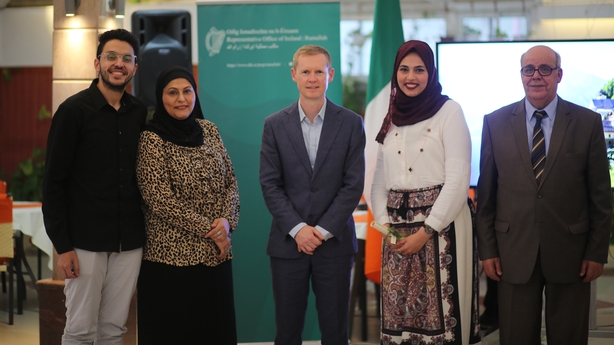 The challenges have included students going through lockdown conditions here in Ireland when the pandemic struck.
It meant that all of their learning had to be switched to online and some of the friendships and contacts they had hoped to make were put on hold.
Despite this, one of the graduates, 26-year-old Susan Al Raby, who studied Human Resources Management at DCU, described the experience as "beyond amazing. I wouldn't change it for anything else".
Reflecting on her time back in Gaza she said: "Every time you imagine life in Gaza to be the toughest and nothing worse could happen that could surprise you, something happens.
"Right now, we have survived an 11-day war. Things are tough to say the least. People are trying to recover from what has happened. If you walk down the street, you can see all the rubble, all the destruction."
Another student, 23-year-old Reem Dawoud, who studied at UCD, gave a speech at the ceremony and said studying in Ireland had been the opportunity of a lifetime.
"It was really heart-warming, the reactions I would get from people when they know I come from Palestine."
She said: "Ireland has truly been my second home because I've had so many amazing people as friends."
She said learning about a new culture during the pandemic had been a "rollercoaster ride, from week-long quarantine to distance learning, to Zoom meetings and various other things," but she said the experience had left her feeling capable of taking on all obstacles in life."
She is now looking for a job in Gaza but she says this is "mission impossible" at the moment.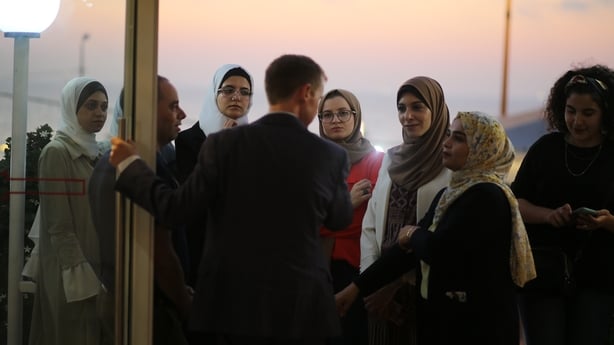 A new group of students is due to travel to Ireland to begin their studies in the new academic year, with Minister Coveney adding: "I would like to wish the graduates the very best and I look forward to meeting the class of 2021-22 over the coming months."
Don Sexton, the Representative of Ireland to Palestine who attended the graduation ceremony, said the students had been "Ambassadors of Palestine" when they were in Ireland "to explain what life is like in Gaza."
Nine of the new students who will arrive in Ireland are from Gaza, with more students coming from the West Bank.
The Ireland-Palestine Scholarship Programme (IPSP) is part of the Irish Aid-administered Ireland Fellows Programme that, since 1974, has brought thousands of professionals to Ireland from Irish Aid partner countries to study for a Master's degree.
A specific programme within the Ireland Fellows for the occupied Palestinian territory was established in 2019 and awarded 25 Fellowships for the 2020-21 academic year and 25 for the 2021-22 academic year.
Students can choose from a wide variety of master's level programmes at Irish Universities or Institutes of Technology.
The award covers course fees, accommodation, living costs and flights. Programme implementation in Ireland is supported by the Irish Council for International Students (ICOS).