Hungarian Foreign Minister Peter Szijjarto has claimed that plans to light the Allianz Arena in rainbow colours in solidarity with the LGBT community for Wednesday's Euro 2020 game between Hungary and Germany are "harmful and dangerous".
Local authorities in Munich asked UEFA for permission to light the stadium's translucent cover in rainbow colours in "a visible sign of solidarity with the LGBTI community in Hungary".
Viktor Orban's right-wing Hungarian government last week passed a law banning the "promotion" of homosexuality to minors.
"It is extremely harmful and dangerous to mix sports and politics," Mr Szijjarto told MTI news agency.
"Historical experience shows that this is bad, and if anyone, the Germans certainly know this well.
"We in Hungary have passed a law to protect Hungarian children, and they are now fighting against it in Western Europe.
"The (lighting) clearly shows the intention to bring politics into the world of sport, because everyone knows what it is about."
Yesterday, UEFA said it was opening an investigation into an allegedly homophobic banner and monkey noises at Hungary's first two Euro 2020 matches in Budapest.
Several members from the Hungarian neo-Nazi group "Carpathian Brigade" were on the terraces for those first two matches and there are fears some will make the journey to Munich.
Around 1,000 police officers are expected to be on duty for Wednesday's game, which only 14,000 fans will be allowed to attend due to Germany's Covid-19 regulations.
Hungary need to win to have a chance of reaching the last 16, while Germany know victory would secure a spot in the knockout phase.
Meanwhile, Germany midfielder Leon Goretzka said it would have been "absurd" if UEFA had sanctioned the German FA for the rainbow-coloured captain's armband that skipper Manuel Neuer has worn during Euro 2020 in solidarity with gay pride.
The German Football Association (DFB) said it had been informed by UEFA that a review of the matter had been halted and a spokesperson said the Germans "will not face disciplinary measures".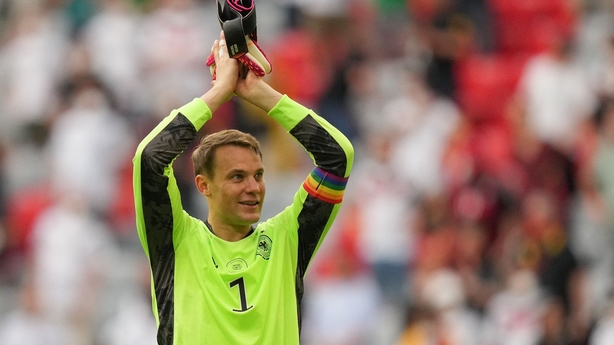 "The armband has been assessed as a team symbol for diversity and thus for a 'good cause'," the DFB said on Twitter.
Normally, the captains of each team at the European Championship are obliged to wear a standard armband issued by UEFA.
Neuer will wear the rainbow armband for Wednesday's game against Hungary in Munich. Goretzka said the armband should never have been an issue.
"There are rules and guidelines at UEFA and the DFB, sport should not be exploited, that is important and right," Goretzka said.
"However, it would have been absurd if we had to apologise for it (the armband), as it is clear what that stands for."
Former Germany midfielder Thomas Hitzlsperger, who came out as gay after retiring in 2013 and is now head of sport at VfB Stuttgart, was unimpressed that UEFA had even looking into the armband matter.
"Come on, @UEFA @EURO2020 - you can not be serious?!" Hitzlsperger tweeted.
Yesterday, German FA spokesman Jens Grittner said that Neuer would not have stopped wearing the rainbow armband even if UEFA opted to punish the Germans.
"Manuel Neuer has been wearing the rainbow armband since a friendly against Latvia on 7 June as a sign and clear commitment of the whole team for diversity, openness, tolerance and against hate and exclusion."