A US judge has thrown out a lawsuit by more than 100 employees of one of Texas's largest hospitals, who sued after being required to get the Covid-19 vaccine.
The Houston Methodist Hospital system suspended 178 employees without pay last week over their refusal to get vaccinated.
The workers argued that Houston Methodist Hospital's demand was illegal so long as the available shots have received only emergency use authorisation from US health authorities.
The hospital set a 7 June deadline for workers to prove they had received at least one dose or face termination.
Federal court Judge Lynn Hughes ruled against Jennifer Bridges and 116 other workers on Saturday, saying the vaccines' safety was not at issue and Texas law only protects employees from refusing to commit a crime.
"Receiving a Covid-19 vaccination is not an illegal act, and it carries no criminal penalties," the judge wrote.
She also reprimanded Ms Bridges for the analogy that the threat of being fired for not getting vaccinated was like "forced medical experimentation during the Holocaust".
"Equating the injection requirement to medical experimentation in concentration camps is reprehensible," the judge also said.
Houston houses the largest medical complex in the world, the Texas Medical Center, a sprawling district that includes hospitals and research universities.
The centre employs more than 106,000 healthcare workers in all, and treats 10 million patients a year.
Over half of the American population has received at least one dose of a Covid-19 vaccine so far.
Euro 2020 host Saint Petersburg tightens virus restrictions
Authorities in Saint Petersburg, which is hosting a series of Euro 2020 matches, said that they are tightening coronavirus restrictions in an effort to curb a new spike in infections.
Three matches that were due to be played in Dublin were moved to St Petersburg, while a fourth was moved to London, because the FAI and Government were unable to guarantee spectator attendance.
One of these Group E games between Poland and Slovakia is due to kick off in St Peterburg tonight.
The match is expected to go ahead, but no food will be sold at Euro 2020 fan zones.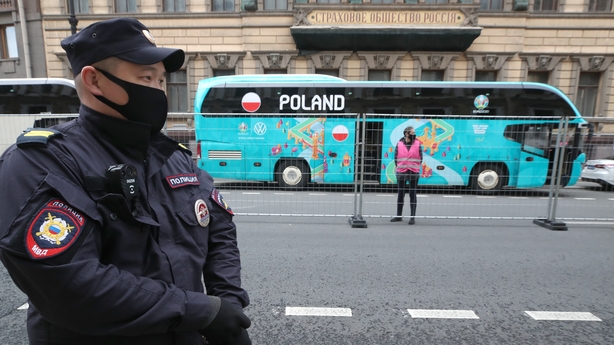 City authorities said earlier said that all necessary measures will be taken to protect fans and players during Europe's biggest football extravaganza.
"Guests at all public events including those held in the open air are obliged to use masks," they said.
At the weekend, authorities in Moscow announced a "non-working" week in the Russian capital, with non-essential workers told to stay home.
Russian health officials have registered more than five million coronavirus cases and more than 126,000 deaths but some experts say officials vastly under report fatalities.
German Health Minister considers lifting mask rules
Germany could soon begin easing rules on mask-wearing as the country records a sharp drop in Covid-19 infections, Health Minister Jens Spahn said.
"With falling incidence rates, we could proceed in stages. The first stage would be to lift the mask requirement outdoors," Mr Spahn said in an interview.
"In regions with very low numbers and a high vaccination rate, the requirement could gradually be dropped indoors," he added.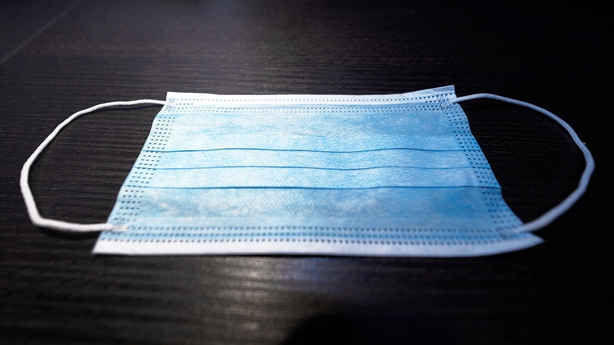 Wearing a mask is compulsory in Germany in public indoor spaces, as well as on public transport, in shops, in schools and on certain busy streets.
But like many of its European neighbours, the country has seen a sharp drop in coronavirus infections in recent weeks, allowing it to lift many restrictions and reopen public life.
The country began easing restrictions in May by reopening restaurants, bars and non-essential shops after months of closures.
EU signs Digital COVID Certificate into law
EU leaders have signed into law the legislation providing for the Digital COVID Certificate.
The heads of the European Parliament, European Commission and Council of the EU said the certificate is a "symbol for what Europe stands for".
"Our Union showed again that we work best when we work together. The EU Digital COVID Certificate Regulation was agreed between our institutions in the record time of 62 days. While we worked through the legislative process, we also built the technical backbone of the system, the EU gateway, which is live since 1 June," they said.
The leaders said it will allow EU citizens to travel more safely this summer.
"We can be proud of this great achievement. The Europe that we all know and that we all want back is a Europe without barriers. The EU Certificate will again enable citizens to enjoy this most tangible and cherished of EU rights - the right to free movement," they said.
The regulation will apply from 1 July, with a phasing-in period of six weeks.
Thirteen member states have already started to issue the certificates.
The Irish Government intends to use EU Digital Covid Certificate from 19 July.