Ten people have been killed and 16 injured in an attack on a de-mining camp in Afghanistan, according to a British landmine clearance charity.
The Halo Trust, which was supported by Princess Diana, and is also associated with her son, Prince Harry, said a group entered the camp last night and opened fire.
Head of Communications for the Trust, Paul McCann, said: "Around 110 men, from local communities in northern Afghanistan, were in the camp having finished their work on nearby minefields.
"We strongly condemn the attack on our staff, who were carrying out humanitarian work to save lives. We are focused now on (taking) care of the injured staff and supporting the families affected."
Afghanistan's country's interior ministry said the Taliban had carried out the attack in the northern province of Baghlan.
Afghanistan is one of the most heavily mined countries in the world, a legacy of decades of conflict.
Baghlan province has seen fierce fighting in recent months, with near-daily battles between the Taliban and government forces in several districts.
Violence has surged across the country since 1 May when the US military began its final troop withdrawal.
In several districts where fighting has been intense in recent months, the insurgents have planted roadside bombs and mines to target government forces, but the explosives often kill and wound civilians.
In 1997, Diana was photographed walking through a partially cleared Angolan minefield to highlight the trust's efforts and the threat of the military munitions.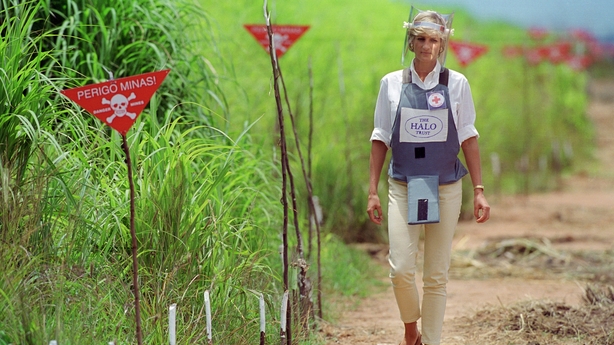 According to the its website, the Halo Trust employs almost 9,000 people and works in more than 20 countries and territories around the world.
Additional reporting AFP