India's capital New Delhi and financial hub Mumbai began a gradual easing of restrictions today as coronavirus infections in the country fell to a two-month low.
Hospitals in the megacities - which have a combined population of some 40 million - were overwhelmed by a deadly Covid-19 wave in April and May, with severe shortages of oxygen and other critical medicines.
The huge spike saw India report record-breaking numbers of cases and deaths to become the second worst-hit nation after the United States with just under 29 million infections.
Authorities in Delhi and Mumbai, as well as other cities and states, imposed restrictions on movement and activities to combat the surge.
"We have to stay safe from corona infection and also bring the economy back on track," Delhi Chief Minister Arvind Kejriwal tweeted today as some shops and malls reopened.
Delhi Metro services were allowed to operate at 50% capacity. The northern city was reporting an average of 25,000 daily cases during its peak. It fell to 381 infections on yesterday, officials said.
Maharashtra, India's richest state of which Mumbai is the capital, eased restrictions based on infection rates and hospital bed occupancy.
In Mumbai - where the caseload soared to 11,163 in early April - there were just 794 new infections yesterday.
---
---
Malls were allowed to reopen in the city with restrictions, but were reopened fully in cities with lower infection rates such as Nagpur and Aurangabad.
"This is a step in the right direction," said Rajendra Kalkar of Phoenix Mills, which manages three shopping centres in Maharashtra.
"Businesses at our malls are coming back slowly. This is a very welcome step for thousands of mall staff and retail employees."
Malta has no new coronavirus infections
Malta registered no new Covid-19 cases for the first time in 11 months today, but the Mediterranean island's health minister urged people to remain careful to prevent any resurgence.
"Today is the first day with zero cases since last summer," minister Chris Fearne wrote on Twitter. "It is essential that we maintain discipline and responsibility."
The news came as Malta allowed bars, cinemas and theatres to reopen as part of a government timetable to progressively rollback restrictions that was announced months ago.
Malta last registered zero cases on July 25, but cases then gradually rose, to spike at 510 in March before dropping again.They have been in single figures for weeks.
The island leads the European Union in the vaccination programme, with more than half the adult population now fully vaccinated and 75% having had at least a first dose.
Taiwan awaiting vaccines from US
The 750,000 Covid vaccine doses promised to Taiwan by the United States will be flown in soon, President Tsai Ing-wen said today.
It comes as measures to tackle an outbreak that has not yet stabilised on the island were extended.
After months of relative safety, Taiwan has been dealing with a spike in domestic infections and is at its second-highest alert level, with gatherings restricted, entertainment venues shut and students shifted to online learning.
Taiwan has been trying to ensure that the millions of vaccines it has on order will arrive sooner. Yesterday, visiting US Senator Tammy Duckworth said his government would send the island 750,000 doses as part of a broader global donation plan.
"Follow up coordination work for shipping the 750,000 doses of vaccines provided by the United States has already begun, and they will soon be sent to Taiwan by air," President Tsai said in a live broadcast from her office, without giving details.
"I promise that the government will do everything in its power to strive for a more stable supply of vaccines," she added.
EMA issues new advice on treatment of clots
The European Medicines Agency (EMA) has advised doctors not to use the blood thinner heparin to treat rare blood clots and low blood platelets in people who got the AstraZeneca or Johnson &Johnson Covid vaccines.
Europe's drugs regulator, seeking to ensure proper treatment, highlighted the International Society on Thrombosis and Haemostasis (ISTH) interim guidance.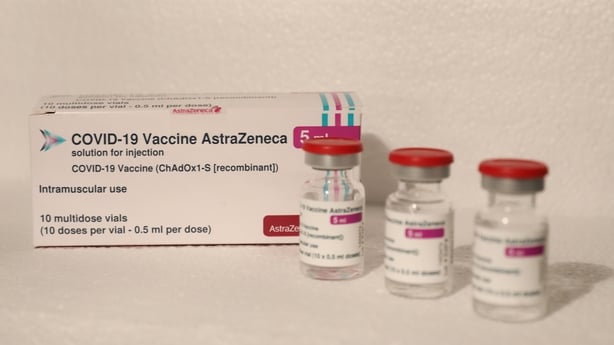 In April, the ISTH concluded "management should be initiated with non-heparin anti-coagulation upon suspicion" of vaccine-linked clotting and low platelets.
The EMA move underscoring the ISTH guidelines is in line with recommendations of the US Food and Drug Administration and Centers for Disease Control, which have issued strong warnings against using heparin for such cases, on the grounds it appeared to make the condition worse.
Alternative anti-coagulants include fondaparinux or argatroban.