US President Joe Biden told Israel's Prime Minister Benjamin Netanyahu that he expects a "significant" reduction in the military confrontation with Palestinians, the White House has said.
"The president conveyed to the prime minister that he expected a significant de-escalation today on the path to a ceasefire," according to a statement released after what the White House said was the two leaders' fourth call since the crisis began.
The statement marked a sharpening of public tone from the White House toward the close US ally.
However, there was no mention of how President Biden defined "significant" in his call to tune down the bombing of Gaza, which Israel says is directed at the Hamas militant group.
White House spokeswoman Karine Jean-Pierre also would not say what response there would be if no change occurred on Wednesday.
According to Gaza officials, at least 227 people, including 64 children, have been killed by Israeli attacks on the territory since 10 May. Twelve people have been killed in Israel by Hamas rockets.
So far, President Biden has avoided joining an international chorus demanding an immediate ceasefire in Israel, saying only that he supports a truce.
Israel is one of the United States' closest allies, and President Biden has been at pains to express backing for Netanyahu's argument that the country's powerful military is acting in self-defense.
In the statement after the latest phone call, the White House said the two leaders discussed in detail "Israel's progress in degrading the capabilities of Hamas and other terrorist elements, and ongoing diplomatic efforts by regional governments and the United States".
Joe Biden has come under pressure from much of his own Democratic party to adopt a tougher line. The White House says that it does not want to create a public rift with Israel but suggests that it has taken a more critical approach in private conversations.
"Our approach is to make sure we do this quietly, intensively, in a diplomatic way," Jean-Pierre said.
It comes after Israel bombarded Gaza with air strikes and Palestinian militants kept up cross-border rocket fire, with no firm sign of any imminent ceasefire despite international calls to end more than a week of fighting.
Israeli leaders said they were pressing on with an offensive against Hamas and Islamic Jihad, but an Israeli military spokesman acknowledged that with an estimated 12,000 missiles and mortars in the groups' Gaza arsenal, "they still have enough rockets to fire".
Two Thai workers were killed and seven people were wounded in a rocket strike yesterday on an Israeli farm just over the Gaza border, police said. Hamas, which rules Gaza, and Islamic Jihad claimed responsibility.
The Israeli military said some 50 rockets were fired overnight from Gaza, with sirens sounding in the coastal city of Ashdod, south of Tel Aviv, and in communities closer to the Gaza border. There were no reports of damage or injuries.
We need your consent to load this rte-player contentWe use rte-player to manage extra content that can set cookies on your device and collect data about your activity. Please review their details and accept them to load the content.Manage Preferences
In a 25-minute attack overnight, 52 Israeli aircraft struck Hamas tunnels in southern Gaza, the Israeli militarysaid. It said 40 targets were hit in the operation.
Nearly 450 buildings in Gaza have been destroyed or badly damaged, including six hospitals and nine primary-care health centres, since this round of conflict began, the UN humanitarian agency said.
Some 48,000 of the 52,000 displaced people had gone to 58 UN-run schools.
Israel said more than 3,450 rockets had been launched at it from Gaza, some falling short and others shot down by its Iron Dome air defences. It put the number of militants it has killed at about 160.
Hamas began firing rockets nine days ago in retaliation for what it said were Israeli rights abuses against Palestinians in Jerusalem during the Muslim holy month of Ramadan.
The hostilities are the most serious between the militant group and Israel in years, and in a departure from previous Gaza conflicts, have helped fuel street violence in Israeli cities between Jews and Arabs.

Israeli Prime Minister Benjamin Netanyahu reiterated in a post on Twitter that Israel's attacks "will continue for as long as it takes to restore calm" for all of itscitizens.
Mr Netanyahu said Israel's strikes had "set Hamas back many years" - which some Israeli news commentators took as a possible prelude to a ceasefire within days when he could claim victory.
But Amos Yadlin, a former Israeli military intelligence chief, said the picture was more complicated, citing civil unrest in Israel, mounting protests by Palestinians in the occupied West Bank and a trickle of rocket fire from Lebanon.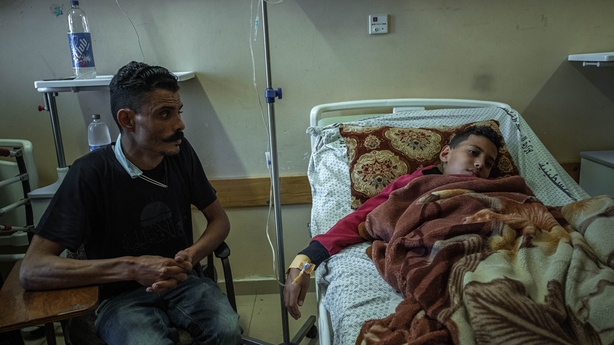 The Minister for Foreign Affairs said Iran has a responsibility to use its influence on Palestinian militant groups in Gaza to achieve a ceasefire.
Simon Coveney told RTÉ News that the remarks were made during "quite a blunt discussion" in Dublin with his Iranian counterpart Mohammad Javad Zarif.
"I made the point very clearly that they have some influence, particularly in the Gaza Strip, on groups like Hamas and Islamic Jihad, and they had a responsibility to use that influence to promote and insist on a ceasefire and an ending of violence and the firing of rockets", Mr Coveney said.
He declined to say how Mr Zarif responded, as he said it was "primarily a private meeting". However, he said the Iranian foreign minister understood Ireland's point of view.
"He understood our point... I made that quite forcefully and I think I think that point was taken", he said.