United States President Joe Biden told Israeli Prime Minister Benjamin Netanyahu that he backs having a ceasefire in the bloody exchanges between Israelis and Palestinians, but he stopped short of openly demanding a truce.
In a phone call with the Israeli prime minister, "the president expressed his support for a ceasefire and discussed US engagement with Egypt and other partners towards that end," the White House said.
Mr Biden has so far resisted joining other world leaders and much of his own Democratic party in calling for an immediate ceasefire in Israel.
In a statement, the White House said President Biden reiterated what has been his main message so far - "his firm support for Israel's right to defend itself against indiscriminate rocket attacks".
Mr Biden "encouraged Israel to make every effort to ensure the protection of innocent civilians," the statement said.
But the White House has steered clear of condemning any aspect of the ongoing Israeli military strikes, saying that the close US ally is justified in responding forcefully to Hamas rocket volleys.
Officials have suggested that more critical views are being relayed in private.
Earlier, the United States blocked - for the third time in a week - the adoption of a joint UN Security Council statement calling for a halt to Israeli-Palestinian violence and the protection of civilians as the death toll from nearly a week of violence passed 200.
The Seanad held a debate on the deteriorating situation in the Middle East this evening with Minister for Foreign Affairs, Simon Coveney, telling the chamber it was a time for "de-escalation [of violence] before even more lives are lost".
He continued: "It is hard to comprehend how the UN Security Council ... is unable to agree a clear joint statement on this issue - not even to make a clear statement on the protection of civilians and children, not even a call for a ceasefire".
As the deadly Israeli-Palestinian violence continues, Minister Simon Coveney tells the Seanad that EU foreign ministers will meet virtually tomorrow in an extraordinary session to discuss the hostilities | https://t.co/6D8pQZpWEL pic.twitter.com/eLgYGbigJu

— RTÉ News (@rtenews) May 17, 2021
Mr Coveney said that EU foreign ministers will meet virtually tomorrow in an extraordinary session to discuss the hostilities.
The UN Security Council is to hold a new emergency closed-door meeting on the Israeli-Palestinian conflict tomorrow, the Norwegian diplomatic mission announced on Twitter.
"The situation on the ground continues to deteriorate. Innocent civilians continue being killed and injured. We repeat: stop the fire. End hostilities now," the delegation said.
The United States earlier indicated it "could not currently support an expression" by the UN Security Council, one diplomat told AFP.
The text, obtained by AFP, called for "de-escalation of the situation, cessation of violence and respect for international humanitarian law, including the protection of civilians, especially children".
It voiced the Council's "grave concern" at the Gaza crisis and its "serious concern" regarding the possible eviction of Palestinian families from their homes in East Jerusalem, opposing "unilateral actions" likely to further escalate tensions.
The draft also welcomed international efforts to de-escalate the situation, without reference to the United States, and reiterated the Council's support for a negotiated two-state solution allowing Israelis and Palestinians to "live side by side in peace within secure and recognised borders".
The Security Council has held three emergency meetings on the escalating violence in the past week without reaching a common position - with Israel's main ally the United States accused of obstructionism.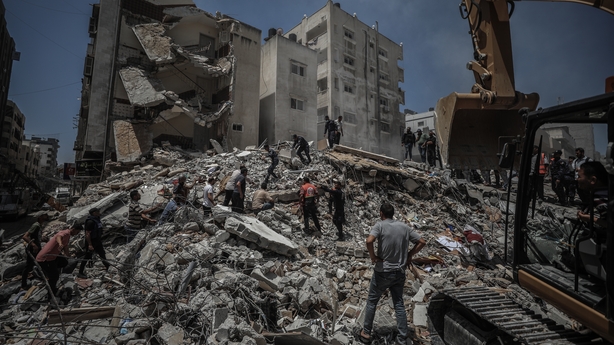 Israel tonight launched artillery towards Lebanon - on its northern border - in response to rocket fire from there and continued a barrage of airstrikes against Gaza.
Hamas threatened more rocket strikes on Tel Aviv if bombing of residential areas did not stop.
We need your consent to load this rte-player contentWe use rte-player to manage extra content that can set cookies on your device and collect data about your activity. Please review their details and accept them to load the content.Manage Preferences
The violence between Hamas and Israel is the worst since 2014, when Israel launched a military operation on Gaza with the stated aim of ending rocket fire and destroying tunnels used for smuggling.
It left 2,251 dead on the Palestinian side, mostly civilians, and 74 on the Israeli side, mostly soldiers.
A Palestinian journalist has told RTÉ News how he escaped with his family from his neighbourhood in Gaza after it was pounded by Israeli airstrikes over the weekend in an attack which killed 15 of his neighbours.