Israel fired artillery and mounted more air strikes against Palestinian militants in the Gaza Strip amid constant rocket fire deep into Israel's commercial centre.
As hostilities entered their fifth day, with no sign of abating, the Israeli military said in a statement shortly after midnight that air and ground forces were attacking the Hamas-run enclave.
Rocket barrages from Gaza swiftly followed.
Although the statement gave no further details, Israeli military affairs correspondents - who are briefed regularly by the armed forces - said it was not a ground invasion, and that troops were firing artillery from Israel's side of the border.
The Israeli army clarified that its troops had not entered the Gaza Strip as it had earlier stated, blaming an "internal communication" problem for the confusion.
Just after midnight, the army sent a message to the media saying troops were in the Gaza Strip, and this was confirmed to AFP by the army's spokesperson.
But two hours later, the army published a clarification saying there were "no soldiers" in Gaza.
Israel had earlier deployed additional troops to Gaza's border as the conflict with Palestinian Islamists raged on, while inside Israel, security forces scrambled to contain deadly riots between Jews and Arabs.
Three rockets were also fired from southern Lebanon towards Israel today, a Lebanese military source said.
Israel's army confirmed the attack and said the rockets landed in the sea.
It was not immediately clear who had fired them, but two sources close to Israel's arch-enemy Hezbollah said the Lebanese Shiite group had no link to the incident.
With the Gaza conflict showing no signs of easing, Israel has been rocked by an unprecedented wave of mob violence, in which both Arabs and Jews have been savagely beaten and police stations attacked.
Defence Minister Benny Gantz ordered a "massive reinforcement" to suppress the internal unrest.
Despite global alarm and diplomatic efforts to de-escalate Gaza hostilities, which US President Joe Biden said he hoped would end "sooner than later", hundreds of rockets again tore through the skies.
Worried that the region's worst hostilities in years could spiral out of control, the United States is sending an envoy, Hady Amr, to the region.
US Secretary of State Antony Blinken voiced alarm today at the rise of Arab-Jewish violence inside Israel.
"We're also deeply concerned about the violence in the streets of Israel," Mr Blinken told reporters, saying that Jews and Muslims marking holidays this week "deserve to take part in celebrations without fear of violence".
He also said that the US is deeply concerned with the loss of life among civilians, especially children.
The fourth day of heavy bombardments coincided with the start of Eid al-Fitr, which marks the end of the Muslim holy fasting month of Ramadan, and saw the faithful pray at mosques and amid the rubble of Gaza's collapsed buildings.
Israel's air force launched multiple air strikes, targeting locations linked to Hamas, the Islamist group that controls Gaza.
We need your consent to load this rte-player contentWe use rte-player to manage extra content that can set cookies on your device and collect data about your activity. Please review their details and accept them to load the content.Manage Preferences
Israeli Prime Minister Benjamin Netanyahu said Israel has struck close to 1,000 militant targets in Gaza in total.
At least 83 people have been killed in Gaza since violence escalated on Monday, medics said, further straining hospitals already under heavy pressure during the Covid-19 pandemic.
A Palestinian rocket had earlier crashed into a building near Israel's commercial capital of Tel Aviv, injuring five Israelis, police said.
Seven people have been killed in Israel since hostilities began, the Israeli military said.
It comes as the UN Security Council is to hold a virtual public meeting on the Israeli-Palestinian conflict on Sunday, diplomats said.
The meeting, originally scheduled for Friday, was requested by Tunisia, Norway and China.
The United States, which had blocked the Friday session and considered a meeting early next week, agreed to move it to Sunday, the same sources said.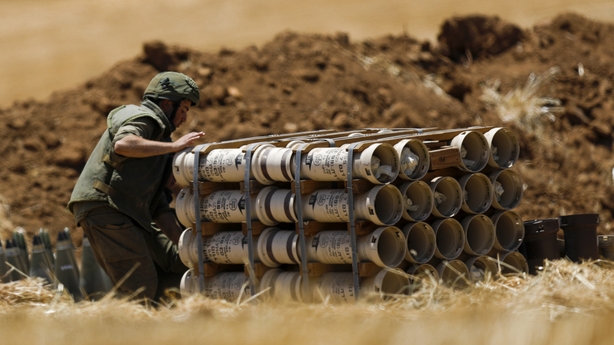 Hamas armed wing spokesman Abu Ubaida responded to the Israeli troop build-up along the Gaza border with defiance, urging Palestinians to rise up.
"Mass up as you wish, from the sea, land and sky. We have prepared for your kinds of deaths that would make you curse yourselves," he said.
Health authorities in Gaza said they were investigating the deaths of several people overnight who they said may have inhaled poisonous gas.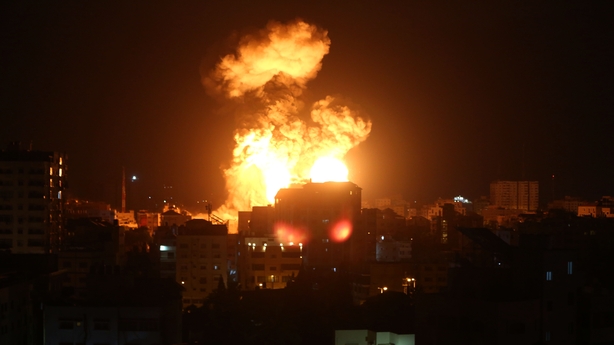 Mr Netanyahu has said Israel will continue strikes against the military capabilities of Hamas and other Gaza groups. Hamas is regarded as a terrorist group by the United States and Israel.