The Minister for Foreign Affairs has confirmed that Ireland's ambassador to Israel has been summoned to the Israeli Foreign Office over comments made by the minister about the escalating violence in the Middle East.
Simon Coveney said yesterday that the loss of life among civilians in Gaza was unacceptable and that Israel had a duty to protect civilians and comply with international humanitarian law.
Speaking on RTÉ's Drivetime today, Mr Coveney said the ambassador explained in "very clear terms" why he made the statements.
"He outlined why they're justified, why they're consistent with international law, and why Ireland has an obligation as a Security Council member as an EU member, to speak honestly and frankly, about the concerns that we have.
"I don't take sides in the Middle East peace process. I'm not pro-Israeli or pro-Palestinian. The Irish position is based on international law, and a respect for UN Security Council resolutions," Minister Coveney said.
"Israel has obligations as an occupying power in occupied territory. It's important that they take them seriously, and the international community hold them to account for that."
Israel has a responsibility to protect civilians and children in Gaza, he added.
Mr Coveney said: "Nobody defends the firing of rockets from Gaza into Israel. No right-minded person anyway."
Hamas, a terrorist group, he said, has sent 1,000 rockets "indiscriminately" towards Israel.
The minister said, however, that it is the responsibility of the international community to "call out" the responsibilities that the Israeli government and its defence forces have in the context of the number of civilians, and children that have been killed in the "targeted attacks on Gaza".
Israel has said it is trying to target Hamas targets, he said, but "that is virtually impossible".
Mr Coveney added that the Security Council, and the Foreign Affairs Council of the European Union have to ask the "hard questions" as to whether international law is being respected.
Ambassdor: Security Council must condemn attacks on Israel
The Israeli Ambassador to Ireland has said the main goal of Israel is "to reach quiet, calm and peace that is long-lasting" but it must defend its citizens from ongoing rocket attacks from Hamas in Gaza.
Ophir Kariv said that Israel never targets civilians and the current violence is a "fully-fledged terrorist attack by Hamas on the Israeli population centre and major metropolitan areas in Israel".
He told RTÉ's News at One that, since Monday, more than 1,000 barrages of rockets have been fired at Israeli citizens resulting in casualties and wounded civilians.
Mr Kariv said the UN Security Council "needs to be very clear in its condemnation" of these attacks and must put forward a unified front against what he called "Hamas terrorism".
"Any attempt to tie this ... terrorist attack by Hamas to anything else just plays into the hand of terrorists."
The ambassador said the vast majority of people killed by Israel in Gaza are Hamas terrorists and members "but unfortunately sometimes in densely population areas like Gaza some others are going in harms way".
Israel "is doing its utmost to ensure only terrorists are being targeted," he added.
"We know exactly who we target"

The Israeli Ambassador to Ireland has said that Israel "is doing its utmost to ensure only terrorists are being targeted" and that "usually" they know who is killed | More: https://t.co/liCg3dpCdq pic.twitter.com/GnXylHRnMn

— RTÉ News (@rtenews) May 12, 2021
Mr Kariv said that Israel does realise and acknowledges the humanitarian situation in Gaza and it is "our essential interest to try to alleviate the hardships, but we must first defend our citizens".
Israel is interested in getting to a "long-term calm and to ensure that once peace and quiet is achieved it will last for as long a period as possible," he said.
The ambassador also said that when peace is achieved, it must be the case that "we don't face the same thing in a week or two".
Mr Kariv said that Israel is obliged to protect its own citizens and is trying to minimise "as much as possible" the civilian casualties on the other side.
"We know exactly who we target ... usually [we know who we kill] but not always."
The ambassador said the "double war crime of Hamas" is that it fires indiscriminately at the Israeli civilian population and then uses its own population as shields and hides behind them".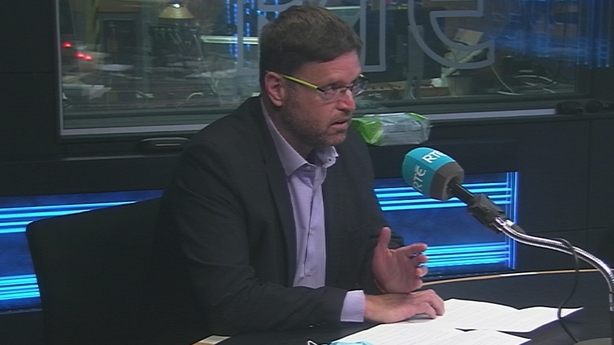 Mr Kariv claimed that around 30% of rockets fired by Hamas fall inside Gaza itself and have caused a number of casualties, including cases where children were killed.
He said the Israeli government uses its resources to defend its citizens through building bomb shelters and accused Hamas of using thousands of tonnes of cement and building material for tunnels to attack Israel, rather than supporting civilians in Gaza.
Ambassador Kariv also accused Hamas of hijacking and using every resource and piece of equipment that comes into Gaza and harnessing it to its terrorist activities.
Israel will have to see how attempts to broker a ceasefire by Egypt proceed, he said, but it is "difficult to assess to what extent and where and when we will see results".