Hostilities between Israel and Hamas escalated overnight with the United Nations Security Council set to hold an emergency meeting on the deteriorating situation.
The death toll rose to 30 Palestinians and three Israelis, with Israel carrying out multiple air strikes in Gaza and the Islamist militant group firing rockets at Tel Aviv.
A 13-storey residential Gaza block collapsed after one of several dozen air strikes. Late into the night, Gazans reported their homes shaking and the sky lighting up with near-constant Israeli strikes.
Israelis ran for shelters in communities more than 70km up the coast amid sounds of explosions as Israeli interceptor missiles streaked into the sky.
Israel said hundreds of rockets had been fired by Palestinian militant groups.
For Israel, the targeting of Tel Aviv, its commercial capital, posed a new challenge in the confrontation with Hamas, regarded as a terrorist organisation by Israel and the United States.
The UN Security Council is holding an emergency meeting on the situation this morning, with Ireland among the members calling for the talks.
UN Special Coordinator for the Middle East Peace Process Tor Wennesland will brief Security Council members on the latest developments.
Earlier, Mr Wennesland warned that Israel and Hamas were heading towards "full scale war" adding that "leaders on all sides have to take the responsibility for de-escalation".
The UN Office for the Coordination of Humanitarian Affairs issued a statement warning that without further provision, fuel for the Gaza Power Plant is due to run out this Saturday.
It said this would cause significant reduction in electricity supply, "impacting the availability of health, water and sanitation services".
"The protection of civilians is of paramount importance," said UN Humanitarian Coordinator, Lynn Hastings.
The latest violence follows weeks of tension in Jerusalem during the Muslim fasting month of Ramadan, with clashes between Israeli police and Palestinian protesters in and around Al-Aqsa Mosque, on the compound revered by Jews as Temple Mount and by Muslims as the Noble Sanctuary.
These escalated in recent days ahead of a – now postponed – court hearing in a case that could end with Palestinian families evicted from east Jerusalem homes claimed by Jewish settlers.
Israel suspended traffic at its main airport yesterday due to "massive rocket fire", the aviation authority told AFP, and air traffic websites showed flights redirected to nearby Cyprus.
We need your consent to load this rte-player contentWe use rte-player to manage extra content that can set cookies on your device and collect data about your activity. Please review their details and accept them to load the content.Manage Preferences
Israeli Prime Minister Benjamin Netanyahu warned that Israel planned "to further intensify the power of our attacks".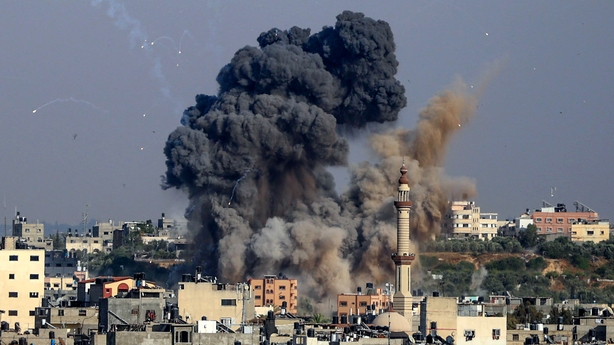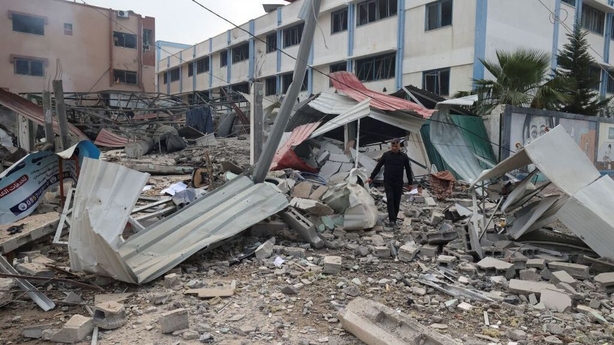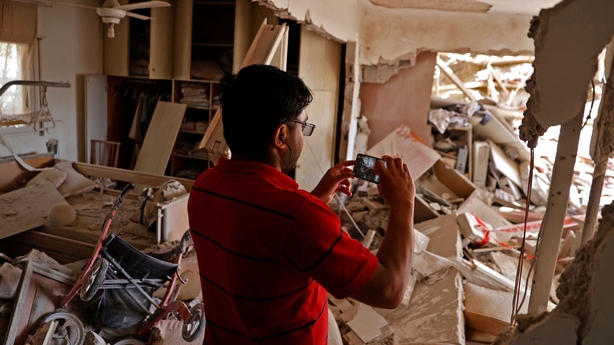 The United States has urged both Israel and the Palestinians to avoid "deeply lamentable" civilian deaths after air strikes by the Jewish state in response to rocket fire in Gaza.
"Israel does have a right to defend itself. At the same time reports of civilian deaths are something that we regret and would like to come to a stop," State Department spokesman Ned Price told reporters.
"We don't want to see provocations. The provocations we have seen have resulted in a deeply lamentable loss of life."
The White House said it still wants to see a two-state solution to the Israeli-Palestinian conflict, after condemning the rocket attacks by Hamas.
Diplomatic sources told AFP that Egypt and Qatar, who have mediated past Israeli-Hamas conflicts, were attempting to calm tensions.
But Egypt's Foreign Minister Sameh Shoukry told an emergency Arab League meeting that although Cairo had "extensively reached out" to Israel and other countries, "we did not get the necessary response".
Large protests were held in solidarity with Palestinians around the world, including in London, as well as in Muslim-majority countries including Kuwait, Oman, Pakistan, Tunisia and Turkey.
In Jordan, protesters gathered outside the Israeli embassy, burning Israeli flags and chanting "Shame, shame the embassy is still there".
Amnesty International accused Israel of using "abusive and wanton force against largely peaceful Palestinian protesters".