The EU has concluded a deal with Pfizer-BioNTech for up to 1.8 billion extra doses of its Covid-19 vaccine, according to European Commission chief Ursula von der Leyen.
"Happy to announce that the EU Commission has just approved a contract for guaranteed 900 million doses (+900 million options) with Pfizer-BioNTech for 2021-2023," she tweeted from an EU summit in Portugal.
"Other contracts and other vaccine technologies will follow," she promised.
Happy to announce that @EU_Commission has just approved a contract for guaranteed 900 million doses (+900 million options) with @BioNTech_Group @Pfizer for 2021-2023.

Other contracts and other vaccine technologies will follow.

— Ursula von der Leyen (@vonderleyen) May 8, 2021
Ms von der Leyen said Europe is preparing the next stage of its response including giving booster shots, allowing for vaccination of children and teenagers, and dealing with possible escape variants.
Taoiseach Micheál Martin said the summit had resulted in "strong social commitments to tackle child poverty, education and skills as we recover from the pandemic".
Also today, the EU and India agreed to relaunch long-stalled trade talks in a major push to boost ties at a video summit held under the shadow of the Covid-19 pandemic battering the south Asian giant.
"The EU and India are opening a new important chapter in our relationship. We are the world's two largest democracies. We are natural partners," European Council chief Charles Michel said.
Ms von der Leyen hailed the decision to restart trade talks after an eight-year break as a "landmark moment".
EU countries have sent medical equipment and drugs worth an estimated €100 million to India as part of international efforts to help it fight against the flood of Covid-19 cases.
A top official at India's External Affairs Ministry said Prime Minister Narendra Modi had pushed the EU to support an Indian and South African proposal to suspend Covid-19 vaccine patents after US President Joe Biden threw his weight behind the plan.
EU leaders have expressed scepticism about the initiative, insisting the first move is for countries to open up to exporting doses.
The two vaccine-producing powerhouses did agree to try to work together to make sure global supplies are maintained and the world is better prepared for future pandemics.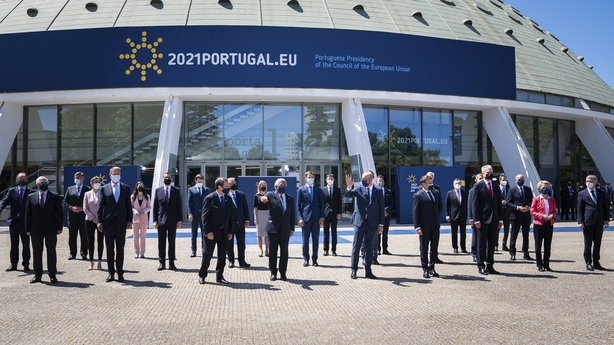 "We agreed that defeating the Covid-19 pandemic through global cooperation and solidarity remains our priority and underlined our commitment to work together to ensure a better, safer, sustainable and inclusive recovery," a joint statement said.
German Chancellor Angela Merkel urged the United States to export coronavirus vaccines made on its soil, as she rejected a patent waiver call from Washington for the jabs.
"Now that a further part of the American population has been vaccinated, I hope that we can come to a free exchange of components and an opening of the market for vaccines," she said, adding the EU has exported a big chunk of jabs made in the bloc and that should "be the rule".
Speaking at a press conference after talks with EU leaders, Ms Merkel reiterated her opposition to calls for pharmaceutical companies to drop their intellectual property protection for the vaccines.
"I do not think that a patent waiver is the solution to make more vaccines available to more people," she said.
"Rather, I think that we need the creativity and the power of innovation of companies, and to me, that includes patent protection."
French President Emmanuel Macron also urged the US government to drop restrictions on exports of Covid-19 vaccines and components for the vaccines.
"The key to producing vaccines more quickly for poor countries and developing countries is to produce more, to lift export bans," urged Italy's prime minister, Mario Draghi.
Meanwhile, Pope Francis offered his support for waiving coronavirus vaccine patents to boost supply to poorer countries, in a video message to the "Vax Live" concert.
He condemned "closed nationalism, which prevents, for example, an internationalism of vaccines", and spoke of "a spirit of justice that mobilises us to ensure universal access to the vaccine and the temporary suspension of intellectual property rights".