Israeli police fired water cannon to disperse Palestinian protesters in Jerusalem tonight, a day after clashes wounded more than 200 people at the city's Al-Aqsa mosque and prompted international calls for an end to escalating violence.
Police said they dispersed the protest in the Sheikh Jarrah neighbourhood where demonstrators had "thrown stones at security forces".
Tensions have mounted in Jerusalem, the occupied West Bank and Gaza throughout the Muslim holy month of Ramadan, amid growing anger over the potential eviction of Palestinians from homes on land claimed by Jewish settlers.
On the border with the Gaza Strip, troops fired tear gas toward Palestinian protesters, as officials said three incendiary balloons were launched into Israel, causing fires but no injuries.
In Jerusalem, police said they made three arrests for attacks on officers, while Palestinians reported 13 other arrests earlier in the day.
Riot police stormed Al-Aqsa mosque compound yesterday, unleashing rubber bullets and sound grenades after they said Palestinians threw rocks and fireworks at officers. Police said 18 officers were injured and several hospitalised.
Palestinian medics said 205 Palestinians were injured in the clashes at Al-Aqsa and other flashpoints around Jerusalem.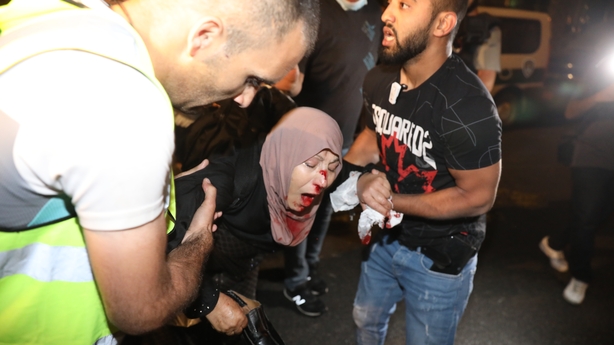 Israeli Prime Minister Benjamin Netanyahu defended the police actions.
"Israel is acting responsibly to ensure respect for law and order in Jerusalem while allowing freedom of worship," he said in a meeting of security officials.
The Islamist movement Hamas, which rules Gaza, urged Palestinians to remain at Al-Aqsa, Islam's third-holiest site after Mecca and Medina, until Ramadan ends.
Outside the Damascus Gate entrance to Jerusalem's Old City, Palestinians set fire to a barricade before police on horseback dispersed the protesters.
The United States said it was "extremely concerned" and urged both sides to "avoid steps that exacerbate tensions or take us farther away from peace".
"This includes evictions in east Jerusalem, settlement activity, home demolitions and acts of terrorism," the State Department said.
The European Union called on the authorities "to act urgently to de-escalate the current tensions," saying "violence and incitement are unacceptable and the perpetrators on all sides must be held accountable".
The EU statement condemned the evictions as "illegal" and blamed them for increasing tensions.
Russia voiced "deep concern" and called the expropriation of land and property in the occupied Palestinian territories including east Jerusalem "a violation of international law".
Turkey's President Recep Tayyip Erdogan denounced Israel as a "cruel terrorist state" in a speech in Ankara.
"Israel, the cruel terrorist state, attacks the Muslims in Jerusalem - whose only concern is to protect their homes ... and their sacred values - in a savage manner devoid of ethics," Mr Erdogan said.