New cases of Covid-19 in the United States rose 5% to more than 450,000 last week, the third week in a row that infections have increased, according to a Reuters analysis of state and county data.
The average number of Covid-19 patients in hospitals rose 4% to more than 37,000 in the week ended 4 April, breaking a streak of 11 weeks of falling admissions.
Health officials have expressed concerns about the increase in travel around the Easter holiday and school spring breaks, at a time when more infectious variants of the coronavirus are circulating.
While flu viruses tend to be seasonal, with cases falling as the weather warms, health officials said they have not seen similar trends with the novel coronavirus, pointing to a surge in Covid-19 cases in some regions last summer.
"I don't think we should even think about relying on the weather to bail us out of anything we're in right now," Dr Anthony Fauci, the nation's top infectious disease expert, said at a news briefing today.
Twenty-seven out of 50 states reported increases in new cases last week compared with the previous seven days, according to the Reuters analysis.
Per 100,000 people, Michigan, New Jersey and New York reported both the highest number of new cases and the highest number of hospitalisations.
---
---
Deaths from Covid-19, which tend to lag infections by several weeks, fell 17% to about 5,800 last week, or about 834 per day. Health officials have said the country's vaccination effort could limit deaths even with rising cases.
For a sixth week, vaccinations set a record, with an average of 3.1 million shots given per day last week. As of yesterday, 32%of the US population has received at least one dose and 19% was fully vaccinated, according to the CDC.
India tightens Covid-19 restrictions as infections hit new record
India's worst-hit state increased its coronavirus restrictions as nationwide the daily infections exceeded 100,000 for the first time.
The United States is the only nation that has regularly registered so many cases in one day. Brazil recorded triple digits once in March.
In India, hopes at the start of the year that the outbreak may be subsiding in the vast nation of 1.3 billion people have been dashed in recent weeks as a fresh wave pushed the national total to 12.5 million infections and 165,000 deaths.
Maharashtra, the worst-hit state and home to India's financial and entertainment capital Mumbai, recorded nearly 60,000 cases in the last 24 hours.
Yesterday, struggling state authorities tightened the evening curfew to allow only people involved in essential services out of their homes from 8pm to 7am.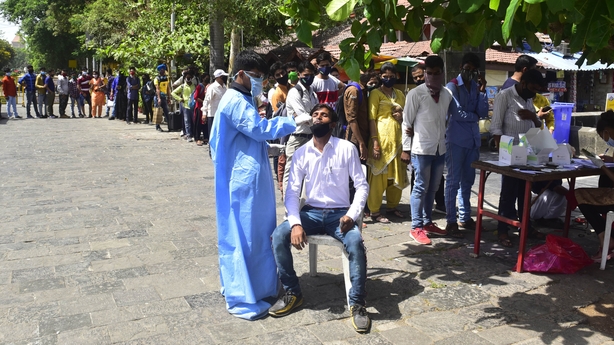 The region of 110 million people will also see weekend lockdowns, with gatherings of over four people banned and places of worship and restaurants shut.
Prime Minister Narendra Modi's government is anxious to avoid imposing a new national lockdown after a shutdown in March 2020 caused widespread human and economic misery.
In the capital New Delhi, the chief minister has ruled out a new lockdown despite the surge in cases. Police say they are issuing more fines to people not wearing masks.
India has so far administered almost 80 million vaccine shots.
Last week, it opened up vaccinations to all those over 45 years old to speed up its flagging national inoculation drive.
Portugal reopens cafes, museums and secondary schools
Portugal has reopened museums, cafe terraces and secondary schools nearly two months after tightening Covid-19 curbs following a wave of cases early this year.
There was an explosion of cases following Christmas and New Year festivities which led to overstretched hospitals and the government imposed a general lockdown in the middle of January and closed schools a week later.
There have been nearly 16,900 coronavirus deaths and 823,335 cases so far, according to the latest official tally. Primary schools reopened on 15 March.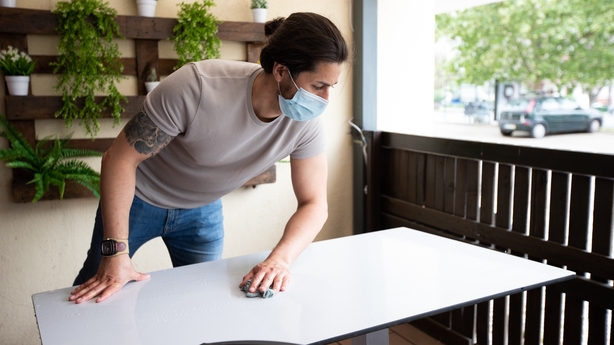 Today's easing comes with some guidelines. Only four people will be able to sit together at a table in cafe terraces while museums can change their opening hours.
Group training sessions at gyms and sports venues remain banned.
"We are expecting very few visitors" due to the paucity of foreign tourists, Antonio Nunes Pereira, director of the Palace of Pena in Sintra, outside Lisbon, told AFP.
"We expect a return to normal next summer... when the vaccination process advances in Europe," he said.
The museum is one of Portugal's most visited sites and drew over two million visitors in 2019 of whom 85% were foreigners.
The government has launched mass Covid tests and started vaccinating teachers.
It plans to start reopening high schools, universities and auditoriums and concert halls later this month and restaurants in May.
China reports highest rise in Covid cases since January
China has reported 32 new Covid-19 cases, marking the highest daily total since 31 January, the national health authority said.
The National Health Commission said in a statement that 15 of the new cases were local infections, all of which were reported in Yunnan province where a new cluster was discovered at Ruili city, which borders Myanmar.
The number of new asymptomatic cases, which China does not classify as confirmed cases, stood at 18, matching the total from a day earlier.
The total number of confirmed Covid-19 cases in mainland China now stands at 90,305, while the death toll remains unchanged at 4,636.
Genetic analysis of the cases discovered in Ruili suggest the new local infections stem from viruses imported from Myanmar, state media reported.
Of the new patients reported in the city, 11 of them were identified as Myanmar citizens.
Ruili is a key transit point for Yunnan province, which has struggled to monitor its rugged 4,000 km border with Laos, Myanmar and Vietnam for illegal immigration amid a wave of unauthorised crossings last year by people seeking a haven from the pandemic.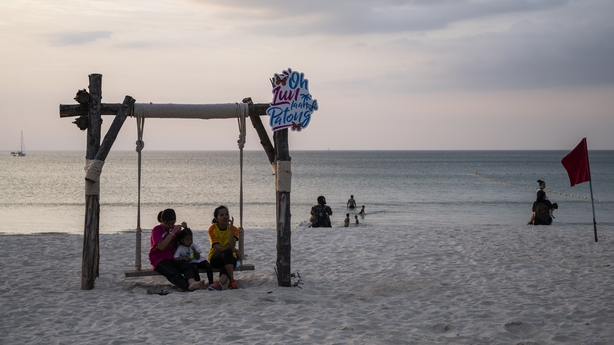 Phuket in vaccine drive ahead of tourist season 
Thailand's most popular resort island is embarking on a mass inoculation programme two months ahead of the rest of the country.
The island of Phuket aims to deliver shots to at least 460,000 people - most of its population - as it gears up for 1 July, when vaccinated overseas visitors will no longer be required to quarantine.
Phuket also has its own international airport and tourists would be able to roam the island freely without posing any coronavirus risk to the rest of Thailand's population.
"If we can build immunity for 70-80% of the population on the island, we can receive foreign tourists who have been vaccinated without the need for quarantine," Phuket's ViceGovernor Piyapong Choowong said.
While medical workers, members of the cabinet and the elderly were the first to be vaccinated, Thailand's decision to prioritise Phuket over other parts of the country underscores the central role of tourism to the economy.
Spending by foreign tourists accounted for 11-12% of GDP pre-pandemic and the sector has been devastated by the virus with 1.45 million jobs lost since last year.
Just 6.7 million foreign tourists visited Thailand in 2020, spending some €9.4 billion. That compares with nearly 40 million in 2019, when they spent €52 billion.
The government wants to see at least 100,000 tourists come to Phuket in the third quarter of 2021.
Strict 14-day quarantine requirements for overseas visitors have helped Thailand limit coronavirus infections to around 29,100 cases and 95 deaths but have proven to be too great a hurdle for most tourists.
Some retail reopens in Greece as lockdown eases
Greece has relaxed a nationwide lockdown by opening most retail shops despite a high level of Covid-19 infections and fatalities.
By allowing people to "decompress" outside their homes as the weather improves, the government hopes to also stem damage to the economy that has taken a major revenue blow from reduced tourism.
Customers must pre-book appointments before visiting shops, and up to 20 people will be allowed inside at a time. 
"We are fully booked till Saturday. It's going to be a good month," Filippos Hortis, an Athens sports store owner, told Skai TV.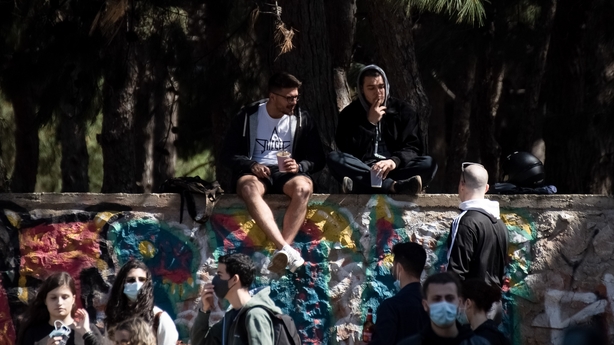 Critics have noted the paradox of the lockdown being relaxed while new cases of the virus are reported at a rate of over 3,000 daily.
That is around 1,000 more than when the restrictions were announced in November, with the daily number of deaths now more than double.
"I too was surprised when informed of the recommendation (to reopen stores) seeing the daily increase (in infections)," the governor of Central Macedonia prefecture Apostolos Tzitzikostas told Skai TV.
Today's reopening does not affect department stores and malls, whose operation will be re-evaluated later in April.
Restrictions on retail also remain in place in areas around Thessaloniki and Patras, Greece's largest cities after Athens, because of spiking infections.
Greece has so far registered more than 275,000 coronavirus cases and over 8,300 deaths since the start of the pandemic, including nearly 150 over the weekend. Some 750 people are in intensive care.