French Foreign Minister Jean-Yves Le Drian said Europe would not let itself be subjected to "a kind of blackmail" by Britain over supplies of Covid-19 vaccines.
European Union countries have said they are not receiving supplies of the shot promised by manufacturer AstraZeneca, among others, and have alleged Britain has been getting more than its fair share of the supplies.
Britain has said it does not believe in imposing vaccine blockades and that the EU must allow Covid-19 vaccine contracts to be fulfilled.
"We need to achieve a relationship of cooperation with the United Kingdom so AstraZeneca fulfils its commitments, signed with the European Union, and everyone gets what they need," Mr Le Drian told France Info television in an interview.
"But one cannot play like that, a kind of blackmail, where you wanted to vaccinate with all your might with the first dose and then you find yourself handicapped with the second doses. It's not for Europe to bear the cost of this policy."
Mr Le Drian said Britain had outstripped Europe with its inoculation rates by focussing on first doses, while Europe was administering both first and second doses.
The EU this week tightened its oversight of coronavirus vaccine exports, giving it more scope to block shipments to countries with higher inoculation rates.
British foreign minister Dominic Raab hit back, accusing the European Commission of brinkmanship.
Also today, Internal Market Commissioner Thierry Breton said the EU will ensure that coronavirus vaccines produced by AstraZeneca within the bloc stay in Europe until the company returns to fulfilling its delivery commitments.
Mr Breton said the EU had a "problem" with AstraZeneca, which has had to drastically cut back deliveries due to production holdups. All other suppliers are doing well, he said.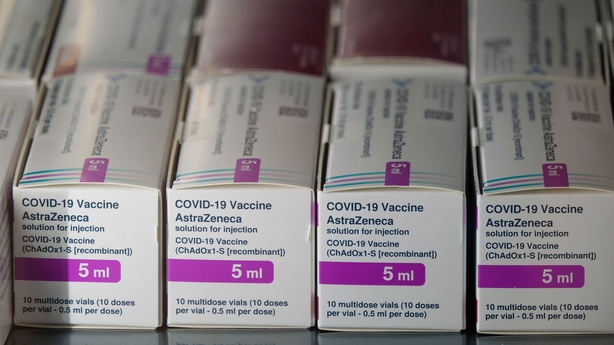 EU leaders earlier gave their qualified support to further restrictions on Covid-19 vaccines being exported out of the EU, in order to improve security of supply for EU citizens.
In a statement following an informal summit, EU leaders acknowledged the need for transparency when it came to the export of vaccines, as well as of the use of an export authorisation scheme.
Taoiseach Micheál Martin, who this week opposed any ban on vaccine exports, said the EU needed leverage to ensure that contracts with pharmaceutical companies were being fulfilled, and that the EU had a safety net to ensure it had sufficient vaccines for its own population.
EU leaders appeared divided going into the virtual summit, with a core group of countries, including Ireland, strongly opposed to any new measures that would restrict vaccine exports from Europe because of the potential reputational damage and the risk of a vaccine trade war.
---
Read more:
EMA approves Dutch AstraZeneca plant caught in UK row
---
On Wednesday, the European Commission had added two new potential restrictions, namely that vaccine exports should be proportionate to a country's need, based on the number of people it had already vaccinated, and on its record in sending vaccines and ingredients in the other direction to the EU.
After the summit, Commission President Ursula von der Leyen said the EU's export authorisation scheme was all about transparency.
She said that transparency had revealed that the EU was the world's biggest exporter, sending 77 million doses around the world, including 21 million to the UK since December.
Ms von der Leyen said Europe had to explain to its citizens that if companies were exporting around the world, they were also "honouring" their commitments to the EU.
She acknowledged that worldwide supply chains needed to remain "intact" for vaccine production, while some European leaders appeared optimistic that the UK and EU could soon resolve their dispute over supplies.
Reporting: Tony Connelly, Reuters, PA