The United States has urged Saudi Arabia to disband an elite unit under Crown Prince Mohammed bin Salman that Washington sanctioned over the killing of journalist Jamal Khashoggi.
"We have urged Saudi Arabia to disband this group and then adopt institutional, systemic reforms and controls to ensure that anti-dissident activities and operations cease and cease completely," State Department spokesman Ned Price said of the Rapid Intervention Force.
On Friday, the United States declassified a report that publicly accused the crown prince of approving Khashoggi's murder in the kingdom's Istanbul consulate in 2018.
Mr Khashoggi, a US resident and critic of Prince Mohammed who wrote for The Washington Post, was killed and dismembered at the kingdom's Istanbul consulate after going inside to receive paperwork for his wedding.
The report found that seven of the 15 members of the hit squad that flew to Istanbul came from the Rapid Intelligence Force, which it said "exists to defend the crown prince" and "answers only to him".
The US Treasury Department imposed sanctions on the force - meaning any US transactions with it will be a crime - but the administration stopped short of personally targeting the powerful crown prince.
The Turkish fiancée of Mr Khashoggi has said that Mohammed bin Salman should be "punished without delay" over the murder.
"It is essential that the Crown Prince, who ordered the brutal murder of a blameless and innocent person, should be punished without delay," Mr Khashoggi's fiancée Hatice Cengiz said in a statement posted on her official Twitter account in English and Arabic.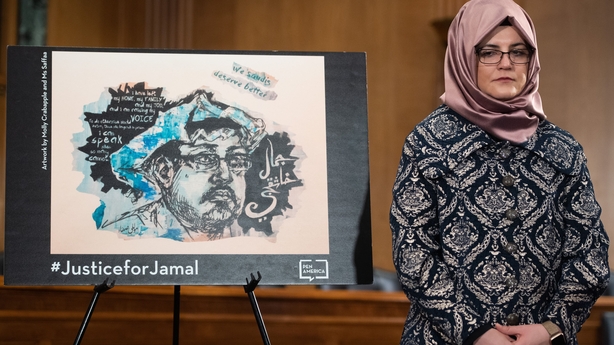 "This will not only bring the justice we have been seeking for Jamal, but it could also prevent similar acts recurring in the future," she said.
Ms Cengiz said that "following this report, there is no longer any political legitimacy for the Crown Prince".
But she said the US report did not go far enough.
"The truth - that was already known - has been revealed one more time, and it is now confirmed."
"Yet this is not enough," she warned, "since the truth can only be meaningful when it serves justice being achieved."
Ms Cengiz said if the crown prince was not punished, "it will forever signal that the main culprit can get away with murder which will endanger us all and be a stain on our humanity".
The Saudi government, which initially said it had no information on Khashoggi, says it accepts responsibility for the killing but casts it as a rogue operation that did not involve the prince.
In a statement late Friday, the Saudi foreign ministry said it "completely rejects" the declassified US report.
US President Joe Biden's administration on Friday imposed a visa ban on some Saudis believed involved in the Khashoggi killing, and placed sanctions on others that would freeze their US assets and generally bar Americans from dealing with them.
Asked about criticism of Washington for not sanctioning Prince Mohammed directly, Mr Biden said an announcement would be made today, but did not provide details, while a White House official suggested no new steps were expected.
"Starting with the Biden administration, it is vital for all world leaders to ask themselves if they are prepared to shake hands with a person whose culpability as a murderer has been proven," Ms Cengiz said.