The European Commission has said it had struck a deal for an extra 150 million doses of Moderna's Covid-19 vaccine this year, nearly doubling the number of shots secured from the US biotech firm for 2021.
Under the deal, the European Union also has the option to buy another 150 million doses next year.
The EU has already booked 160 million doses of the Moderna shot for this year.
Deliveries began in January, with a target to supply 10 million doses by the end of March, although there have been some delays.
The new deal adds to the EU's vaccine stock as it strives to meet a target of fully vaccinating 70% of adults by mid-September.
The commission now has access to a vaccine "portfolio" of 2.6 billion doses of three EU-authorised vaccines and three more prospective ones, to be provided this year and next, Ms von der Leyen told a media conference.
Numerically, that is more than enough for the EU's 450 million inhabitants, with the excess going to neighbouring countries, she said.
But another reason for such a big stock was to hedge against "the possibility for the virus to mutate", as is already being seen with variants, some of which appear to be at least partially resistant to some of the current vaccines.
"We will always have to be vigilant to be able, if there are escaped mutations, to fight them with improved vaccines," she said.
The EU's 27 members face a vaccine supply crunch in the near term because of a drastic shortfall in doses from AstraZeneca.
The company is providing only 25% to 40% of the more than 100 million doses it had originally promised for the first quarter of this year, which were meant to jump start the EU's vaccination programmes.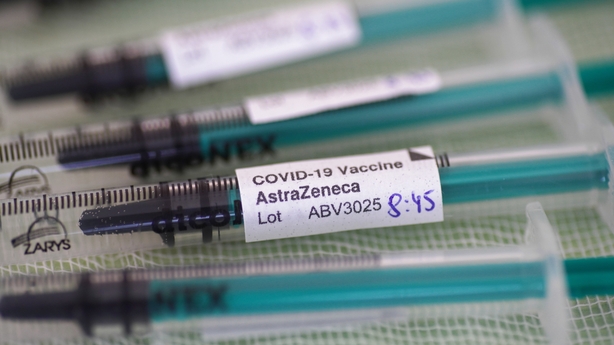 EU industry commissioner Thierry Breton, who is heading a commission task force to overcome supply bottlenecks, said of AstraZeneca: "I am confident they will be able to catch up."
He said the production yield in a Belgian factory used by AstraZeneca was "drastically increasing" with a 50% rise, and output in an Italian factory was also improving.
Ms von der Leyen has staked her reputation on the vaccine roll-out across the European Union, after having her commission take over advance purchase agreements on behalf of the member states.
She has run into fierce criticism from some capitals over the stuttering start, largely due to the AstraZeneca supply problem, and has turned her attention to ensuring a stronger follow-up.
So far, the European Union has authorised the AstraZeneca, BioNTech/Pfizer and Moderna vaccines for use, and is considering ones from Johnson & Johnson, CureVac and Novavax.
Its vaccination programme has lagged behind those of the US, Israel and Britain, but the EU is looking to quickly scale up.
Ms von der Leyen said 33 million doses of the three authorised vaccines have so far been delivered to EU countries and 22 million people have received at least one dose, with seven million having received the two doses for full vaccination.
We need your consent to load this rte-player contentWe use rte-player to manage extra content that can set cookies on your device and collect data about your activity. Please review their details and accept them to load the content.Manage Preferences
---
Latest coronavirus stories
Analysis:The EU needs a 'Vaccine Czar'
What vaccines are online or in development?
EU measures to deal with new Covid variants
---
Shortfall in Pfizer vaccine supply to EU
Meanwhile, Reuters is quoting EU officials as saying that Pfizer has not yet delivered to the EU about 10 million Covid-19 vaccine doses that were due in December, leaving it about one-third short of the supplies it had expected by now from the US company.
By the middle of last week, Pfizer had delivered to the EU 23 million doses of the Covid-19 vaccine it developed with German firm BioNTech, said an EU official who is directly involved in talks with the US company.
That was about 10 million doses less than Pfizer had promised to supplied by mid-February, said a second official who is also involved in the talks told Reuters.
Pfizer declined to comment, saying schedules of its deliveries were confidential.
Reuters said the executive European Commission did not respond to a request for comment on delivery shortfalls.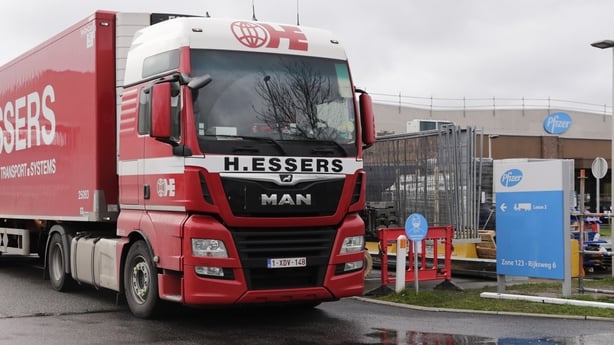 EU officials have said Pfizer committed to delivering 3.5 million doses a week from the start of January, for a total of 21 million shots by mid-February.
In mid-January, there was a temporary hiccup in supplies which EU officials say was largely resolved last month.
But a lot of doses that were due to arrive in December are still missing, the two EU officials told Reuters.
The Pfizer/BioNTech vaccine was approved for use in the EU on 21 December.
The following day, BioNTech said the companies would ship to the EU 12.5 million doses by the end of the month.
Only about 2 million of those doses due in December have been delivered, according to Reuters calculations.
The shortfall would amount to about 30% of the total supplies pledged for the period from December until mid-February.
One EU official said the company had committed to delivering the missing doses by the end of March.
The EU has two contracts with Pfizer for the supply of 600 million vaccine doses.