On the cusp of becoming president, Joe Biden pressed today for unity, while President Donald Trump remained secluded in the White House at the centre of Washington DC, a city inundated with troops and security barriers.
Mr Biden marked the US public holiday of Martin Luther King with a trip from his home in Delaware to pack food bags for a charity in Philadelphia - a gesture symbolising his call for Americans to come together after four divisive years.
"Service is a fitting way to start to heal, unite, and rebuild this country we love," the 78-year-old Democrat said in a video marking the occasion.
But Mr Biden's fervent appeals for optimism and healing - which are also set to dominate his inauguration ceremony at noon on Wednesday - are running up against the hard reality of multiple crises.
Covid-19 is out of control across the US, vaccine distribution is stumbling, and economic recovery remains in the balance.
And after Mr Trump refused for more than two months to accept the results of November's presidential election, the country is seething with division and anger.
When Mr Biden takes the oath of office on 20 January, he will face a city under the protection of more than 20,000 National Guard soldiers.
Checkpoints and large zones closed to ordinary citizens mean there will be only be a smattering of guests.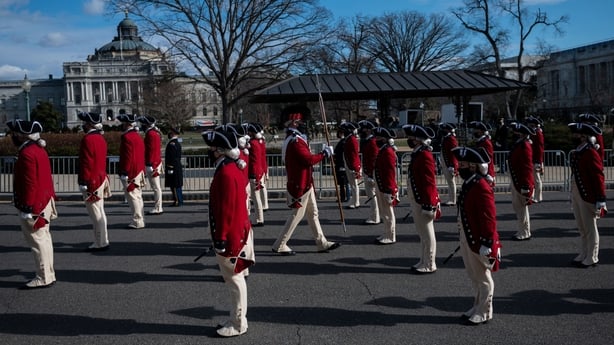 Similar lockdowns have been imposed at state capitol buildings around the country where local authorities fear provocations from right-wing groups ahead of the inauguration.
A brief security scare today near Congress sparked an evacuation of the site where the president-elect will take the oath.
A practice session for the ceremony included members of the US military marching in a dress rehearsal including the Old Guard Fife and Drum Corps.
In a culturally significant mark, the legendary country singer Garth Brooks said that he was joining the musical line up at Joe Biden's ceremony, stressing this was "not a political statement, this is a statement of unity."
Dr. Martin Luther King, Jr.'s words remind us that darkness cannot drive out darkness and hate cannot drive out hate — only light and love can. As we seek to overcome this season of darkness in America, let us choose love and light and begin to heal — together. #MLKDay

— Joe Biden (@JoeBiden) January 18, 2021
Mr Trump, who has still not congratulated Joe Biden or invited him for the traditional tea visit in the Oval Office, has been largely out of the public eye since his supporters rampaged through Congress on 6 January, triggering his historic second impeachment a week later.
His final Gallup poll as president today showed him exiting with 34% approval, his record low. His overall average of 41% since taking office is also the lowest for any presidency's approval rating since Gallup began measuring in 1938.
According to US media, one of Trump's final actions could be announced tomorrow at the latest: scores of pardons for convicted criminals.
Speculation is mounting over whether the outgoing president will take the unprecedented and legally murky step of issuing himself and his children, who work as campaign and White House advisors, preemptive pardons.
---
Read more:
5 ways in which this inauguration will be different
Could Donald Trump pardon himself, and would it work?
---
According to CNN and other outlets, Donald Trump has a list of about 100 people to whom he will grant clemency.
Controversial possible pardons that have been the subject of speculation for months would include the likes of Edward Snowden, Julian Assange and Mr Trump's influential advisor Stephen Bannon.
Mr Trump, the first president to lose re-election since George HW Bush was replaced by Bill Clinton, is skipping Joe Biden's inauguration - the first ex-president to snub his successor in a century and a half.
On Wednesday, he'll travel to his Mar-a-Lago golf club residence in Florida, departing the White House early in order to benefit from full presidential travel privileges up to the last minute.
Marine One will take him from the White House to Joint Base Andrews to catch Air Force One - the presidential plane that will no longer be his to use from noon.
Joe Biden has promised quick action to address the coronavirus pandemic and boost the ailing US economy once he takes office on Wednesday, but his goal of uniting the divided country could be undermined by the Senate impeachment trial of Donald Trump.
The lower House of Representatives impeached the president on a charge of inciting insurrection after he encouraged the protest that led to the violent storming of the US Capitol.
The US president's first impeachment trial, in January 2020 over his efforts to pressure Ukraine to help him discredit Joe Biden, lasted 21 days.
A trial of similar length now would crimp Mr Biden's ambitious plans for his first 100 days, but he has expressed confidence, based on his 36 years in the Senate, that the chamber can do two things at once.
Kamala Harris will create history on 20 January
Vice President-elect Kamala Harris and her husband Doug Emhoff also helped out with a local charity today, volunteering at Martha's Table in Washington, DC.
Ms Harris will shatter one of the highest glass ceilings on Wednesday when she takes the oath of office as America's first woman vice president, blazing a trail in the most diverse White House ever.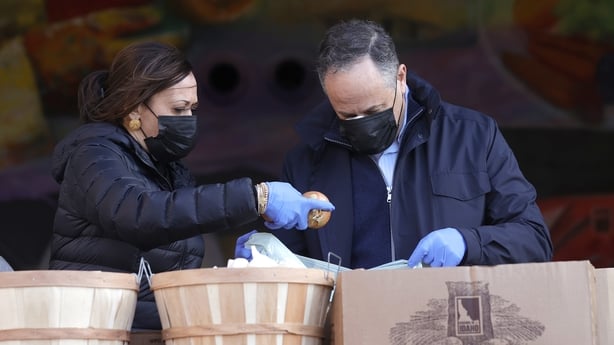 As running mate to incoming president Joe Biden, she helped bring Donald Trump's turbulent rule to an end, rapping him during the campaign for his chaotic handling of the Covid-19 pandemic, last year's unrest over racial injustice and his crackdown on immigration.
Ms Harris, 56, enters the post already forging a unique path, as California's first Black attorney general and the first woman of South Asian heritage elected to the US Senate.
As vice president, she will be a heartbeat away from leading the United States.
With Mr Biden, 78, expected to serve only a single term, Ms Harris would be favoured to win the Democratic nomination in 2024, giving her a shot at more history-making - as America's first female president.
"While I may be the first woman in this office, I won't be the last," she said in a speech on 7 November.
During the election campaign, Donald Trump routinely attacked Ms Harris, branding her a "monster" after her October vice presidential debate with Mike Pence.
When asked about it by reporters, Ms Harris curtly dismissed the president: "I don't comment on his childish remarks."
White House will be barking mad again
After Donald Trump was the first president in more than a century not to have a dog, the Bidens are bringing two with them.
The German shepherds - Champ and Major - as well as a cat, whose breed and name have not yet been revealed, will move into the White House this Wednesday.
Champ has been with the Bidens since 2008. The family fostered and then adopted Major in 2018.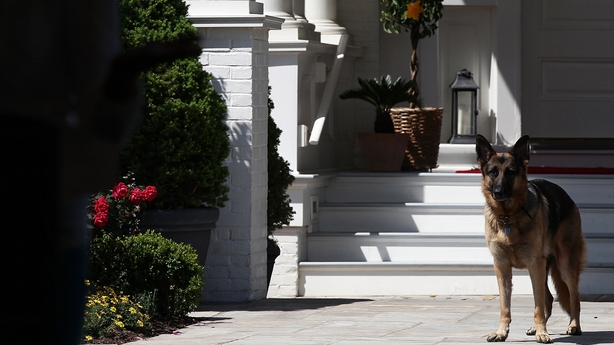 According to Biden's team, Major will be the first foster dog to live in the White House.
The canine companions featured in one of Mr Biden's campaign ads that warned voters to "choose your humans wisely," highlighting clips of Donald Trump scoffing at the idea of a presidential pet.
The two good boys also starred in the Bidens' holiday message.
A video cut between shots of Champ, relaxing by a Christmas tree with a sedate instrumental version of We Wish You A Merry Christmas playing in the background.
A very special Christmas message from Champ and Major Biden. pic.twitter.com/lKlo5GWfR8

— Biden-Harris Presidential Transition (@Transition46) December 24, 2020
There were also clips of Major playing and zooming around the house to an electric guitar version of the holiday carol.