Democrats have formally begun the process of impeaching US President Donald Trump for a second time if Vice President Mike Pence and the cabinet do not remove him from office.
Democrats introduced a resolution in the House of Representatives calling on Mr Pence to invoke the never-used 25th Amendment of the Constitution and remove Mr Trump from the White House.
The amendment allows a vice president and a cabinet to remove a president deemed unfit to do the job.
Republicans blocked an immediate vote on the resolution and Democrats followed up by introducing an article of impeachment of President Trump for "incitement of insurrection" over his role in last Wednesday's storming of the US Capitol.
The House could still vote as early as tomorrow on the resolution for use of the 25th Amendment.
Thousands of Trump supporters stormed the building last week, as politicians were certifying Democratic president-elect Joe Biden's election victory, in an assault on the centre of American democracy that left five people dead, including a police officer.
The violence came after Mr Trump urged supporters to march on the Capitol at a rally where he repeated false claims that his election defeat was illegitimate.
House of Representatives Speaker Nancy Pelosi, many of her fellow Democrats and a handful of Republicans say Mr Trump should not be trusted to serve out his term, which ends on 20 January.
"In protecting our Constitution and our democracy, we will act with urgency, because this President represents an imminent threat to both," Ms Pelosi wrote to fellow House Democrats.
Dozens of people who attacked police officers, stole computers and smashed windows at the Capitol have been arrested for their role in the violence, and officials have opened 25 domestic terrorism investigations.
President Trump acknowledged that a new administration would take office on 20 January in a video statement after the attack but has not appeared in public since.
Twitter, Facebook and a host of other social networks have suspended his accounts, citing the risk of him inciting violence.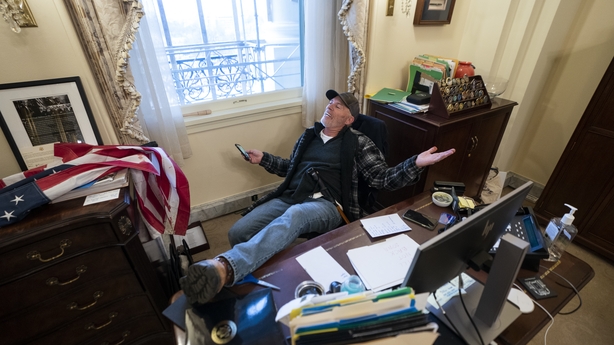 ---
Read More:
How security failures enabled mob to storm US Capitol
US Vice President Mike Pence to attend Biden inauguration
Trump backer seen in horned fur hat charged over Capitol violence
Trump Twitter account 'permanently suspended'
---
US digital payments company Stripe, which was founded by the Collison brothers from Co Limerick, also announced that it would stop processing payments for Trump's campaign website following the riot, a company spokesperson said.
Mr Pence was in the Capitol along with his family when Mr Trump's supporters attacked, and he and the US president are currently not on speaking terms, according to reports.
But Republicans have shown little interest in invoking the 25th Amendment. Mr Pence's office did not respond to questions about the issue. A source said last week he was opposed to the idea.
If Mr Pence does not act, Ms Pelosi said the House could vote to impeach Mr Trump on a single charge of insurrection. That vote could come by the end of the week.
Speaker of the United States House of Representatives, Nancy Pelosi calls last week's attack on the Capitol Building "a terrible, terrible violation of the Capitol by the President of the United States". I Read more: https://t.co/JCgtwheFmD pic.twitter.com/wdLjQjSsLI

— RTÉ News (@rtenews) January 11, 2021
House Democrats impeached Mr Trump in December 2019 for pressuring Ukraine to investigate Mr Biden, but the Republican-controlled Senate voted not to convict him.
Even if the House impeaches Mr Trump for a second time, the Senate would not take up the charges until 19 January the earliest, Mr Trump's last full day in office.
Senate Democratic leader Chuck Schumer will become majority leader after Mr Biden and Vice President-elect Kamala Harris are inaugurated and the two new Democratic senators from Georgia are seated.
Meanwhile, the PGA of America has pulled the 2022 PGA Championship from the Trump National at Bedminster course in New Jersey yesterday.
"The PGA of America Board of Directors voted tonight to exercise the right to terminate the agreement to play the 2022 PGA Championship at Trump Bedminster," PGA of America President Jim Richerson said in a statement posted on Twitter.
The announcement on the fate of one of the four major championships in golf follows increased calls in the golf world for leaders of the sport to distance themselves from Mr Trump.
Melania Trump condemns violence at US Capitol
Melania Trump has condemned the violence "that has occurred on our Nation's Capitol".
In her first statement since last week's assault on the US Capitol, she called on people to listen to one another and "focus on what unites us".
"I implore people to stop the violence, never make assumptions based on the color of a person's skin or use differing political ideologies as a basis for aggression and viciousness. We must listen to one another, focus on what unites us, and rise above what divides us."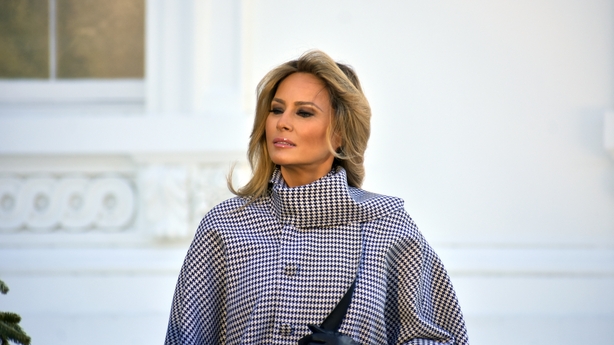 Ms Trump said her heart goes out to the families of the people who died.
She also hit out at what she described as "salacious gossip, unwarranted personal attacks" against her.
Without elaborating, she said: "I am disappointed and disheartened with what happened last week. I find it shameful that surrounding these tragic events there has been salacious gossip, unwarranted personal attacks, and false misleading accusations on me - from people who are looking to be relevant and have an agenda."
Conservative website Parler forced offline
Elsewhere, the conservative social network Parler was forced offline this morning, according to tracking websites.
It came after Amazon warned the company would lose access to its servers for its failure to properly police violent content.
The site's popularity soared in recent weeks and after Twitter banned Mr Trump for his role in inciting the riots at the US Capitol.
Messages of support for Wednesday's attack, along with calls for new demonstrations, had flourished on the platform.
It led Google to remove it from its app store on Friday, followed by Apple on Saturday.
Amazon then confirmed it would suspend the platform from its cloud hosting services for allowing "threats of violence".
Merkel finds Twitter halt of Trump account 'problematic'
German Chancellor Angela Merkel believes that the decision by social media giants to permanently suspend Mr Trump's accounts is problematic because freedom of opinion should not be determined by such online platform bosses, her spokesman said today.
"The fundamental right to freedom of opinion is a fundamental right of elementary importance, and this fundamental right can be interfered with, but through the law and within the framework defined by the legislature, not according to the decision of the management of social media platforms.
"From this point of view, the chancellor considers it problematic that the accounts of the US president have been permanently blocked."