Rescue workers have recovered a fourth body as they continue searching for another six people still missing days after a landslide buried homes near Norway's capital, authorities said.
An intense search and rescue operation has been underway in the snow-covered village of Ask, 25km northeast of Oslo, since disaster struck in the early hours of Wednesday morning.
"We have made a new discovery of a dead person. It's in the same area as the third body," police official Knut Hammer told a news conference.
Police identified the body of the first person, which they found on yesterday, saying he was 31-year-old Eirik Grønolen.
They also released a list of the names of 10 people unaccounted for: eight adults, a two-year-old and a 13-year-old child.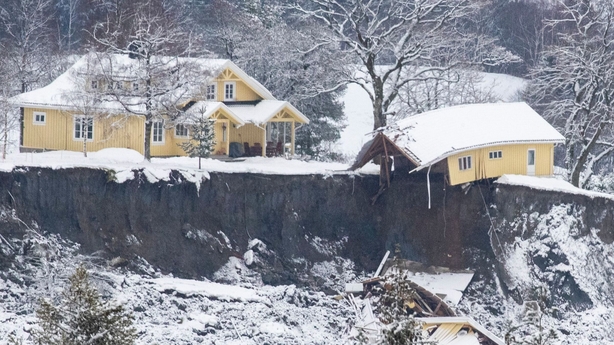 Police have also said 10 other people were injured in the landslide, including one seriously who was transferred to Oslo for treatment shortly after the disaster.
As a whole hillside collapsed, homes were buried under mud, others cut in two and some houses left teetering over a crater caused by the mudslide, with several subsequently falling over the edge.
The landslide destroyed several houses and shifted others hundreds of metres.