NASA has postponed today's planned launch of a crewed SpaceX vessel to the International Space Station (ISS) due to inclement weather.
Three Americans and one Japanese astronaut are now scheduled to board the rocket at 7.30pm tomorrow in Florida (1.30am Irish time).
They will fly inside the Crew Dragon, a capsule spacecraft that earlier this week became the first to be certified by NASA since the Space Shuttle nearly 40 years ago.
NASA astronauts Shannon Walker, Victor Glover, Mike Hopkins and Japan Aerospace Exploration Agency (JAXA) astronaut Soichi Noguchi are expected to dock at the ISS on Monday night.
It will be the US space programme's first six-month routine mission since it resumed crewed space flight in May after nine years of reliance on Russia.
That demonstration flight was the first time a crewed mission took off from US soil since the Space Shuttle programme ended in 2011.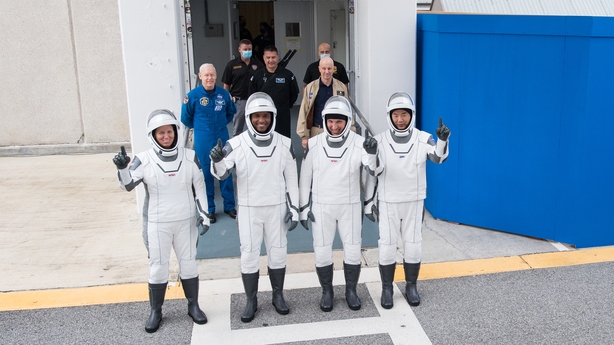 SpaceX, founded by Elon Musk in 2002, leapfrogged its much older rival Boeing, whose programme has foundered after a failed test of its uncrewed Starliner.
"The history being made this time is we're launching what we call an operational flight to the International Space Station," NASA administrator Jim Bridenstine told reporters.
"I'm extremely proud to say we are returning regular human spaceflight launches to American soil on an American rocket and spacecraft."
The next crewed mission is expected to blast off at the end of March 2021, carrying one European, one Japanese and two American crew members.