Superpowers Russia and China have not yet congratulated Joe Biden following his victory in the US election.
Russian President Vladimir Putin is "waiting for official results" from the US presidential election before congratulating a winner, the Kremlin said today.
"We consider it correct to wait for the official results to be finalised. I want to remind you that President Putin repeatedly said he will respect the choice of the American people," said Kremlin spokesman Dmitry Peskov.
Many world leaders congratulated President-elect Joe Biden after he took an insurmountable lead over Donald Trump in the vote count.
When Mr Trump won the 2016 presidential election over Hillary Clinton, Mr Putin congratulated him within about an hour.
Mr Peskov said this election was different because of the legal challenges that Mr Trump, who has refused to concede defeat, is planning to mount over the vote.
"The difference is quite obvious...  [in 2016] there were no announcements of legal challenges," he told reporters.
He added that Moscow was "ready to work" with whoever is declared the winner of the US vote.
"We hope that with the next president of the United States it will be possible to re-establish a dialogue and together agree on ways to normalise our bilateral relations," he said.
Russia was accused of interfering in the 2016 election to help get Donald Trump elected, in the hope he would take a softer line with Moscow.
Meanwhile, Russia's elections chief claimed that voting by mail in the US election had paved the way for massive voter fraud, echoing rhetoric from the campaign of Mr Trump. 
Ella Pamfilova, head of Russia's elections commission, said she had carefully studied mail-in voting in the United States and found the process vulnerable to fraud.
"For me, the conclusion is clear: this anachronism in its American form leaves massive scope for possible falsifications," she told the state-tun TASS news agency.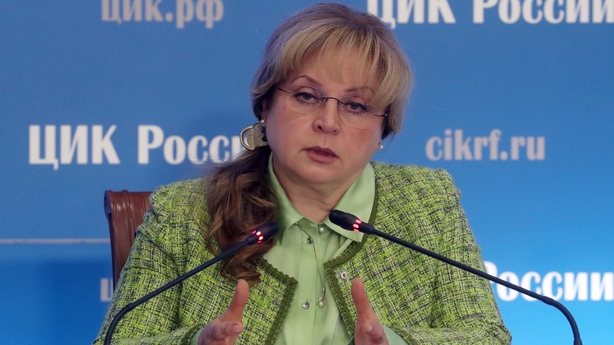 China said today it would follow international custom in making a statement on the US election, when asked why Beijing had not congratulated Democrat Joe Biden on his victory.
"We noticed that Mr Biden has declared election victory. We understand that the US presidential election result will be determined following US law and procedures," foreign ministry spokesman Wang Wenbin told a daily media briefing.
Relations between China and the United States are at their worst in decades over disputes ranging from technology and trade to Hong Kong and the coronavirus, and the Trump administration has unleashed a barrage of sanctions against Beijing.
"We always believe that China and the United States should enhance communication and dialogue, manage differences on the basis of mutual respect, expand cooperation on the basis of mutual benefit and promote sound and stable development of bilateral relations," Mr Wang said.
---
---
Meanwhile Slovenian Prime Minister Janez Jansa, who four days ago prematurely hailed Donald Trump as the winner of the US election, has yet to offer congratulations to president-elect Joe Biden, saying simply that he hoped for "friendly relations" with Washington. 
"#US is our strategic partner," Mr Jansa wrote on Twitter.
"All the @govSlovenia I have led have built close, friendly relations. No matter which party the US president was from. Nothing will change in the future."
Donald Trump's wife Melania is from Slovenia and earlier this week, when the vote count had only just started, Mr Jansa tweeted his congratulations to the US Republican Party, saying it was "pretty clear that American people have elected" the Republican incumbent. 
In the run-up to the US election, Mr Jansa claimed Joe Biden "would be one of the weakest US presidents in history".