The United States set a new all-time high for coronavirus cases confirmed in a single 24-hour period yesterday, reporting just over 100,000 new infections to surpass the record total of 91,000 posted a day earlier, according to a Reuters tally.
The daily caseload of 100,233 is also a world record for the global pandemic, surpassing the 97,894 cases reported by India on a single day in September.
Five times over past ten days, the United States has exceeded its previous single-day record of 77,299 cases registered in July.
The number of daily infections reported during the past two days indicates that the nation is now reporting more than one new case every second.
The spike comes just four days ahead of the US presidential election on Tuesday. The Covid-19 pandemic, which has killed nearly 230,000 people in the United States, has dominated the final stretch of the campaign.
The United States crossed 9 million cumulative cases yesterday, representing nearly 3% of the population
Sixteen US states reported their highest one-day coronavirus infection rise, while 13 states were at record levels of hospitalised Covid-19 patients.
The University of Washington's newly updated model projects the death toll, which had been holding at a monthly pace of just over 22,000 for most of October, will start climbing next month toward a new record of more than 72,000 in January.
The January projection by the university's Institute for Health Metrics and Evaluation would eclipse the nearly 61,000 fatalities in April when the pandemic first exploded in the United States and overwhelmed hospitals in New York City.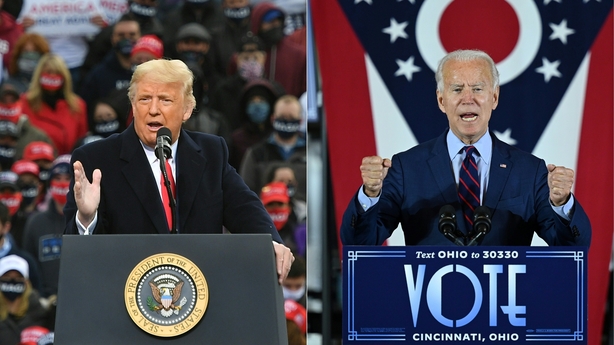 Trump accuses doctors of profiting from pandemic
President Donald Trump and Democratic rival Joe Biden held rallies in Florida on Thursday, showcasing their contrasting approaches to the pandemic.
Mr Trump falsely accused doctors of profiting from Covid-19 deaths, while Mr Biden said the US President had surrendered to the pandemic.
Mr Trump criticised Democratic governors who have imposed restrictions that aim to slow the virus's spread, and said Mr Biden would prohibit Americans from gathering for holidays or other special occasions if elected.
Many of those who came to see him did not wear masks .
"You've got to open up your state and you've got to do it fast!" Mr Trump said at a rally in Green Bay, Wisconsin, with just four days to go before the election.
At a later event in Rochester, Minnesota, he greeted hundreds of supporters who were locked out of a rally that was limited to 250 participants by state authorities.
Mr Trump also trained his ire on the US medical system, falsely saying that doctors are somehow incentivized to drive up the death count.
"Our doctors get more money if someone dies from Covid," he said in Waterford Township, Michigan.
Mr Biden accused Mr Trump of "giving up" in the fight against the virus and said he should not attack medical personnel who are treating its victims.
"Unlike Donald Trump, we will not surrender to this virus," he said at a rally in St. Paul, Minnesota. Supporters, socially distanced in their cars at the state fairground, honked their horns in agreement.