A circus, chaos and a shambles.  Just some of the words used by observers to describe last night's first US presidential debate. 
Minutes into the showdown between Donald Trump and Joe Biden, the US president started interrupting his opponent and this continued for the duration of the entire debate. Joe Biden responded with frustration and insults calling Donald Trump a clown, a liar, and telling him to shut up.
Here are nine takeaways from the debate.
1. The Moderator 
Last night's debate was moderated by Fox News host Chris Wallace. Although he works for Donald Trump's favourite TV channel, he has subjected the president to tough interviews in the past. He is an impressive and respected journalist but he struggled last night to control the debate.
He failed to stop Donald Trump's constant interruptions. "I hate to raise my voice but why should I be different to you," he said at one point. He reminded Mr Trump that he had agreed to the rules of the debate which was to allow his opponent to speak for an initial uninterrupted two minutes before then engaging in a back-and-forth. The reprimand had some impact but it should have come much earlier in the debate.
"I can't remember which of all his rantings you want me to respond to," Joe Biden said to Chris Wallace at one point. "I'm having a little trouble myself," the moderator replied.
When it was finally over, an exasperated Chris Wallace wrapped things up by saying with a smile that it had been an "interesting" hour and a half. That's one word for it.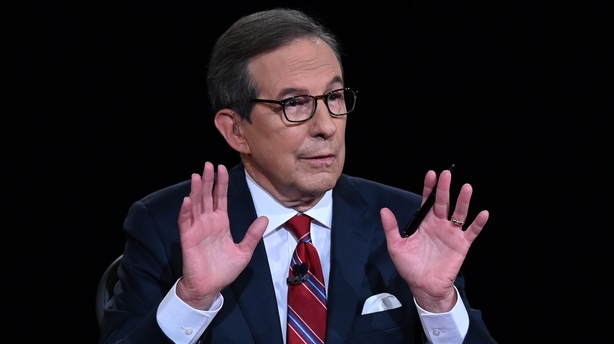 2. The Insults
"Clowns to the left of me, jokers to the right" as the song goes. The debate had the feel of a circus at times and Joe Biden described his opponent as a "clown" amid a barrage of interruptions. "It's hard to get a word in with this clown!" Mr Biden said. At other times he told the US president to "shut up" and accused him of lying.
Donald Trump didn't hold back either, telling Joe Biden that he wasn't smart and accusing him of graduating at the bottom of his class. On why he is holding rallies during a pandemic, Donald Trump claimed the reason Joe Biden wasn't doing the same is because no one would show up.
3. Racism
Donald Trump was asked by the moderator Chris Wallace if he would condemn white supremacists and militia groups, but he failed to give a direct answer.
"I'm willing to do anything. I want to see peace," he said.
When pressed on the issue, Mr Trump made reference to the far-right group known as the 'Proud Boys'.
"Proud Boys - stand back, stand by," he said and claimed that most of the violence was coming from the far-left.
4. Family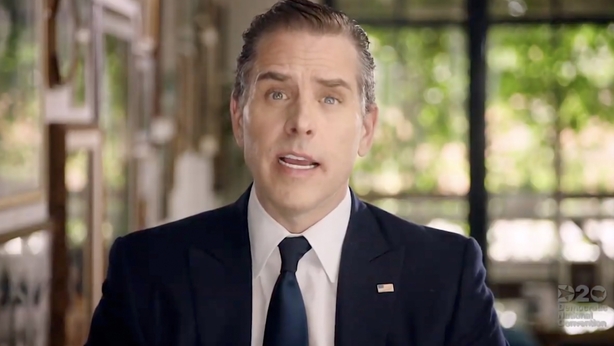 Joe Biden criticised Donald Trump for reportedly calling dead American soldiers "losers" and "suckers", referring to his son Beau, a decorated military veteran who died of cancer in 2015.
Donald Trump quickly switched the conversation to Joe Biden's other son Hunter. He accused him of taking money from Russia and China, and of getting kicked out of the military for taking drugs.
Joe Biden responded by saying that like a lot of Americans, Hunter had a drug problem but was "working on it" and had "fixed it."
"I'm proud of my son," Mr Biden added.
5. One-liners 
The most memorable moments of debates usually come down to quick retorts or one-liners.  There were some on display last night. 
Referring to US-China trade relations, Joe Biden said that while Donald Trump may have written the book "The Art of the Deal", China had perfected "the art of steal".
Joe Biden accused Donald Trump of being the worst president America has ever had. He replied by saying that he had done more in 47 months than Joe Biden had done in 47 years.
In ordinary times many of these one-liners would have been met with cheers from supporters in the crowd but their impact was lessened by the fact that because of Covid restrictions the audience was small in number, socially distanced and silent.
6. Donald Trump's Taxes
As expected, Joe Biden attacked his opponent for not releasing his tax returns amid claims that he has engaged in years of tax avoidance.
He said that Donald Trump paid less tax than a schoolteacher but the US president replied that it was something most business people did "unless they are stupid".
A few minutes into the debate. @realDonaldTrump can't stop interrupting both @JoeBiden and the moderator Chris Wallace. Lots of laughter and smiles from Mr Biden. @rtenews pic.twitter.com/VJUUr6OpiJ

— Brian O'Donovan (@BrianOD_News) September 30, 2020
7. Laughter 
At the start of the debate, Donald Trump's repeated interruptions and wild accusations were met with laughter, sighs and eye rolling by Joe Biden.
Similar responses from Al Gore in his presidential debate against George W Bush back in 2000 proved damaging for the Democratic candidate.
In this case, many will have seen Joe Biden's exasperation as justified given the aggressive tone of his opponent.
8. Ireland
No Joe Biden public appearance is complete without a reference to Irish poetry or his Irish roots. Last night, it came during an interaction about social divides in the US.  Mr Biden said that people like Donald Trump "look down their noses on Irish Catholics like me who grew up in Scranton".
This a central part of Joe Biden's political messaging, repeatedly contrasting his working-class Pennsylvania upbringing with Donald Trump's billionaire, New York past.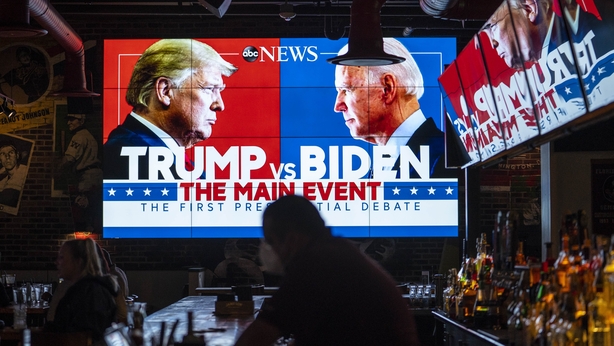 9. Who won?
Each side will claim victory. If you love Donald Trump you would have enjoyed his loud, aggressive interruptions. If you are a Joe Biden supporter you will be relieved that there were no major gaffes or missteps. Undecided voters will have learned little and heard even less over the barrage of shouting.