Squinting in the autumn sunlight they gathered outside the US Supreme Court while American flags flew at half-mast overhead.
Some brought cards, flowers and drawings.
Others just stood there silently reading the tributes to Ruth Bader Ginsburg.
One woman wept. "I'm just so worried about who will replace her", she told her friend.
She wasn't the only one wiping tears from masked faces.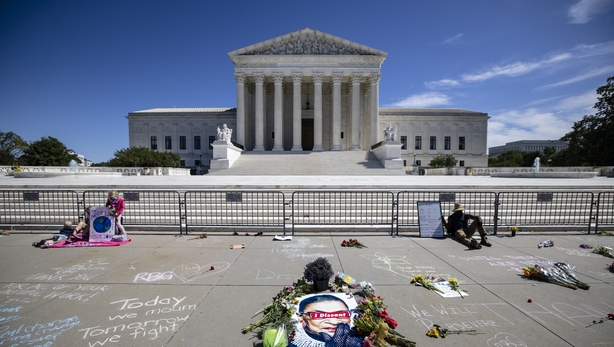 Mary Pat Cleary said she was devastated when she heard that Justice Ginsburg had died.
"I have an 18-year-old daughter who is about to start college and I can't think of a better role model for women's rights and for upholding the important elements of our constitution. I wanted to be here today to pay tribute to her," she said.
"It's a hard time for our country right now and this is just one more challenge we are facing. What I'm feeling now is beyond grief," she added.
Christopher Kosteva said he had come to the Supreme Court to thank Ruth Bader Ginsburg for fighting for so many Americans throughout her life.
"It's only fitting we come out to memorialise her for all the support she has given all of us. 2020 has been a bad year and this is the icing on the cake but we have a lot more fighting to do to make sure we can carry on her legacy," he said.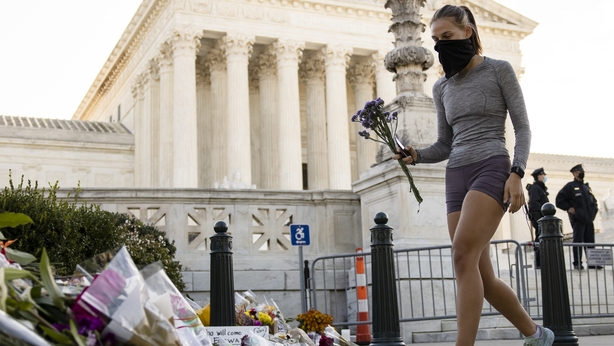 Across the street from the Supreme Court, where Ruth Bader Ginsburg fought and heard legal battles, is the Capitol Building where a political battle over her successor is now brewing.
But for those who gathered today, the 'Notorious RBG' is irreplaceable.