The University of Alabama, seen as a test case for returning to in-person learning amid the Covid-19 pandemic, has reported close to a thousand positive cases since reopening.
The school has published a Covid-19 dashboard which shows a total of 566 positives since last Wednesday when term started, in addition to 400 people who tested positive when arriving.
Local news site AL.com quoted university president Stuart Bell saying the problem did not stem from student behaviour on campus but probably came from the community.
"What we have to do is identify where does the virus thrive and where does the virus spread and how can we work together with our students, with our faculty and with our staff to make sure that we minimise those places, those incidents," he said.
The city of Tuscaloosa, which is home to the university's main campus, announced yesterday that it would close bars and bar service at restaurants for the next two weeks.
The college has about 45,000 students across its Tuscaloosa, Birmingham and Huntsville campuses making it a key test case for returning to in-person classes.
India's new Covid cases top global tally for 18th straight day
India has reported the highest number of new coronavirus cases globally for the 18th straight day, remaining well ahead of the United States and Brazil, a Reuters tally based on official reporting showed.
It took India from the end of January, when the country's first case was reported, until July to reach around 1.6 million cases, a period when the government imposed a strict lockdown.
However, infections have rocketed by another 1.5 million since the start of August, taking the total to around 3.1 million, behind only Brazil and the United States.
The rate of new cases in India is increasing rapidly, climbing by 60,975 in the latest 24-hour period, according to the federal health ministry.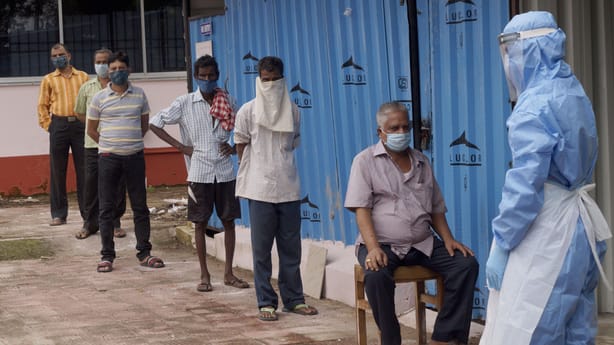 "If we cross the absolute numbers (in Brazil and the United States), I won't be surprised, but we also have a larger population," Giridhar Babu, epidemiologist at the non-profit Public Health Foundation of India, said.
But deaths have remained comparatively low - at 58,390, or 1.84 % of total cases - lower than the global mortality percentage of 3.4%.
India reported its first Covid-19 fatality in mid-March, with the death toll rising to around 35,700 by the end of July. In August so far, around 22,600 deaths have been recorded. Deaths are considered a lagging indicator, given the two-week incubation period of the disease.
Prime Minister Narendra Modi's government has said it is reassured by the high recovery rate - around 75% of the total 3.1 million cases are no longer infected, according to data from the federal health ministry.
Amid the race to develop a vaccine, the ministry said India was in conversation with Russia regarding Sputnik-V, its experimental Covid-19 vaccine.
Dutch, Belgian patients 'reinfected with coronavirus'
A patient in the Netherlands and another in Belgium have been confirmed as having been reinfected with the coronavirus, Dutch national broadcaster NOS reported this morning, citing virologists.
The news follows a report this week by researchers in Hong Kong about a man there who had been reinfected four-and-a-half months after being declared recovered.
The NOS cited virologist Marion Koopmans as saying the Dutch patient was an older person with a weakened immune system.
She said that cases where people have been sick with the virus a long time and it then flares up are better known.
But a true reinfection, as in the Dutch, Belgian and Hong Kong cases, requires genetic testing of the virus in both the first and second infection to see whether the two instances of the virus differ slightly.
Ms Koopmans, an adviser to the Dutch government, said reinfections had been expected.
"That someone would pop up with a re-infection, it doesn't make me nervous," she said. "We have to see whether it happens often."
The Belgian patient had mild symptoms, the NOS cited virologist Marc Van Ranst as saying. But "it's not good news," he added.
He said the case shows antibodies the patient developed during the first exposure were not enough to prevent a second case with the slightly different variant of the virus.
He said it is not clear whether such cases are rare or whether there are "many more people who could have are-infection after six or seven months".
In Hong Kong, a 33-year-old man who recovered from, and was cleared of, Covid-19 in April tested positive again after returning from Spain via Britain on 15 August.
The man was found to have contracted a different coronavirus strain from the one he had previously contracted and remained asymptomatic for the second infection.
Seoul schools return online after surge in cases
South Korea has ordered all schools and preschools in the greater Seoul region to switch to online classes as authorities battle multiple coronavirus clusters.
The country's "trace, test and treat" approach to curbing the virus has been held up as a global model, but it is now trying to contain several outbreaks, mostly linked to protestant churches.
South Korea reported 280 new infections today, taking the country's total to 17,945.
The numbers are low in global terms but represent the 12th consecutive day of triple-digit increases after several weeks with numbers generally in the 30s and 40s.
Most of the new cases have been centred in the greater Seoul region, home to half the country's 52 million people.
Authorities are now scrambling to tighten social distancing rules and said that schools and preschools in Seoul, Incheon and neighbouring Gyeonggi province will switch to online classes from tomorrow until 11 September.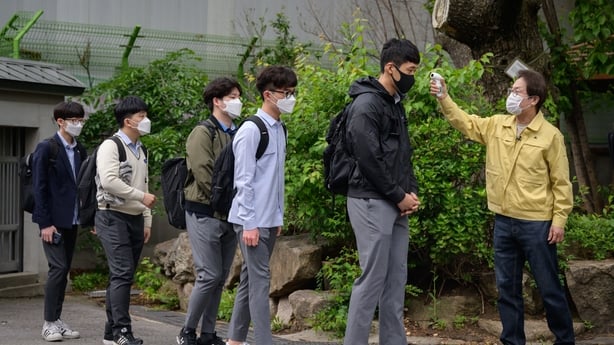 Mexican children begin school year with lessons via television
Elsewhere, tens of millions of Mexican children began a new school year with lessons via television in a nationwide experiment in distance learning prompted by the coronavirus pandemic.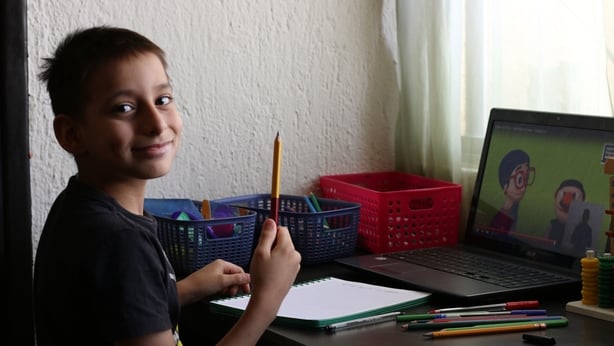 The government has teamed up with four private television stations to broadcast classes across the Latin American country, which has suffered more than 60,000 deaths from the virus.
Under the ambitious plan, around 30 million public school students between the ages of four and 18 will learn through their TV sets until the situation has improved enough for them to return to the classroom.
"Despite the pandemic, the pain, the suffering it has caused, which unfortunately it continues to cause, we are... standing," President Andres Manuel Lopez Obrador said as he declared the new school year open.
Face-to-face lessons have been suspended since March in Mexico, which has the world's third-highest fatality toll from the coronavirus after the United States and Brazil.
Teams forfeit European games after outbreak
In sport, UEFA has ruled that Slovan Bratislava and FC Pristina had forfeited European qualifying matches called off after coronavirus outbreaks at the clubs.
Both were judged to have lost 3-0 and their opponents awarded places in the next round.
The Slovaks were scheduled to play Klaksvikar Itrottarfelag (KI) in the Faroe Islands, originally on 19 August and then on 21 August, in the first qualifying round.
However, the entire Bratislava team was quarantined by local authorities after two consecutive positive tests in two days for one of Slovan's players.
Pristina, from Kosovo, were due to face Lincoln Red Imps in Gibraltar on 18 August in a Europa League preliminary round.
Their players tested negative before leaving Kosovo, but were tested again when they arrived in Gibraltar and several members of the delegation showed positive and the entire team was quarantined.
The match was postponed from on 18 August until 22 August and the club was allowed to bring in additional players.
Unfortunately, eight players among the reinforcements tested positive and the match was cancelled.
In the next qualifying round, Ki will Face Swiss team Young Boys and Red Imps will play Union Titus Petange from Luxembourg.
---