Poland's incumbent Andrzej Duda has won the presidential election, results from over 99% of polling stations show, with remaining uncounted votes unlikely to sway the final outcome, the National Electoral Commission has said.
Mr Duda, an ally of Poland's ruling nationalists, is expected to help the Law and Justice (PiS) party continue its reforms of the judiciary, which have been criticised by the European Union, and generous social spending programmes.
The result will be decisive for the governing Law and Justice (PiS) party, which is accused by critics of eroding hard-won democratic freedoms just three decades after the end of communist rule.
According to the latest results, Mr Duda received 51.21% of the vote, while opposition candidate Rafal Trzaskowski got 48.79% of the vote.
The difference in votes between the candidates amounted to around 500,000.
"I don't want to speak on behalf of the campaign staff, but I think that this difference is large enough that we have to accept the result," Grzegorz Schetyna, the former head of Poland's opposition Civic Platform (PO) grouping and member of parliament told private broadcaster TVN24 today.
Poles voted with almost record turnout, reported at 68.12% by the commission.
The Commission said it was not sure when it would announce full official results as some polling stations, including some abroad, had not yet submitted their official counts.
Polish president Andrzej Duda has been re-elected by a slim majority. His election clears the way for controversial judicial reforms which have brought the country into conflict with the EU. | Read more: https://t.co/rTEa6fVtDR pic.twitter.com/vtTVHCJA7s

— RTÉ News (@rtenews) July 13, 2020
The opposition had earlier said it was collecting information about what it says were voting irregularities.
"We are gathering information and signals about different irregularities and we are still only talking about polls and only a percentage of results from the National Electoral Commission so we don't have a full picture of the situation," Tomasz Siemoniak, a PO member of parliament told Reuters.
PiS officials did not immediately respond to requests for comment. The foreign ministry was also unavailable for comment.
"Today or perhaps at the latest tomorrow... we will be able to indicate what the scale of these protests is," Sylwester Marciniak, the head of the electoral commission, told a news conference on Monday.
The final tally put turnout at a very high 67.9%, which suggests the official figure could end up being a record for the EU member.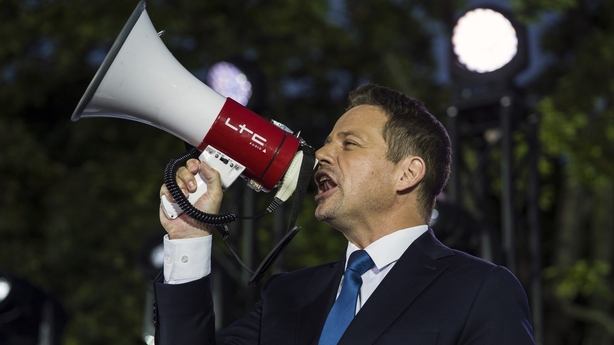 The Polish embassy in Ireland said there were more than 29,000 Polish citizens who registered to vote in the election here.
It said that interest was much higher than in previous years and more than 90% of those who registered had voted.
Mr Duda's support is strong in rural areas and small towns and in the east of the country, while Mr Trzaskowski performed well in larger cities and western regions on the border with Germany.
The election had been due to be held in May but was delayed because of the pandemic. Its fallout is pushing Poland into its first recession since communism fell.
The incumbent won round one on 28 June with 43.5% against ten challengers, including Mr Trzaskowski who came in second with 30.4% and had campaigned hard to sway voters who backed other opposition candidates.
Mr Duda promises to defend highly popular social welfare payments introduced by the PiS government and has led a polarising campaign, attacking LGBT rights and ruling out certain Jewish wartime compensation claims.
Ahead of the vote, PiS Justice Minister Zbigniew Ziobro characterised it as "a clash of two visions of Poland, the white-red and rainbow-coloured," referring to the colours of Poland's national flag and the symbol most widely used by the LGBT community.
Mr Trzaskowski supports allowing same-sex civil partnerships in Poland and his support for gay rights last year unleashed a protest by mostly southeastern regions which declared themselves "LGBT-free".