Hong Kong police said they had arrested at least 180 people - including seven under a new national security law - which the city's last British governor Chris Patten has described as "Orwellian".
Thousands of protesters defied a ban to rally on the 23rd anniversary of the city's handover to China.
They were arrested "for participating in unauthorised assemblies, disorderly conduct, possession of offensive weapon and other related offences", the force wrote on its verified Twitter account.
Water cannon and tear gas were used to disperse the activists protesting against the law that critics fear will crush freedoms in the global financial centre.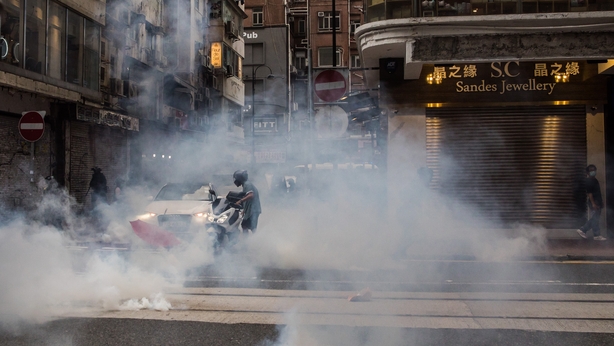 Beijing announced the details of the much-anticipated law yesterday after weeks of uncertainty.
EU foreign policy chief Josep Borrell said it was essential that existing rights remain observed in Hong Kong, stressing the importance of full protection for the city's residents.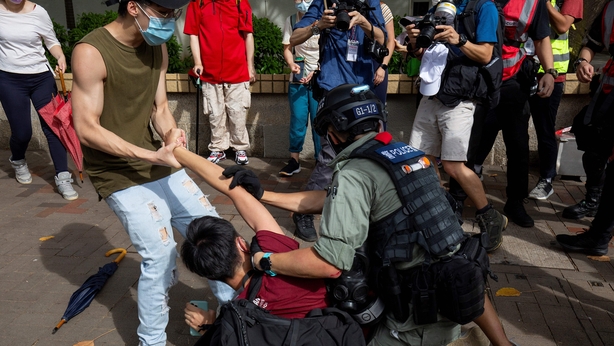 The last British governor of Hong Kong, Chris Patten, said: "The law is even worse than I expected.
"It is Orwellian stuff".
He told the BBC the law appears to go "wider and further than anybody had feared.
"It appears to cover people who aren't Chinese citizens, or Hong Kong citizens. It appears to have an extra-territorial aspect as well.
"Heaven knows how it will affect the ability of journalists to report what's happening in Hong Kong.
"It's absolutely awful."
Here, Minister for Foreign Affairs Simon Coveney has said the Government is "concerned" about the new law will continue to raise its concerns through dialogue with China.
In a statement, Mr Coveney said: "I am concerned about the adoption yesterday by the National People's Congress of a national security law in Hong Kong.
"The law, which was adopted without any meaningful consultation of Hong Kong's Legislative Council or civil society, risks undermining the high degree of autonomy of Hong Kong under the One Country, Two Systems principle.
"Ireland fully supports fundamental freedoms such as freedom of assembly and the right to peaceful assembly. We have called consistently for these freedoms to be upheld in Hong Kong, and for all sides to refrain from violence and exercise restraint."
"Ireland and the EU have left the Chinese government in no doubt about the legitimate interest that we have in ensuring that Hong Kong, and the One Country, Two Systems principle that has governed it, remains a success.
"The continued prosperity of Hong Kong and success of this principle remains in China's best interest," Mr Coveney said.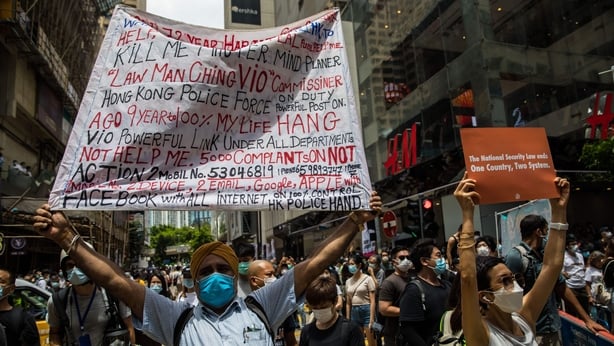 Police, who had banned today's rally, cited the law for the first time in confronting protesters and they also made their first arrest under it - a man holding a flag advocating independence.
"You are displaying flags or banners/chanting slogans/or conducting yourselves with an intent such as secession or subversion, which may constitute offences under the...national security law," police said in a message displayed on a purple banner.
The law will punish crimes of secession, subversion, terrorism and collusion with foreign forces with up to life in prison.
We need your consent to load this rte-player contentWe use rte-player to manage extra content that can set cookies on your device and collect data about your activity. Please review their details and accept them to load the content.Manage Preferences
---
Read More:
China's HK security law will only target 'small minority': Lam
Hong Kong hit by fresh protests after China security proposal
Hong Kong warns removing US special status is 'double-edged sword'
---
China's parliament adopted it in response to months of pro-democracy protests last year triggered by fears that Beijing was stifling the city's freedoms, guaranteed by a "one country, two systems" formula agreed when it returned to Chinese rule.
Authorities in Beijing and Hong Kong have repeatedly said the legislation is aimed at a few "troublemakers" and will not affect rights and freedoms, nor investor interests.
But critics fear it will crush the freedoms that are seen as key to Hong Kong's success as a financial centre.
Mainland security agencies will also be based in Hong Kong officially for the first time, with powers that go beyond city laws.
On 1 July last year, hundreds of protesters stormed the city's legislature to protest against a now-scrapped bill that would have allowed extraditions to mainland China.
Those protests evolved into calls for greater democracy, paralysing parts of the city and paving the way for Beijing's imposition of the law this week.
Speaking at a flag-raising ceremony to mark the handover anniversary, the city's Beijing-backed leader, Carrie Lam, said the law was the most important development since the city's return to Chinese rule.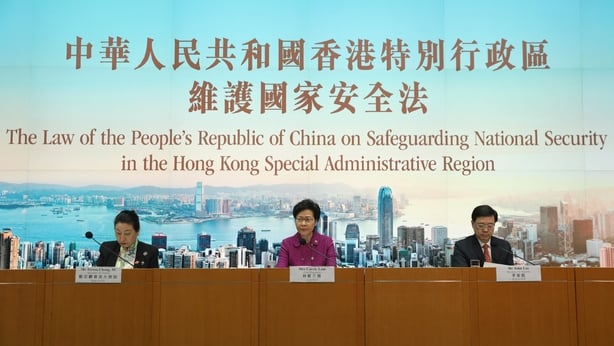 "It is also an inevitable and prompt decision to restore stability," Ms Lam said at the same harbour-front venue where 23 years ago Mr Patten handed back Hong Kong to Chinese rule.
Some pro-Beijing officials and political commentators say the law is aimed at sealing Hong Kong's "second return" to the motherland after the first failed to bring residents to heel.
Luo Huining, the head of Beijing's top representative office in Hong Kong, said at the ceremony the law was a "common aspiration" of Hong Kong citizens.
Some pro-democracy activists gave up membership of their groups just before the law came into force, though calling for the campaign for democracy to go on offshore.
"I saw this morning there are celebrations for Hong Kong's handover, but to me it is a funeral, a funeral for 'one country two systems'," said democracy politician Kwok Ka-ki.