Spain will reopen its borders to visitors from Europe's open-border Schengen area from 21 June, ten days earlier than previously planned, Prime Minister Pedro Sanchez has said, in a further easing of coronavirus lockdown restrictions.
However, restrictions will remain in place for visitors from Ireland and the UK until at least 1 July.
Mr Sanchez also said a planned aid package to rescue Spain's automobile sector, hard hit by the pandemic lockdown, would total €3.7 billion, adding that further details would be announced tomorrow.
"We have been able to corner the virus in our country and on the European continent... but the risk has not disappeared," Mr Sanchez told a news briefing after talks with leaders of Spain's 17 regions.
"Tourism is a key sector for the economic recovery," he said, announcing the opening of Spain's borders on 21 June to visitors from the Schengen area, which includes most of the European Union and some non-EU nations such as Norway.
Spain's state of emergency ends that same day. Limits on mobility will be lifted but wearing masks in public will remain mandatory until a cure or vaccine for Covid-19, the lung disease caused by the virus, is found.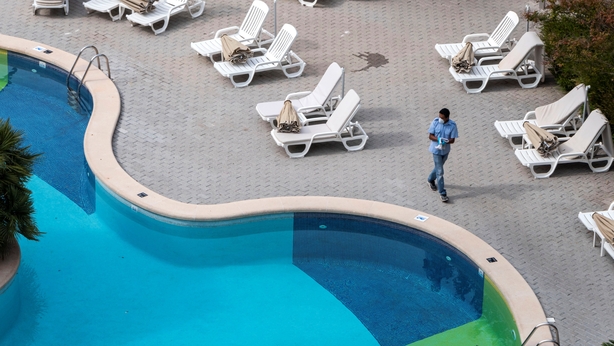 However, Mr Sanchez said Spain's land border with Portugal would remain closed till 1 July, without saying why.
Visitors from outside the Schengen area - including those from Ireland and the UK - will be able to visit Spain from 1 July, though that will hinge on specific border agreements.
Spain's borders are currently closed to tourists and those exempted from the entry ban must then spend 14 days in quarantine as a precaution against the spread of Covid-19, which has so far killed more than 27,000 people in Spain.
---
Read more:
Latest coronavirus stories
---
In a small prelude to the wider opening of its borders, Spain will allow German tourists to start visiting its Balearic Islands from tomorrow in a test programme.
The government has said it will announce support measures for the tourism sector on Thursday. Together, tourism and automobiles account for over 20% of Spain's gross domestic product.
The lockdown has hammered car sales in Spain, and last month
Nissan Motor Co said it would close its 3,000-workforce plants in Barcelona. The government has said it will try to reverse the decision.
In France, president Emmanuel Macron has said he is accelerating plans to ease the country's lockdown to revive the economy more swiftly.
Mr Macron promised that the cost of keeping companies afloat and people in jobs during the worst economic downturn since World War Two would not be passed to households through taxes.
Restaurants and cafés in Paris would be allowed to reopen fully from Monday, Mr Macron said in a televised address, bringing relief to a hospitality industry battered by the crisis.
The government expects the economy to shrink by 11% in 2020.
Meanwhile, a further 44 deaths linked to the virus have been confirmed in Italy, where 338 further cases have been confirmed.
The total death toll there since the outbreak came to light n the country on 21 February now stands at 34,345, health officials have said.
Italy has the fourth highest death toll in the world after those of the United States, Britain and Brazil.
The number of confirmed cases amounts to 236,989, the seventh highest global tally behind those of the US, Russia, Brazil, Spain, Britain and India.
The northern region of Lombardy, where the outbreak was first identified, remains by far the worst affected of Italy's 20 regions, accounting for 244 of the 338 new cases reported.
People registered as currently carrying the illness fell to 26,274 from 27,485 the day before.
There were 209 people in intensive care on Sunday, down from 220 on Saturday, maintaining a long-running decline. Of those originally infected, 176,370 were declared recovered against 174,865 a day earlier.