France will allow cafes, bars and restaurants to reopen with restrictions from next week and will also end limits on travel within the country as the coronavirus crisis eases, the prime minister has confirmed.
Edouard Philippe said France was making progress in its fight against the Covid-19 outbreak as he unveiled steps to further relax restrictions.
On 2 June, France's beaches will reopen. The ban on anyone travelling more than 100km from their homes, except in special cases, is also to be lifted.
From that date, cafes, bars and restaurants will also reopen with customers kept at least one metre apart.
Other restrictions include a maximum of ten diners per table. Staff will wear masks and customers must wear them too except when seated at their table.
In areas of the country designated as higher-risk "orange zones", only the outdoor areas of cafes, bars and restaurants will be allowed to reopen - this includes Paris.
Parks and public gardens in Paris, until now deemed to be in a Covid-19 "red zone", will also reopen on 2 June.
Major sports activities in France are to remain suspended until 21 June. Plans to reopen secondary schools will accelerate. Primary schools have reopened in most places.
The news came on the same day as the number of coronavirus infections in France rose - reflecting the inclusion of new data rather than a rise in daily infections, the Health Ministry said.
The inclusion of data from a new tracking system boosted the number of confirmed Covid-19 cases by 3,325 to 149,071.
"The increase compared to yesterday is due to more efficient tracking, not to the epidemiological situation in France," the ministry said. The virus death toll rose by 66 to 28,662.
A smartphone app that will allow the health authorities to identify if someone has been exposed to a Covid-19 carrier, and notify them, will be available in France from 2 June.
The rollout of the app was approved by the French parliament yesterday, despite concerns about privacy expressed by some politicians.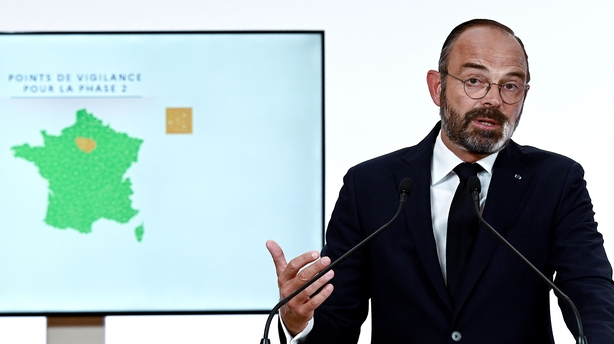 "Freedom will be the rule and restriction the exception," Prime Minister Philippe said as he explained the new rules.
"We are in a better place than where we expected to be," he added.
France also backed the lifting of internal EU travel restrictions from 15 June.