Brazil has recorded its highest number of coronavirus deaths in a day as Latin America began to feel the full force of the pandemic, while the World Health Organization agreed to investigate its response to the crisis.
With infections rapidly approaching five million, deaths topping 320,000 and the global economy devastated, there are fears that the worst is yet to come for the poorer parts of the world as they desperately try to contain the spread of the virus.
There was an alarming surge yesterday in Brazil as daily Covid-19 deaths crossed 1,000 for the first time, but far-right President Jair Bolsonaro remains bitterly opposed to lockdowns, having described them as unnecessary over a "little flu".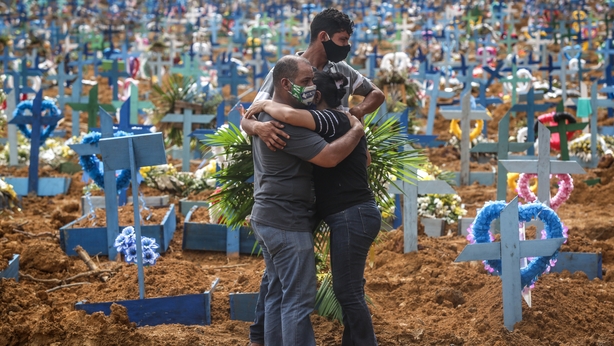 Infections in Brazil, already the third highest globally, were also climbing by the thousands, with the outbreak in the world's sixth-largest country expected to accelerate and not peak until early June.
The coronavirus surge in Latin America has forced some areas to suspend their plans to loosen restrictions, with Argentina's second city Cordoba rolling back plans to ease a lockdown because of a spike in infections.
There have been warnings about the impact of the pandemic on the least privileged communities, and World Bank chief David Malpass said that up to 60 million people could be "pushed into extreme poverty".
In a worrying illustration of the mounting economic pressure, Chile, which is also suffering from a sharp rise in cases, deployed soldiers on the outskirts of its locked-down capital Santiago after clashes with protesters angry about food shortages and job losses.
New guidelines issued on malaria drug
Brazil's health ministry issued new guidelines for wider use of anti-malarial drugs in mild coronavirus cases, a treatment touted by President Jair Bolsonaro in defiance of public health experts warning of possible health risks.
Interim Health Minister Eduardo Pazuello, an active duty army general, authorised the modified protocol after two trained doctors left the ministry's top job under pressure to promote early use of chloroquine and hydroxychloroquine.
"We are at war. Worse than defeat would be the shame of not putting up a fight," said the right-wing president, a former army captain, on Twitter, explaining why the government was putting forward the drugs without proof of their effectiveness.
Medical experts, including Marcos Espinal, director for communicable diseases at the Pan American Health Organization, have warned that studies show the drugs, first developed in the 1950s to fight malaria, to be unhelpful and potentially dangerous in treating the novel coronavirus.