US President Donald Trump has again lashed out at China over the coronavirus pandemic, blaming Beijing for "mass worldwide killing".
The coronavirus pandemic has now killed at least 323,370 people worldwide since it surfaced in China late last year, according to the latest AFP tally.
There have been more than 4,910,110 officially recorded cases in 196 countries and territories.
TheUS has recorded the most deaths at 91,938. It is followed by Britain with 35,341, Italy with 32,169, France with 28,022 and Spain with 27,778.

US President Donald Trump has again lashed out at China over the pandemic, blaming Beijing for "mass Worldwide killing" in an early morning tweet.
In an early morning tweet, Mr Trump said: "It was the 'incompetence of China', and nothing else, that did this mass Worldwide killing".
Some wacko in China just released a statement blaming everybody other than China for the Virus which has now killed hundreds of thousands of people. Please explain to this dope that it was the "incompetence of China", and nothing else, that did this mass Worldwide killing!

— Donald J. Trump (@realDonaldTrump) May 20, 2020
The virus first appeared in the Chinese city of Wuhan last December and has spread rapidly around the world.
Mr Trump initially played down the seriousness of the threat and said repeatedly that China was addressing the outbreak. He later pivoted to blaming China for allowing the international spread.
The White House has also suggested, without offering evidence so far, that the virus originated in a laboratory and was accidentally released.
Mr Trump has made repeated but vague threats of retaliation against the US' economic rival and has also threatened to break off US funding to the World Health Organization (WHO) over what he says was its assistance to China in covering up the extent of the outbreak.
Brazilian health ministry recommends chloroquine amid record deaths
Health officials in Brazil reported 1,179 new deaths, the first time the daily toll exceeded 1,000, but far-right President Jair Bolsonaro remains bitterly opposed to lockdowns.
Brazil's health ministry also today recommended using chloroquine and hydroxychloroquine to treat even mild cases of Covid-19, a treatment Mr Bolsonaro has pushed for despite a lack of conclusive evidence of their effectiveness.
New federal guidelines released by the ministry recommend doctors prescribe the anti-malarial drugs from the onset of symptoms of coronavirus infection, together with the antibiotic azithromycin.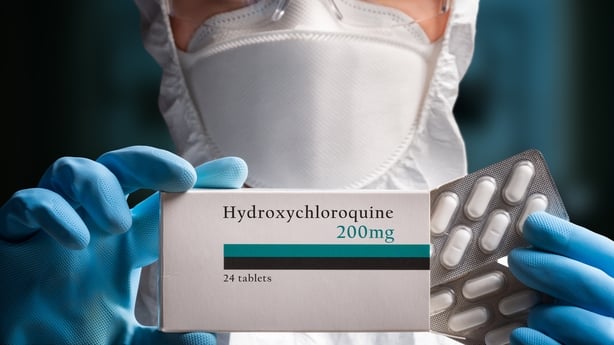 Patients will be required to sign a waiver acknowledging they have been informed of potential side effects, including heart and liver problems and retina damage.
The two medications have been swept up in a politically charged debate amid the pandemic. Mr Bolsonaro and Mr Trump, to whom he is often compared, tout them as potential wonder drugs against the virus.
Mr Trump has even revealed that he has been taking hydroxychloroquine daily as a preventive measure.
Preliminary studies of the drugs in China and France showed promising results against Covid-19. However, other studies have cast doubt on their effectiveness and raised concerns about the potential for heart, liver and kidney problems, as well as nerve damage.
Meanwhile in South Africa, a consortium called the Modelling and Simulation Hub Africa, comprising experts from the University of Cape Town and the Department of Health, has released its first projections of the impact of the pandemic in South Africa.
The scientists say more than a million people in the country could be infected by the virus, causing at least 40,000 deaths, by the time the disease reaches a likely peak there in November.
---