The U.S. debate intensified on Monday over when to lift restrictions to control the coronavirus outbreak, with protesters describing mandatory lockdowns as "tyranny" and New York's governor and other officials urging caution until more testing becomes available.
Stay-at-home measures, which experts say are essential to slow the spread of the virus, have ground the economy to a virtual standstill and forced more than 22 million people to apply for unemployment benefits in the last month.
The United States has by far the world's largest number of confirmed coronavirus cases, with more than 756,000 infections and over 41,150 deaths, nearly half of them in the state of New York, according to a Reuters tally.
The U.S. Centers for Disease Control and Prevention (CDC) has reported 746,625 cases of the coronavirus, and said the number of deaths had risen to 39,083.
Over the weekend, the CDC updated its case count to 720,630 and said 37,202 people had died across the country, but that the numbers were preliminary and had not been confirmed by individual states.
New York Governor Andrew Cuomo said that he understood why some people are protesting the closing down of businesses in response to the coronavirus but argued relaxing restrictions needed to be done in a way that prevented further outbreaks.
"You don't need protests to convince anyone in this country that we have get back to work and we have to get the economy going and we have to get out of our homes. Nobody," Cuomo told a briefing.
Cuomo, who has emerged as a leading national voice on the pandemic, called for federal hazard pay for hospital staff,police officers and other frontline workers and repeated a plea for federal funding to ramp up testing for the virus.
The governor also said that 20 hospitals in his state that have been using the malaria drug hydroxychloroquine to treat COVID-19, the illness caused by the virus, would send results of their studies on the drug to federal regulators on Monday.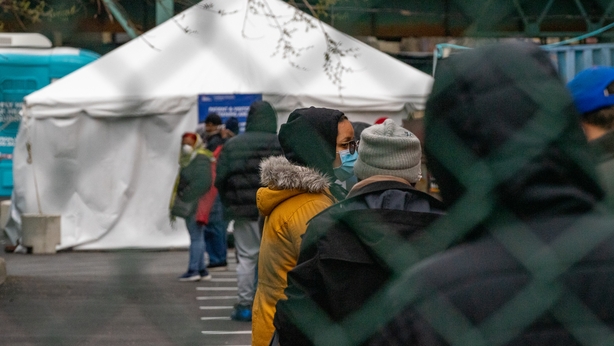 The governor said total hospitalizations of COVID-19 patients reached 16,103, down from 16,213 the day before, while an additional 478 people died over the past 24 hours, the lowest daily fatality rate since 1 April.
Cuomo said the data added to evidence that New York, the epicenter of the crisis in the United States, had past the worst stage of the crisis and remained on a path toward a stabilization of its healthcare system.
"The numbers would suggest we are seeing a descent," Cuomo said.
New Jersey, whose impact from the pandemic is second only to neighboring New York's, reported another 3,528 positive cases of COVID-19, for a total of 88,806, and another 177 deaths, bringing total fatalities in the state to 4,377.
Governor Phil Murphy said the number of hospitalizations for COVID-19 continued their downward trend and said he planned to announce in the coming days the benchmarks for reopening businesses and schools.
Murphy, however, cautioned that reopening too soon would risk sparking a spike in cases and said people would need to have confidence their health would not be in jeopardy in order to start going to stores again.
"We will be making decisions based on facts so we don't experience a second boomerang wave," Murphy told a briefing.
"Personal health creates economic health and it has to happen in that order."
In Pennsylvania, where Democratic Governor Tom Wolf has promised to veto a Republican-backed bill that would force him to reopen some businesses, a few hundred protesters, most of them in cars, held a demonstration in the state capital Harrisburg.
The "Patriots Rally" demonstration follows similar protests - cheered on by President Donald Trump - elsewhere in the United States, including in Michigan, California and Ohio.
Protesters say government regulations intended to halt the spread of COVID-19 limits individual freedoms and harms the economy.
Trucks painted with slogans including "work not welfare" and "shelter in place isn't freedom!" paraded throughout Harrisburg, as Republican representatives from Congress rallied protesters marching at the steps of the capitol building.
Many of the protesters expressed cynicism toward health experts and skepticism about the actual scale of the pandemic in the country, accusing officials of overreaching and taking actions that had caused more harm than the virus itself.
"All the projections were wrong, but we are still telling people to stay home and businesses to close. This is not quarantine, this is tyranny," said Mark Cooper, a 61-year-old retired truck driver.
Facebook Inc said that it has removed events in Nebraska, New Jersey and California promoting protests against stay-at-home measures.
But the social media company, which has been under pressure to police harmful content and misinformation related to the pandemic, said it would only take down anti-quarantine protest events if they defied government guidelines.
Stay-at-home orders have been enacted at the state level.
Facebook said it would align with those directives, and also remove events that defy social distancing guidelines.Facebook is seeking guidance to clarify the scope of state orders in New York, Wisconsin, Ohio and Pennsylvania.
"Unless government prohibits the event during this time, we allow it to be organized on Facebook," said Facebook spokesman Andy Stone. "For this same reason, events that defy government's guidance on social distancing aren't allowed on Facebook."
At federal level, Democrats and Republicans feuded over who was responsible for delay even as they worked on details of a possible $450 billion-plus deal to provide more aid to small businesses and hospitals hurt by the coronavirus pandemic.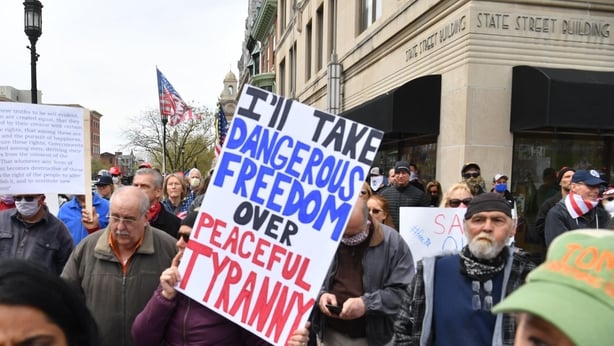 "We could have been done yesterday, but the Democrats continue to hold up, even though we had agreed to all the numbers," Representative Kevin McCarthy, House of Representatives minority leader, told Fox News.
Mr Trump said on Sunday that Republicans were "close" to an agreement with Democrats, who have the majority in the House, and suggested there could be a resolution today .
But there was no immediate deal this morning, with Senate Republican leader Mitch McConnell subsequently saying a vote could take place on Tuesday, after the two parties took shots at one another over the hold-up.
"How many more millions of (House Speaker Nancy) Pelosi's layoffs will we have to endure before she will put people before politics?" McCarthy wrote on Twitter.
Pelosi spokesman Drew Hammill shot back that Democrats, who have the majority in the House, have given notice that there could be floor action on a bill as soon as Wednesday.
The legislation "could pass by unanimous consent in the House tomorrow, but you cannot control your members who want a recorded vote," Hammill said in comments aimed at McCarthy. "The delay will be on your end @GOPLeader."
We've noticed floor action for as soon as Wednesday. Could pass by unanimous consent in the House tomorrow but you cannot control your Members who want a recorded vote. The delay will be on your end @GOPLeader. https://t.co/DRSpbn2qh1

— Drew Hammill (@Drew_Hammill) April 20, 2020
Representative Thomas Massie, a Republican, sought a recorded vote the last time the House passed a $2.3 trillion coronavirus relief package, and has warned he may seek to block future bills from passing without a roll call vote.
Pelosi on Twitter lamented the "staggering" coronavirus death toll numbers, which have crossed 40,000 in the United States.
The United States, Mexico and Canada are extending restrictions on non-essential travel across their shared borders for an additional 30 days, U.S.Acting Department of Homeland Security Secretary Chad Wolf said in a tweet.
"As President Trump stated last week, border control, travel restrictions, and other limitations remain critical to slowing the spread of coronavirus and allowing the phased opening of the country," Wolf wrote.
As President Trump stated last week, border control, travel restrictions, and other limitations remain critical to slowing the spread of #coronavirus and allowing the phased opening of the country.

— Acting Secretary Chad Wolf (@DHS_Wolf) April 20, 2020
Meanwhile, Wall Street opened lower as traders grappled with a drop in oil prices to 22-year lows as the coronavirus pandemic sapped demand for energy.
The Dow Jones Industrial Average was down 1.8% to 23,798.01 about 10 minutes into the trading session.
The broad-based S&P 500 had declined 1.3%to 2,835.08, while the tech-rich Nasdaq had fallen 0.7% to 8,588.66.