The European Union will impose an entry ban on travellers from outside the bloc for 30 days to battle the spread of the coronavirus.
German Chancellor Angela Merkel has said that member states "agreed to impose an entry ban" into the bloc, with only nationals of EFTA countries and Britain exempt from the restriction.
She added that the bloc was taking "coordinated action to bring back stranded travellers".
Meanwhile, Ireland has yet to decide on whether or not to take part in the EU's travel ban.
A government spokesman tonight said: "Ireland will consider participation [in the EU travel ban] in the context of the Common Travel Area and in consultation with the UK".
Speaking following a two and a half hour video conference between EU leaders, the European Commission President Ursula von der Leyen told a news conference: "We got a lot of approval from member states [for the travel ban]. None of them were negative on this proposal, but we know that at the moment, [that] the UK is not planning on implementing external border restrictions…, of course this goes for Ireland too because we have a common travel zone."
EU leaders endorsed a range of economic and logistical measures to try and stop the spread of the Coronavirus, including the non-essential travel ban on those entering the wider Schengen area, as well as support for European companies producing medical equipment and aiming to produce a vaccine.
The Commission president stood by her claim that the German company CureVac could have a vaccine for the virus by the autumn.
"The fact that other countries tried to buy that company showed they're the front runner. They're working on a patent that has already been approved. It's their prediction they might be able, towards fall, to have a vaccine fighting coronavirus," she said.
It comes as Britain announced an "unprecedented package" of government-backed loans worth £330 billion (€363 billion) for firms hit by the coronavirus outbreak.
We need your consent to load this rte-player contentWe use rte-player to manage extra content that can set cookies on your device and collect data about your activity. Please review their details and accept them to load the content.Manage Preferences
Chancellor of the Exchequer Rishi Sunak said the measures were equivalent to 15% of GDP and were available to "any business that needs access to cash... will be able to get it", promising to "go further" if necessary.
The UK has ramped up its response to the virus, with its government imposing unprecedented peacetime measures prompted by scientific advice that infections and deaths would spiral without drastic action.
Around 55,000 people in the UK have coronavirus and the aim is for fewer than 20,000 people to die from it, the British Government's chief scientific adviser has said.
Sir Patrick Vallance said the number of predicted deaths was "horrible" and there would still be a huge amount of strain on the health service from Covid-19.
Concerns over the global economic impact of the Covid-19 pandemic has forced the British government to promise an economic aid package worth more than £300 billion | Read more: https://t.co/mfv2iWPRqM pic.twitter.com/VKScil381I

— RTÉ News (@rtenews) March 17, 2020
During a hearing of the Health Select Committee, chairman Jeremy Hunt asked whether the expected death rate was one fatality for every 1,000 cases, which would mean that there are "potentially 55,000 cases" at present.

Mr Vallance said: "We've tried to get a handle on that in Sage (Scientific Advisory Group for Emergencies) and if you put all the modelling information together, that's a reasonable ballpark way of looking at it.
"It's not more accurate than that," he said.
He said the stringent measures introduced yesterday should "have a very significant effect on the peak" and lead to a reduction in cases and deaths after two to three weeks.
Asked whether it was hoped that deaths could potentially get below 20,000, Mr Vallance said: "If we can get numbers down to 20,000 and below, that's a good outcome in terms of where we would hope to get to with this outbreak, but that's still horrible, it's still an enormous number of deaths and an enormous pressure on the health service, and having spent 20 years as an NHS consultant as well as an academic, I know what that looks and feels like."
He warned that much was still unknown about what would happen once people are released from isolation and no longer told to undertake social distancing.
More firms sent staff to work from home and public transport emptied after the government called for an end to "non-essential" social contact and unnecessary travel as confirmed Covid-19 cases climbed to more than 1,500 and deaths rose to 55.
More stringent restrictions are expected in the coming days, including forcing people with serious health conditions to stay at home for three months to ease pressure on health services.
Members of the public have now been banned from attending debates in parliament, meeting politicians or visiting.
Prime Minister Boris Johnson had faced criticism for his approach to the pandemic, which involved holding off on imposing the strict measures seen in other countries to combat the spread of Covid-19.
Mayor tells New Yorkers to prepare for a 'stay-at-home' order in next 48 hours
New York's mayor said Tuesday the city's 8.6 million inhabitants should prepare for being ordered to stay at home at any moment within the next 48 hours to help contain the coronavirus pandemic.

Bill de Blasio told reporters that a decision had not been made but that New Yorkers could soon be confined to their residences, barring any essential travel.

"I think that all New Yorkers should be prepared right now for the possibility of a 'shelter-in-place' order," the mayor said.

"I think we have to come to that decision in the next 48 hours," he added, without specifying what exactly the order would look like.

His comments came a day after San Francisco's mayor announced a "remain-in-place" order restricting millions of Californians to their homes except for basic needs.

Also Monday, New Jersey Governor Phil Murphy announced he was limiting the movements of residents of the state in a bid to contain the outbreak.

He said "all non-essential and non-emergency travel" between 8:00 pm and 5:00 am was "strongly discouraged."

De Blasio said any decision about New York would be taken in consultation with state Governor Andrew Cuomo.

New York's restaurants and bars were ordered closed this week, except for takeout, and the city's large public schools system is also shuttered as officials scramble to slow the spread of COVID-19.

The virus has claimed seven lives in New York City, with confirmed cases at 814, according to officials.
Cases outside China surpass 100,000
Cases of Covid-19 outside China surpassed 100,000 for the first time overnight, with a majority of infected countries in Europe reporting over 100 cases each. Five countries globally reported over 1,000 new cases each: Italy, Spain, France, Germany and Iran.
French Finance Minister Bruno Le Maire has warned that the country faces recession this year, as he announced a €45 billion aid package to help businesses and employees cope with the coronavirus crisis.
The French government, due to present a series of further support measures shortly, will base them "on a growth forecast of minus one percent, that is to say negative growth," Mr Le Maire told RTL radio.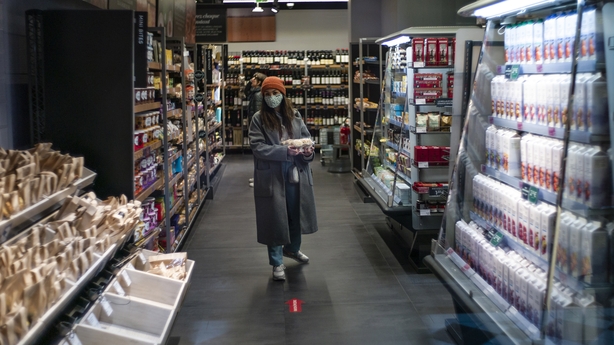 The forecast was "provisional", he added.
Mr Le Maire described the struggle against the coronavirus pandemic as an "economic and financial war" that will last some time.
"It will be lengthy, it will be violent... this war will require us to mobilise all our forces," he said.
Swiss hospitals could collapse
Swiss hospitals could collapse if the new coronavirus keeps spreading rapidly, a top health official has warned, urging people to respect the government's emergency measures to curb the epidemic.
"The virus is among us, now we have do our utmost that it does not spread further. Too many are infected and if this goes on hospitals will collapse," Daniel Koch, head of infectious diseases at the federal health agency, told SRF radio.
Switzerland mobilised up to 8,000 members of the military yesterday and banned all public and private events after declaring the coronavirus outbreak an "exceptional" emergency that demanded more radical measures.
More than 2,330 people have tested positive for coronavirus so far in Switzerland, and at least 14 people have died.
Mr Koch defended the government's policy to focus testing on people most at risk from the new virus and those who might need hospitalisation.
The World Health Organization called on all countries to ramp up their testing programmes as the best way to slow the advance of the pandemic.
Germany to fly citizens stranded by virus home
Germany will begin repatriating citizens stranded abroad as borders shut and airlines scrap flights because of the coronavirus pandemic, its foreign minister said, as Berlin issued a formal warning against holiday travel abroad.
The government has agreed to spend €50 million in a deal with commercial airlines to fly citizens home from affected regions, Heiko Maas said.
"Beyond that, we must prevent other German travellers from getting stranded abroad. For this reason, we decided from now to warn against all tourist travel.
"Please stay at home, that would help you and others. This warning against tourist travel applies worldwide," said Mr Maas, adding that the disruption to air traffic was far from over.
Chancellor Angela Merkel urged all Germans to stop holidaying at home and abroad, as she announced sweeping curbs to keep them indoors to halt the contagion.
Millions of children have been sent home as schools close, and non-essential stores are also shuttered in the unprecedented lockdown. Merkel has repeatedly pleaded with Germans to keep a social distance.
Germany, Europe's biggest economy, has recorded 6,012 coronavirus cases and 16 deaths.
Malaysia and Canada have joined several countries from Colombia to Kyrgyzstan in announcing measures to close borders.