The main market place in Ma'arrat al-Nu'man was filled with shoppers on the morning of 22 July 2019. Wedged in between residential buildings, the effect of the airstrikes on the square was devastating.
Between 8am and 8.30am when the first bombs fell, 43 civilians were killed. They included three girls and one boy. A further 109 people were injured. A school 700m away was damaged. Rescuers and other civilians rushed to the scene. The bombers returned and attacked again. Scores more civilians were killed, including a rescuer.
The injured were missing limbs "while others arrived in various states of disfigurement", doctors recalled.
Those at the scene who were interviewed for a UN report said there were no military targets nearby.
There is no sign of this violence stopping, there is not even an effective peace process in place.
Women and children continue to bear the brunt of suffering and all warring parties are ignoring calls to alleviate it. Nine years into to the Syrian Civil War, this is the blunt assessment of the Independent International Commission of Inquiry on the Syrian Arab Republic's latest report for the UN Human Rights Council.
It is unlikely there are many Syrian civilians treating the ninth anniversary of the 2011 protests in Daraa this weekend as a significant point of reflection. There have been too many atrocities in the intervening years to recall the beginning of the descent into instability and suffering. Each family will privately mourn its own anniversaries.
The UN report records the recent episodes from July 2019 to January 2020. In just 22 pages, it captures a brutal snapshot of the conflict. It could have been written at almost any time in the last nine years.
The report takes no sides and paints a picture of shocking violence. Those that perpetrate atrocities are limited not by their self-restraint, but rather the calibre of the weaponry they happen to have their disposal.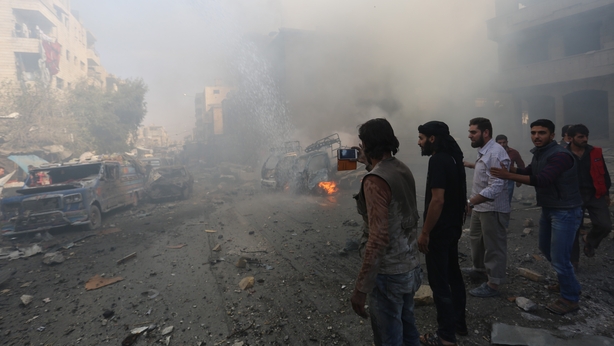 Of the warring parties, the Syrian government, backed by Russia has the most destructive capacity in the conflict. Russia denied being involved in the attack on Ma'arrat al-Nu'man and another deadly airstrike in Idlib. The report says the evidence suggests otherwise.
"Based on the evidence available, including witness testimonies, video footage, data imagery as well as reports by flight spotters, flight communication intercepts and early warning observation reports, the Commission has reasonable grounds to believe that a Russian aircraft participated in each incident described above. In both incidents, the Russian Air Force did not direct the attacks at a specific military objective, amounting to the war crime of launching indiscriminate attacks in civilian areas".
Pro-government forces also "systematically targeted medical facilities", "persistently shelled civilian infrastructure" and "intended to terrorise civilians" in an effort to depopulate areas of the north western province of Idlib in order that it would be easier to retake.
The lives of civilians living in Idlib have been controlled in large measure by the Al Queda offshoot Hayat Tahrir Al Sham (HTS). When the group's attempt to extort 'taxes' from the local population met with protest, a brutal crackdown followed.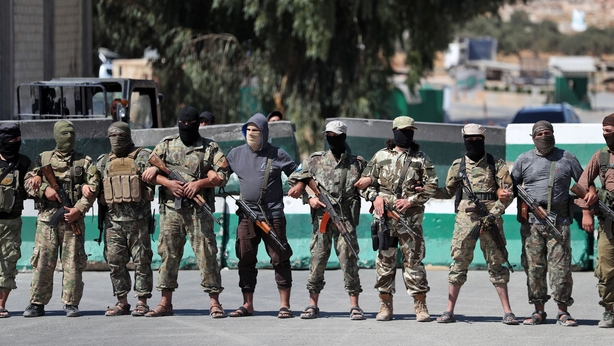 The town of Kafr Takharim was attacked with rockets. When HTS entered the town, they shot civilians including at least one child. The injured were prevented from leaving. An ambulance carrying the wounded also came under fire.
Two weeks later HTS launched attacks on neighbourhoods of Aleppo which are in government hands. Scores of civilians were wounded - seven were killed.
HTS has also targeted activists and journalists, recruited child soldiers and carried out extra-judicial killings in Ouqab prison. Humanitarian workers have withdrawn in large numbers, fearing for their personal security. Health and education suffers in their absence.
For civilians in Idlib reflecting on what might have been had they remained in government-controlled areas like Daraa, Douma and Eastern Ghouta, away from the airstrikes and the oppressive grip of HTS, the report makes sobering reading. "Arbitrary arrests, enforced disappearences and detentions continue to be commonplace" throughout the areas. Even if it were possible for them to take their chances and go back, confiscation of property has been widespread. There are no good options – and have not been for some time - except perhaps to leave as many others have before.
It is easy to see why many who managed to get out of Syria and into Turkey travelled to the Greek border following Turkey's recent threat that it would stop holding back Syrians who wanted to travel to Europe. The Turkish announcement came in the wake of direct and fatal confrontation between pro-government forces in Syria (including Russia) and the Turkish military, which maintains a significant presence in Idlib and elsewhere.
Anyone tempted to view Turkey as a bulwark against mass migration, however, should read the UN report. On 6 October 2019, Turkish forces and their proxies – with the clearance of the White House - launched Operation Peace Spring into North Eastern Syria. In less than a week, 100,000 civilians fled, the number rose to 175,000 within a fortnight. Half of those fleeing were children. Multiple civilian casualties resulted from the invasion.
It also paved the way for Turkish-backed Syrian Islamist rebels under the umbrella of the Syrian National Army, to confiscate property from Kurdish families and worse.
Hevrin Khalaf – a female Kurdish politician – was dragged from her car by the hair, murdered and mutilated by one such group. Those attempting to return found the houses occupied and the locks changed. The report found the groups "perpetrated the war crime of murder and repeatedly committed the war crime of pillaging".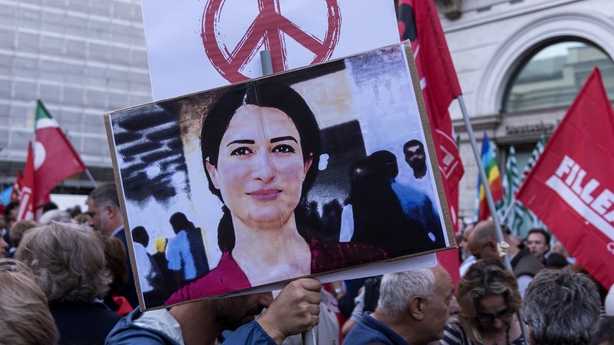 There is criticism in the report too for the many countries – many of them European – which have abandoned children in squalid camps because of the choice of a parent to join the so-called Islamic State.
"In camps in areas controlled by Syrian Democratic Forces, foreign children with alleged familial links to the Islamic State in Iraq and the Levant continued to languish in despair, becoming increasingly vulnerable. As many of their countries of origin refuse repatriation, thousands of children, many unaccompanied, remain in a legal limbo."
Nearly a quarter of a million civilians have been killed in the conflict, with around another quarter of a million combatants also losing their lives. Over five million refugees have fled to neighbouring or nearby countries. Another million refugees have fled further afield, including to Europe. Within Syria, more than six million are internally displaced.
Throughout the period covered by the report, an international means of delivering aid across borders and battle lines was hamstrung by depressingly predictable UN Security Council politics. The UN report's concluding recommendation is for all available diplomatic means "to de-escalate violence in the north-west of the Syrian Arab Republic".
It is a recommendation that could have been made on any anniversary of the conflict, but there is little reason to believe that anything other than military firepower will be the primary tool of the warring parties between now and the tenth one.