A Russian-backed regime offensive in northwest Syria has displaced 900,000 people since the start of December, and babies are dying of cold because aid camps are full, the UN said today.
The figure is 100,000 more than the United Nations had previously recorded.
"The crisis in northwest Syria has reached a horrifying new level," said Mark Lowcock, the UN head of humanitarian affairs and emergency relief. 
He said the displaced were overwhelmingly women and children who are "traumatised and forced to sleep outside in freezing temperatures because camps are full".
"Mothers burn plastic to keep children warm. Babies and small children are dying because of the cold," said Mr Lowcock.
The Idlib region, including parts of neighbouring Aleppo province, is home to some three million people, half of them already displaced from other parts of the country.
We need your consent to load this rte-player contentWe use rte-player to manage extra content that can set cookies on your device and collect data about your activity. Please review their details and accept them to load the content.Manage Preferences
The offensive that began late last year has caused the biggest single displacement of people since the conflict began in 2011.
The war has killed more than 380,000 people since it erupted almost nine years ago, following the brutal repression of popular demonstrations demanding regime change.
Mr Lowcock warned today that the violence in the northwest was "indiscriminate".
"Health facilities, schools, residential areas, mosques and markets have been hit. Schools are suspended, many health facilities have closed. There is a serious risk of disease outbreaks. Basic infrastructure is falling apart," he said in a statement.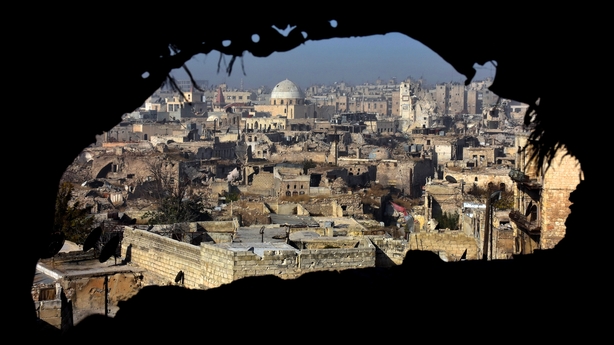 "We are now receiving reports that settlements for displaced people are being hit, resulting in deaths, injuries and further displacement."
He said that a massive relief operation under way from the Turkish border has been "overwhelmed. The equipment and facilities being used by aid workers are being damaged. Humanitarian workers themselves are being displaced and killed".
Yesterday, US President Donald Trump called for Russia to end its support for the Syrian regime's "atrocities" in the Idlib region.
Meanwhile, Syrian President Bashar al-Assad vowed today that his forces would be relentless in their offensive to flush out the last rebel bastion in northern Syria.
"The battle for the liberation of the provinces of Aleppo and Idlib continue, regardless of all the hot air coming out of the north," Mr Assad said, in reference to warnings by Turkey.
In recent weeks, Syrian troops and allied forces backed by Russia have stepped up their offensive against rebel and jihadist groups in Idlib and the neighbouring province of Aleppo.
They have already reconquered swathes of Idlib as well as key areas that have secured the crucial M5 highway connecting the country's four largest cities as well as the entire surroundings of Aleppo city for the first time since 2012.
"We have won a victory over the fear they tried to instill in our hearts... but we are fully aware that this liberation is not the end of the war," Mr Assad said.
Deadly incidents between regime forces and rebel-backer Turkey have raised tensions near Syria's northern border, prompting Turkish President Recep Tayyip Erdogan to threaten Damascus.
With Turkey unwilling to open its borders to another wave of refugees and government troops closing in from several directions, the UN has warned of a humanitarian disaster in proportions yet unseen since the start of the war in 2011.
According to UN figures, the Syrian conflict has caused the greatest displacement crisis in the world, with 5.5 fleeing the country to become refugees and more than six million others displaced within Syria.
The Syrian war is considered to have caused the biggest wave of displacement since World War II.