The World Health Organisation has declared that the coronavirus epidemic in China now constitutes a public health emergency of international concern.
WHO director-general Tedros Adhanom Ghebreyesus announced the decision after a meeting of the organisation's emergency committee, an independent panel of experts, amid mounting evidence of the virus spreading to some 18 countries.
Speaking at a press conference in Geneva, he said that the "greatest concern is the potential for the virus to spread to countries with weaker health systems.... This is not a vote of no confidence in China.
Mr Adhanom Ghebreyesus also said that there was no reason to limit trade and movement due to the outbreak of the virus.
"WHO does not recommend and actually opposes any restrictions" on travel and trade, he said.
The WHO Director General said that there are now 98 cases of the coronavirus in 18 countries outside China.He said that this includes eight cases of human-to-human transmission in four countries: Germany, Japan, Vietnam and the US.
"So far we have not seen any deaths outside China, for which we must all be grateful. Although these numbers are still relatively small compared to the number of cases in China, we must all act together now to limit further spread.
"The vast majority of cases outside China have a travel history to Wuhan, or contact with someone with a travel history to Wuhan. We don't know what sort of damage this virus could do if it were to spread in a country with a weaker health system. We must act now to help countries prepare for that possibility.
"For all of these reasons, I am declaring a public health emergency of international concern over the global outbreak of coronavirus."
World Health Organization press conference after emergency meeting on the coronavirus | Read more: https://t.co/Oif88JrHgF https://t.co/JLtNXuzehU

— RTÉ News (@rtenews) January 30, 2020
---
Read more:
The coronavirus: What we know
Irish citizens to be evacuated from Wuhan over coronavirus
How prepared is Ireland for risk posed by coronavirus?
---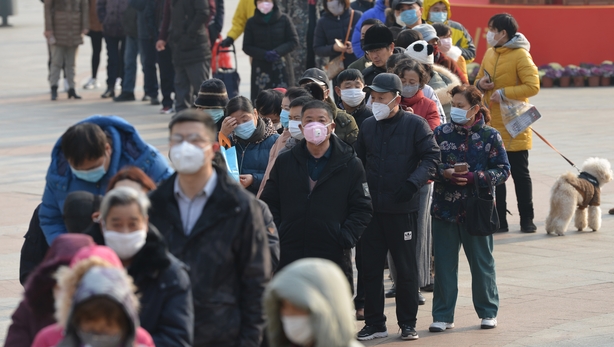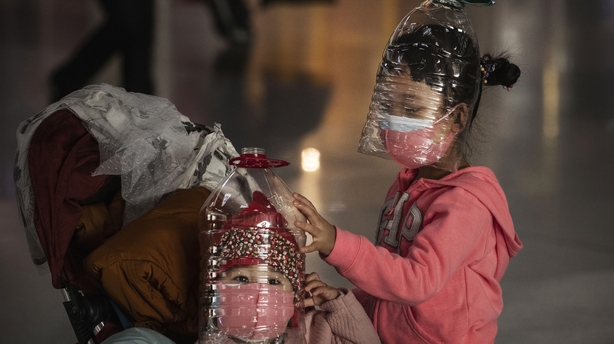 Earlier, China reported its biggest single-day jump in coronavirus deaths.
The health commission for Hubei, the Chinese province at the center of the new coronavirus outbreak, that deaths in the province from the disease had risen by 42 to 204.
There had been a further 1,220 cases detected in Hubei, taking the total to 5,806, it said.
Hubei's announcement takes the total death toll for China to at least 212. China's National Health Commission is expected to release new figures later on Friday.
Airlines around the world are either suspending or scaling back services in and out of China, following cases of human-to-human transmission outside the country.
In China, some countries worked to airlift their citizens out of the central city of Wuhan, whose 11 million residents are now under strict quarantine.
A man in Chicago contracted the illness from his wife.
A US charter flight from Wuhan with about 210 Americans on board, including consular staff, was met at a California military base yesterday by emergency vehicles with personnel in white biological hazard suits.
US health officials said they have identified the first case of a person-to-person contraction of the virus on American soil.
More than 200 Japanese nationals were also brought home, but only a handful of them were hospitalised for tests after they reported feeling unwell or showed flu-like symptoms.
Some 250 French citizens and 100 other Europeans will be flown out of Wuhan on board two French planes this week.
Australia plans to house any citizens evacuated on an island normally used to detain asylum seekers.
A growing number of governments, including Ireland, Britain, Germany and the United States, have advised their citizens to avoid non-essential travel to China.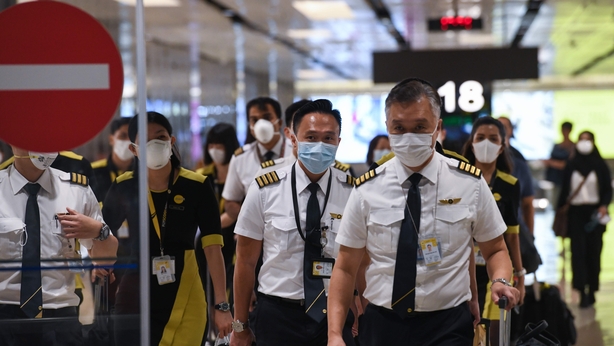 China has urged its own citizens to delay trips abroad, with more than 15 other countries having confirmed cases of the disease, including three with cases of human-to-human transmission.
British Airways was the first major airline to announce a suspension of flights to and from China, citing the travel advice of Britain's Foreign office.
Many others followed suit, including German flag carrier Lufthansa, which said all flights to mainland China would be suspended until 9 February.
Others scaled back their service, such as American Airlines, KLM and United.
Hong Kong-based Cathay Pacific has reduced flights, citing low demand and the city government's response plan to the virus.
In one of the most dramatic measures, the Pacific nation of Papua New Guinea announced no travellers from Asia would be allowed in.
Chinese football season postponed
China's domestic football season, including its lucrative Super League, has been postponed as sporting bodies join efforts to control the spread of the coronavirus.
The dramatic step follows the postponement of the World Indoor athletics championships, which were due to be held in China in March.
A new starting date for the season has not been announced.
China has effectively cut off Hubei province to try to contain the spread of the virus, banned tour groups from travelling overseas, suspended classes and extended the Lunar New Year holiday.
Most street traffic in and around Wuhan, where the virus originated in a wild animal market, has been banned, leaving more than 50 million people shuttered in their homes.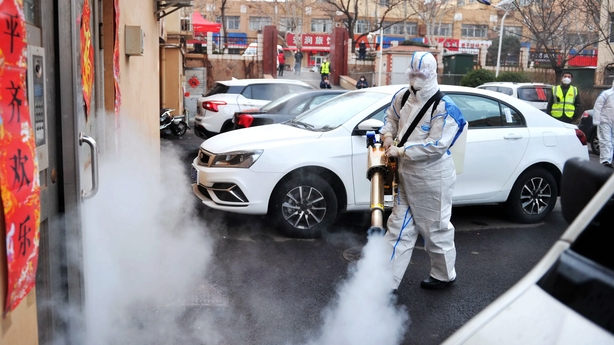 The scale of the deepening crisis was emphasised with the total number of infections on the Chinese mainland exceeding that of the Severe Acute Respiratory Syndrome (SARS) outbreak of 2002-03.
But the death toll is so far much lower than SARS, which claimed nearly 800 lives around the world - with most fatalities in mainland China and Hong Kong.
The virus has rattled global markets and started to dent the Chinese economy.
Japanese automaker Toyota said it would keep its plants in China closed until at least 9 February. Swedish furniture giant IKEA will temporarily close half of its 30 stores on the mainland.
Tech giant Foxconn said that Taiwan staff at its vast network of factories in China do not need to return to work until mid-February, a move threatening supply chains for everything from iPhones to flat-screen TVs and laptops.
US fast food giant McDonald's said it had closed all its locations, "several hundred" restaurants, in Hubei.