Canadian Prime Minister Justin Trudeau has said "multiple" intelligence sources indicate that Iran shot down a Ukrainian airliner, killing 176 people.
However, Mr Trudeau said the incident may have been unintentional, adding it was too soon to apportion blame or draw any conclusions.
The plane was en route to Kiev and was carrying mostly Iranians and Iranian-Canadians passengers, when it crashed shortly after taking off from Imam Khomeini airport.
The Tehran-Toronto via Kiev route is popular for Canadians of Iranian descent visiting Iran, in the absence of direct flights.
The Canadian leader said his government will not rest until it gets closure, transparency, accountability and justice.
Earlier, US President Donald Trump said "somebody could have made a mistake", while US officials claimed the airliner was shot down by an Iranian missile.
US government officials cited satellite data as they said the Ukrainian International Airlines Boeing 737-800 was most likely brought down accidentally by Iranian air defences, killing 176 people.
The head of the Iranian Civil Aviation Organisation has dismissed the US claims as "illogical rumours", saying it is "impossible" that a missile hit the plane, according to Iranian media reports.
Mr Trump said the deadly crash could have been a mistake, adding that he had a terrible feeling about the downed airliner but offering no evidence.
"Somebody could have made a mistake," he told reporters at a the White House, adding that he had suspicions about the crash, but giving no other details.
"Some people say it was mechanical. I personally don't think that's even a question," Mr Trump said, adding that "something very terrible happened."
We need your consent to load this rte-player contentWe use rte-player to manage extra content that can set cookies on your device and collect data about your activity. Please review their details and accept them to load the content.Manage Preferences
Senior Ukrainian security official Oleksiy Danylov set out in a Facebook post what he said were the four main theories for why the plane crashed - a possible missile attack, a collision, an engine explosion or terrorism.
Mr Danylov, secretary of Ukraine's National Security and Defence Council, made his statement as an initial report by Iranian investigators said the plane had been on fire immediately before it crashed.
The report cited witnesses on the ground and in a passing aircraft flying at high altitude as saying the plane was on fire while still aloft.
It said the plane had turned back after experiencing a problem.
"The plane, which was initially headed west to leave the airport zone, turned right following a problem and was headed back to the airport at the moment of the crash," the ICAO said on its website.
"The plane disappeared from radar screens the moment it reached 8,000 feet (2,400 metres). The pilot sent no radio message about the unusual circumstances."
"According to eyewitnesses, a fire was seen on board the plane which grew in intensity," the organisation added, reporting the first findings of its investigation into yesterday's crash.
The organisation said it had questioned witnesses both on the ground and on board a second aircraft, which was flying above the Boeing 737 as the disaster unfolded.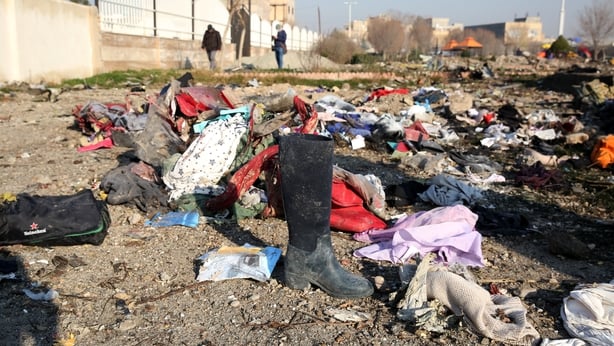 The three-year-old jet, which had its last scheduled maintenance on Monday, encountered a technical problem shortly after take-off and started to head toward a nearby airport before it crashed, the report said.
The technical problem was not specified in the report, which also said that there was no radio communication from the pilot.
A Canadian security source said there was evidence one of the jet's engines had overheated.
In a rare phone call with his Iranian counterpart Javad Zarif, Canada's Foreign Minister Francois-Philippe Champagne called for Iran to allow Canadian investigators in to the country, the Canadian foreign ministry said in a statement.
"Minister Champagne stressed the need for Canadian officials to be quickly granted access to Iran to provide consular services, help with identification of the deceased and take part in the investigation of the crash," the statement said.
Mr Champagne told Mr Zarif that "Canada and Canadians have many questions which will need to be answered."
Ukraine's President Volodymyr Zelenskiy said the government was considering several possible causes of the plane crash.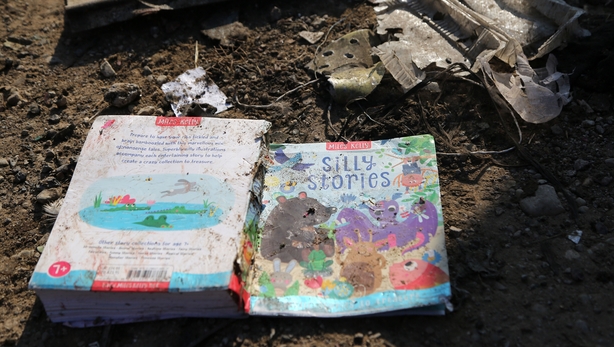 In a television statement, Mr Zelenskiy asked people to refrain from speculation, conspiracy theories and hasty evaluations regarding the crash. He also declared today a day of national mourning.
The Ukrainian airliner took off from the Tehran airport at 6.12am local time and was given permission to climb to 26,000 feet, the report said.
It crashed six minutes later near the town of Sabashahr.
On board were 146 Iranians, 11 Ukrainians, ten Afghans, five Canadians and four Swedes, the report said, but noted some may have held citizenship of other countries.
Ukrainian authorities have said those on board included 82 Iranians, 63 Canadians, and 11 Ukrainians.
In a statement released this evening, British Prime Minister Boris Johnson said a "full, transparent investigation" was needed and confirmed a fourth British national was killed in the crash.
"The loss of life on Ukrainian International Airlines Flight 752 is a tragedy and my thoughts are with all those who lost loved ones.
"Four British nationals were among those who were killed, and we are providing support to their families at this most terrible time.
"There is now a body of information that the flight was shot down by an Iranian surface to air missile. This may well have been unintentional.
"We are working closely with Canada and our international partners and there now needs to be a full, transparent investigation."
House votes to limit Trump's ability to wage war
Meanwhile, the US House of Representatives has passed a resolution to rein in President Donald Trump's ability to engage in military conflict against Iran.
The vote comes days after he ordered a drone strike that killed atop Iranian commander, which led to Iranian strikes on Iraqi airbases housing US troops.
The vote in the House of Representatives was largely along party lines, reflecting the deep divide in Congress between Democrats, who accused Mr Trump of acting recklessly and voted for the resolution, and Trump's fellow Republicans, who strongly back the president.